Take the Scenic Route: Louisiana's Byways
History, wildlife and great views of nature await those who explore Louisiana's scenic byways.
Each of Louisiana's Scenic Byways tells its own unique tale as it weaves through the state. Driving along any of these Louisiana highways, you'll get to know a little about the state's natural beauty, its quaint towns and quirky personality (this is the land of Mardi Gras, mind you), and roadside attractions and historic architecture that hint at the state's rich cultural heritage.
Dive deeper, though, and you'll experience a whole lot more.
The Louisiana Byways program consists of 19 distinct routes that take visitors throughout the state, with an eye on history, culture, dining destinations and natural attractions, these roads and routes let you experience a slice of Louisiana's rich history while enjoying some of the most beautiful scenery you'll ever see. The Louisiana Byways are laid out with leisurely journeys in mind, with opportunities to stop and savor Louisiana's food, music and culture. While all of these 18 Byways are well worth the drive, we've chosen a handful to get you inspired for a trip to remember. So get some snacks (might we suggest Louisiana-made Zapp's potato chips and a Swamp Pop soda?), buckle up, crank up the tunes and get on the road.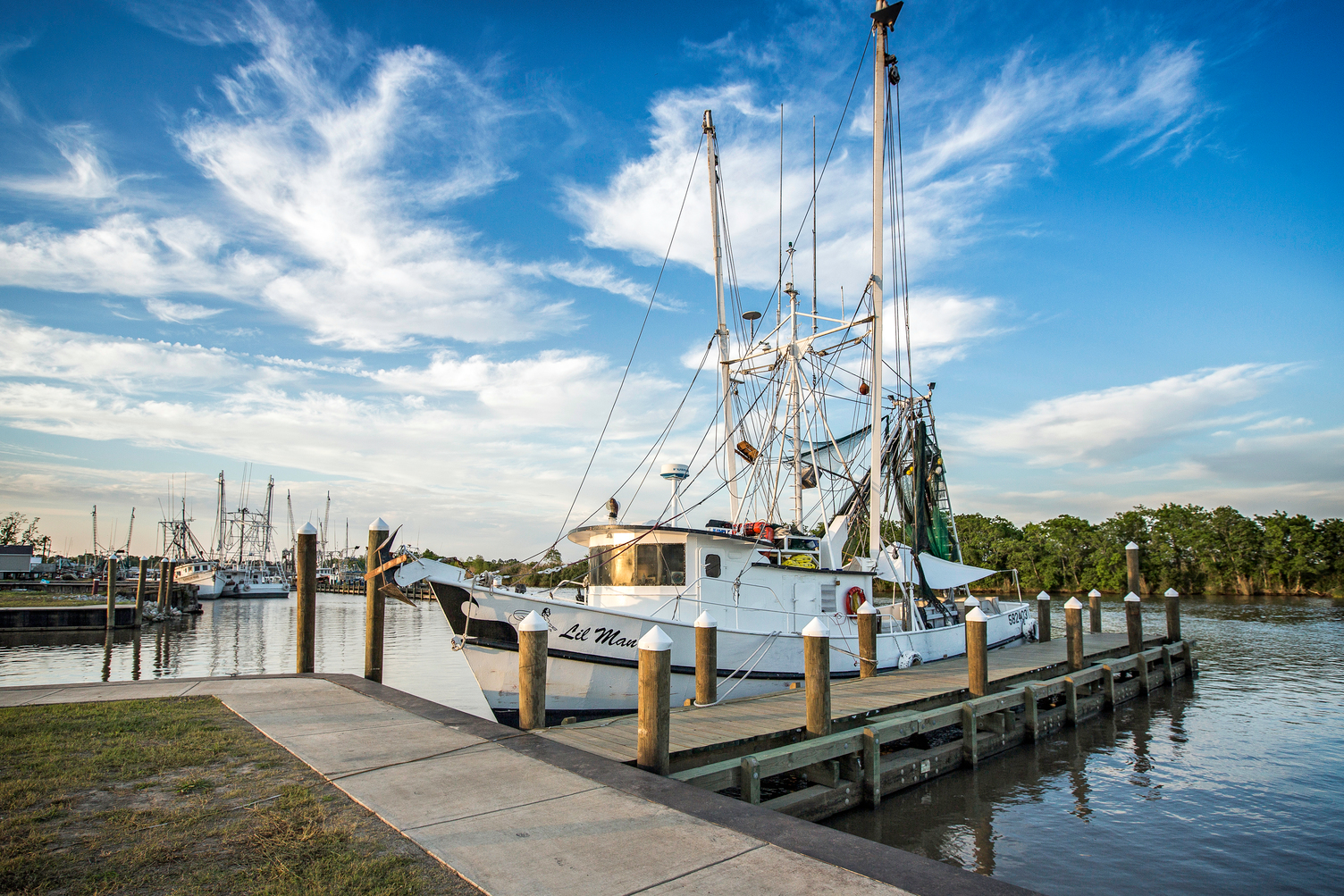 Head out to Delcambre and take in the beauty of their shrimp boats - just one of the stops along the Cajun Corridor Byway in Louisiana.
A sampling of Louisiana's trails and byways
Cajun Corridor Byway
If your interests lie in Louisiana's justly famous cuisine, then the Cajun Corridor Byway in the southwest part of the state packs a lot into its 34 miles, following Highway 14 from the villages of Delcambre (famous for its shrimp) to Gueydan (known as the Duck Capital of America). It's among the tastiest trails in Louisiana, with many ample spots to sample fresh fish and seafood, and the spicy local sausage known as boudin. Try a bowl of crawfish étouffée, one of the region's signature seafood stews. While driving this Byway, look for the allées — the French term for alleys of live oaks that adorn the entrance to plantation homes — and cheniers, coastal ridges covered with oak trees. If you're looking to go deep into Cajun Country, you couldn't do much better than this.
Don't miss: Acadian Museum in Erath; Hebert's Specialty Meats in Maurice; Suire's Grocery & Restaurant in Kaplan; Palmetto Island State Park in Abbeville; Le Musee de Kaplan in Kaplan; Gueydan Museum in Gueydan.
Louisiana River Road - All-American Road
Variety spices up the Louisiana Great River Road Byway, which parallels the Mississippi River for more than 700 miles. The route encompasses New Orleans, with its world-famous restaurants and music clubs, and Baton Rouge, the state's capital. Relax in the graceful towns of St. Francisville and New Roads, home to bed-and-breakfast inns and antique shops.
Don't miss: Poverty Point World Heritage Site in Pioneer; the Great River Road Museum at Houmas House in Darrow; the haunted Myrtles Plantation in St. Francisville; the Old State Capitol in Baton Rouge; shops on Magazine Street in New Orleans.
Zydeco Cajun Prairie Byway
The very name of the Zydeco Cajun Prairie Byway should make your ears perk up since it highlights Louisiana's many contributions to American roots music. Zydeco is the music of the Cajun Prairie, a long, rural strip of central-southern Louisiana dominated by rice fields, crawfish ponds and small towns with plenty of charm. Cajun music, with its unmistakable sounds of the fiddle, accordion and triangle (or tit-fer), is heard in towns like Mamou, where Fred's Lounge hosts live Cajun music and dancing every Saturday morning.
Don't miss: The Cajun Music Hall of Fame in Eunice; Le Vieux Village in Opelousas; Kelly's Landing Agricultural Museum & Aqua Culture Tour in Roberts Cove; Louisiana Swamp Pop Museum in Ville Platte.
Creole Nature Trail - All-American Road 
The Creole Nature Trail Byway offers views of one of North America's largest bird migration routes, along with remote communities that make up Louisiana's agricultural heartland. In its 180 miles, you'll find attractions ranging from southwest Louisiana's largest city, Lake Charles, to beaches that are awesome destinations for sunset-watching.
Don't miss: The 1.5-mile Wetland Walkway; Holly and Cameron beaches; the Charpentier Historic District and Luna Bar & Grill in Lake Charles.
Cane River National Heritage Trail
History takes center stage along the Cane River National Heritage Trail. The gently winding 35-mile byway begins in central Louisiana in the historic town of Natchitoches, best known as the oldest city in Louisiana (it celebrated its 300th birthday in 2014) and the setting for the blockbuster film Steel Magnolias. A walk along Front Street in downtown Natchitoches is pure Southern charm, with quaint storefronts and old-time charisma that makes this one of the most tourist-friendly towns in Louisiana; treat yourself to a walk along historic Front Street near the river. The route continues through Melrose, where you can tour the graceful plantation home that inspired famed folk artist Clementine Hunter, and also goes past Oakland Plantation, whose "big house" is open for tours. Bring your camera to capture the beauty of the area's lush sugar cane fields and Southern magnolias.
Don't miss: The famed meat pies at Lasyone's in Natchitoches; the Louisiana Sports Hall of Fame and Northwest Louisiana History Museum in Natchitoches; and Melrose Plantation in Melrose. Learn about more things to do in the Natchitoches area.
Bayou Teche National Scenic Byway
The Atchafalaya Basin has created much of the swamplands that south Louisiana is famous for. Get up close with remote bayous and cypress forests along the Bayou Teche Byway, where alligators lurk and an overnight adventure is just a houseboat rental away. The Bayou Teche Byway takes visitors through the port city of Morgan City, continuing through small, scenic towns including New Iberia and Breaux Bridge — cities synonymous with awesome Cajun cooking. Learn more about food experiences in the area.
Don't miss: Tours of Avery Island's TABASCO factory; Wedell-Williams Aviation & Cypress Sawmill Museum in Patterson; Longfellow-Evangeline State Historic Site in St. Martinville; Jeanerette Museum in Jeanerette.
Toledo Bend Forest Scenic Byway
The Toledo Bend Forest Scenic Byway takes travelers through west Louisiana's lesser-known forested landscapes steeped in Native American, Spanish, French and American history. This route follows Toledo Bend Lake, the largest manmade lake in the South (and home to some massive freshwater fish that draw anglers from all over the country and beyond).
Don't miss: North and South Toledo Bend State Parks; Fort Jesup State Historic Site in Many; Mansfield Female College Museum in Mansfield, Wildwood Resort in Zwolle.
Boom or Bust National Scenic Byway
The 137-mile Boom or Bust National Scenic Byway meanders through northeast Louisiana near Shreveport. This byway, if the name gives any indication, has a focus on the ups and downs of the oil and gas, lumber, transportation and farming industries through the 18th through 20th centuries. The byway weaves through rolling hills, and Caddo Lake and Lake Claiborne are brimming with fish, making the Boom or Bust Byway a haven for those who love the great outdoors.
Don't miss: Dorcheat Historical Museum in Minden; Germantown Colony Museum in Minden; Vivian Railroad Station Museum in Vivian; Louisiana State Oil & Gas Museum in Oil City; Lake Claiborne State Park in Homer.
But there are still so many miles to explore! Start planning your Louisiana trip by visiting Lousiana Byways for detailed maps, points of interest and suggested itineraries for each of the state's byways.