Festival Season Kicks Into High Gear in the Fall
There's no shortage of fall weekend fun in Louisiana, where autumn's arrival brings a variety of food, music and culture festivals.
*Always check the festival websites for the most up-to-date information, as events and dates are subject to change.
Louisiana rightfully boasts the title "festival capital of the world," with more than 400 festivals scheduled annually around the state. In Louisiana, fall's arrival is signaled by many things: cheers of "Geaux Tigers" and "Who Dat," large black pots of steaming gumbo and a social calendar jam-packed with fairs and festivals.
Fall is festival season in Louisiana, and every corner of the state takes part.
Food Festivals
Fall. Food. Festivals. These three simple words mean so much in Louisiana. Fall means a break from the summer heat; food is what we do best; and festivals are when we throw a party to celebrate our favorite dish or crop. So what's on the menu? A little bit of everything!
Since breakfast is the most important meal, let's start with the 5,000-egg omelette served at the annual Giant Omelette Celebration in Abbeville. At this festival, they truly believe in the "incredible, edible egg" and honor it with a procession and egg-cracking contest.
There are as many different fall festivals as there are local delicacies. In fact, New Orleans hosts a festival dedicated to a beloved food item at the Beignet Fest, paying homage to the famous pillowy pastry, and the Fried Chicken Festival. Also in New Orleans you can dig into all kinds of po'boys for a good cause at the Oak Street Po-Boy Festival. A Cajun classic, cracklins, are on display at the Port Barre Cracklin Festival. Louisiana also has multiple cities and regions that also feature their own signature dishes. Get a taste of a Zwolle Tamale at the Zwolle Tamale Fiesta. And of course, Louisiana's state cuisine is celebrated at multiple gumbo festivals.
Like to work up an appetite with some good competition? Then take a seat at the pepper-eating contest held at the Pepper Festival in St. Martinville. Or if you like the idea of carb loading, sign up for the rice-eating contest at the International Rice Festival in Crowley. The annual Louisiana Pecan Festival in Colfax can get a little nutty, and the Andouille Festival in LaPlace packs a punch.
Some festival planners can't decide on just one food to celebrate so they choose an entire group! Don't let the French names stop you from ordering mouthwatering dishes at the French Food Festival in Larose. Up in Shreveport, check out the Louisiana Soul Food Fall Festival to fill up on all the down-home comfort food to your heart's content.
Dessert's first at the annual Sweet Dough Pie Festival in Grand Coteau, and wash all the deliciousness down with a beer at Shreveport's Brew Fest, wine at the St. Francisville Food & Wine Festival, or something stronger at the Smoke & Barrel Bourbon, BBQ & Whiskey Festival in Lake Charles.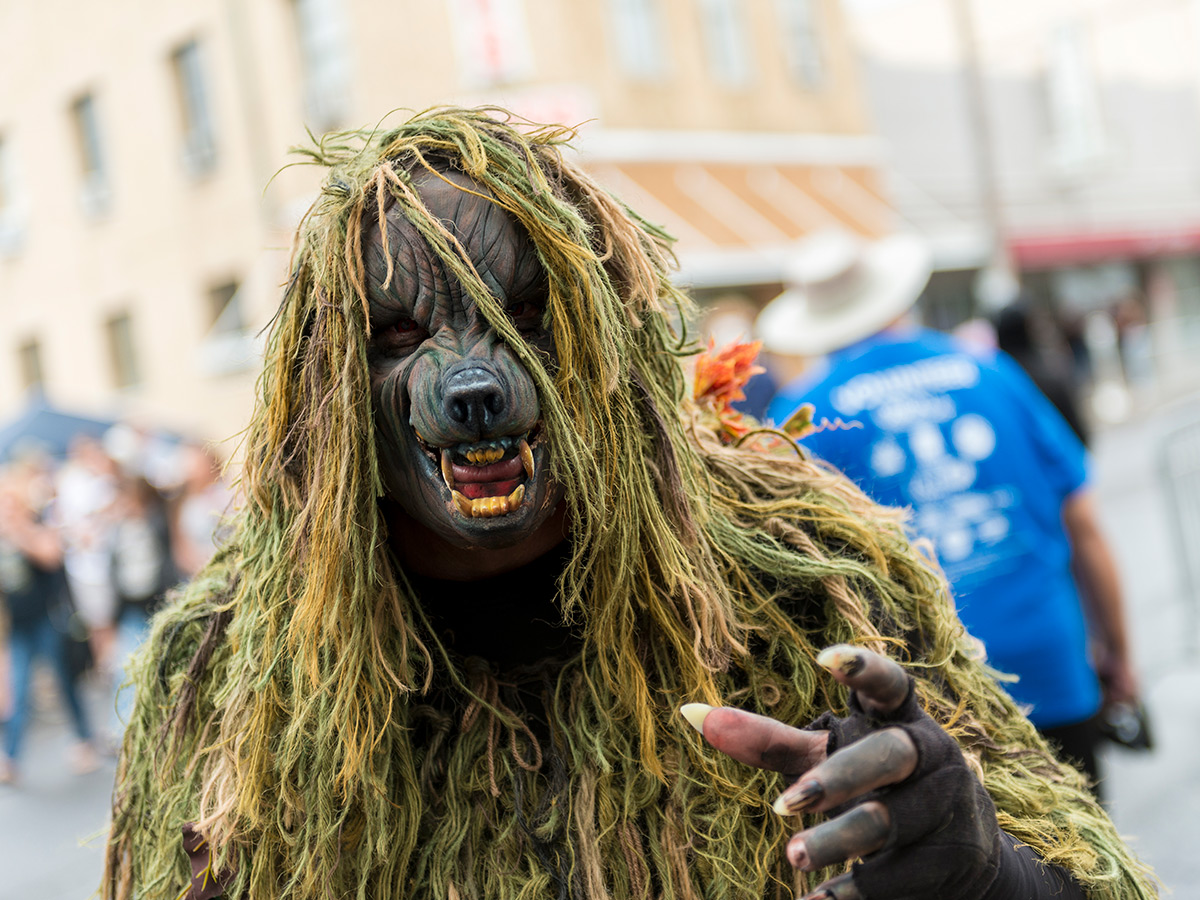 Rougarou Festival in Houma, LA
Try andouille sausage at the Andouille Festival
Cajun culture shines at Festival Acadiens et Creoles
Giant Omelette Festival in Abbeville is a big deal
Music Festivals
Crescent City Blues and BBQ Festival is free to the public and has featured a variety of performers including Los Lobos, Mel Waiters and Bobby Rush. Additionally, the Bogalusa Blues and Heritage Festival features amazing musical lineups year after year, and the Abita Fall Fest features multiple bands for a lively festival in the quaint town of Abita Springs, and the Acadia Music Fest in Thibodaux has entertainment everyone will enjoy.
Cultural Festivals
A testament to the growth of "Hollywood South," the New Orleans Film Festival has been going strong since 1989, and the NOLA River Festival celebrates the cultural, economic, environmental, and inspirational impacts of the Mississippi River and its inhabitants on the Crescent City and the entire Gulf South region.
Head to the Festival Acadiens et Creoles to discover Lafayette's culture that makes the city so unique. It's a free three-day festival of nonstop music, dancing, food as well as crafts and a genuine Cajun and Creole experience like no other. And check out the Red River Revel Arts Festival in Shreveport, north Louisiana's largest arts festival.
In Houma, the Rougarou Fest celebrates the local legend of the Rougarou and the rich folklore of the bayous of Southeast Louisiana.
We've always believed that there's more fun to have in Louisiana than just about anywhere else. If this list of incredible festivals hasn't convinced you, come on over and let us show you in person. Foodies, adventure-seekers, heritage lovers and fun-seeking families will not be disappointed with all there is to do at Louisiana's festivals. For more about Louisiana's abundance of food, music, culture and every quirky festival in-between, take a peek at our festivals calendar.
Find more festival fun with Louisiana's Spring Festivals and Summer Festivals.