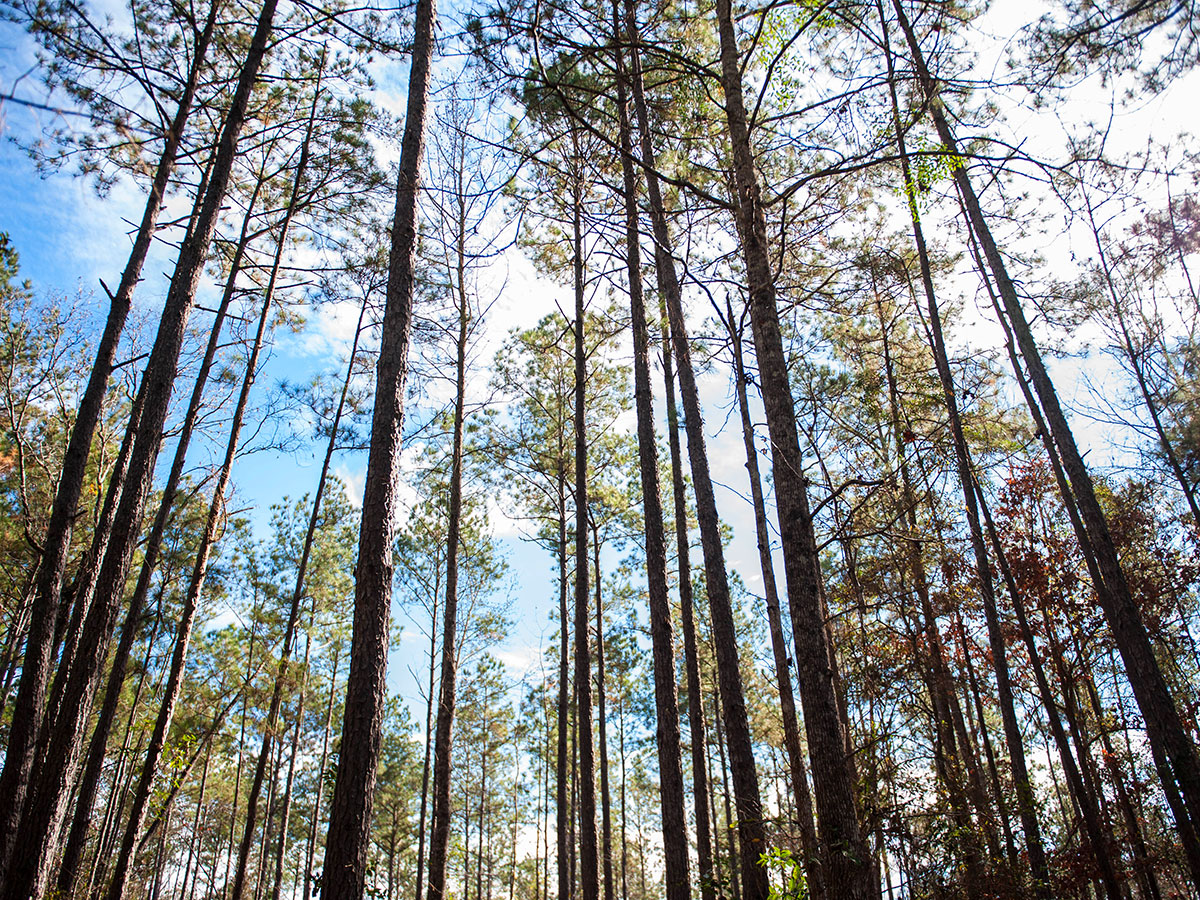 Guide to Kisatchie National Forest
More than 600,000 acres of protected forest comprises Kisatchie National Forest, meaning endless outdoor adventures.
The Kisatchie National Forest includes more than 600,000 acres of rolling piney hills and outdoor adventures. The forest is located just southwest of Alexandria and offers visitors some of the prettiest views in Louisiana. Kisatchie draws extra attention in that it is the only National Forest designated in the state of Louisiana. 
KisatchieNational Forest's beauty sprawls over seven parishes offering one of largest protected lands in Louisiana and is packed with outdoor activities – including camping, fishing, birding, nature viewing, swimming, boating, hunting, and more. Additionally, the forest offers more than 40 developed recreation sites and more than 100 miles of trails for hiking, mountain biking, and horseback riding.
There are five Ranger Districts: Calcasieu, Caney, Catahoula, Kisatchie and Winn. Each of these Ranger Districts can provide extensive information to visitors about all the areas' recreation activities. The main headquarters is the Calcasieu Ranger District and their Evangeline Unit is located in Rapides Parish nearest to Alexandria and Pineville, while the Vernon Unit is in Vernon Parish nearest to Leesville. The Catahoula Ranger District is located in Grant Parish, nearest to the cities of Pollock, Dry Prong and Bentley. The Winn Ranger District is located in Winn Parish nearest to Winnfield, while the Kisatchie Ranger District is located in Natchitoches Parish nearest to Natchitoches. The Caney Ranger District is located in Webster and Clairborne Parishes, nearest to Homer, Minden and Shreveport. 
Fishing in Kisatchie National Forest
Fishing opportunities are abundant throughout Kisatchie National Forest. Each Ranger District has its own popular fishing areas where anglers can hook catfish, bass, perch and more. Some highlights include the Corney Lake Recreation Area, in the Caney District, which is a large 2,300-acre reservoir perfect for dropping in a line. Kincaid Lake in the Evangeline unit of Calcasieu Ranger District is a 2,600-acre reservoir with multiple docks and boat put-ins. In the Kisatchie District, head to the Kisatchie Bayou for lovely views of the rocky waters surrounded by old growth hardwood and pine, perfect for fishing with a view. And there are many more fishing areas to discover. 
Camping in Kisatchie
Whether you prefer camping in your tent under the stars or camping with your RV, each Ranger District in Kisatchie offers a wide-range of campground camping and RV camping areas. Popular camping areas in the Kisatchie Ranger District, (home to 10 campgrounds), is the Kistachie Bayou Recreation Complex perfect for camping and having access to trails, fishing and boating activities with great views of the sandstone hills and surrounding forests. Explore more campsites in the Kisatchie Forest.
*Check websites for current campground information and closures.
Horseback Riding
You can hit the trails on horseback in multiple areas of the Kisatchie National Forest. One of the most popular spots is the Caroline Dormon Trail, which features 10.5 miles of beautiful trails that meander through the forest. It also has designated parking for horse trailers and as an added bonus, this trail is located just off the Longleaf Trail Byway and easily accessible. The Gum Springs Horse Camp has ample horse trailer parking and a long and short loop trail options that take you through wild grass prairie sections interspersed amongst the forest. Guided horseback riding tours are available with the Hayes E. Daze Ranch that take visitors on one, two, or three-hour guided horseback rides under the shade of the pine canopy. Learn more about horseback riding areas in Kisatchie and discover horseback riding day-trip ideas.
Hiking in Kisatchie National Forest
There are more than 100 miles of hiking trails in Kisatchie with distances varying from a half-mile to nearly 30 miles. Each hiking trail provides a deep dive into the wilderness and all the area's natural beauty — it will be a tough decision on which trail to explore! For beginners, families or anyone who appreciates a great view, head to the Longleaf Vista Interpretive Trail. This 1.5-mile loop winds through the forests and on ridges providing excellent views of the 8,700-acre Kisatchie Hills Wilderness. After your hike enjoy the day-use recreation area and have a picnic. Other popular hiking trails include the Wild Azalea Trail, a 23.9 mile hike (don't worry, you can do as much or little distance as desired) filled with azaleas that are blooming in the spring. Also check out the Sugar Cane Trail, near Minden, that is perfect for all abilities. The trail winds around Caney Lake with wild flowers lining the trails.
Kisatchie National Forest Longleaf Vista Trail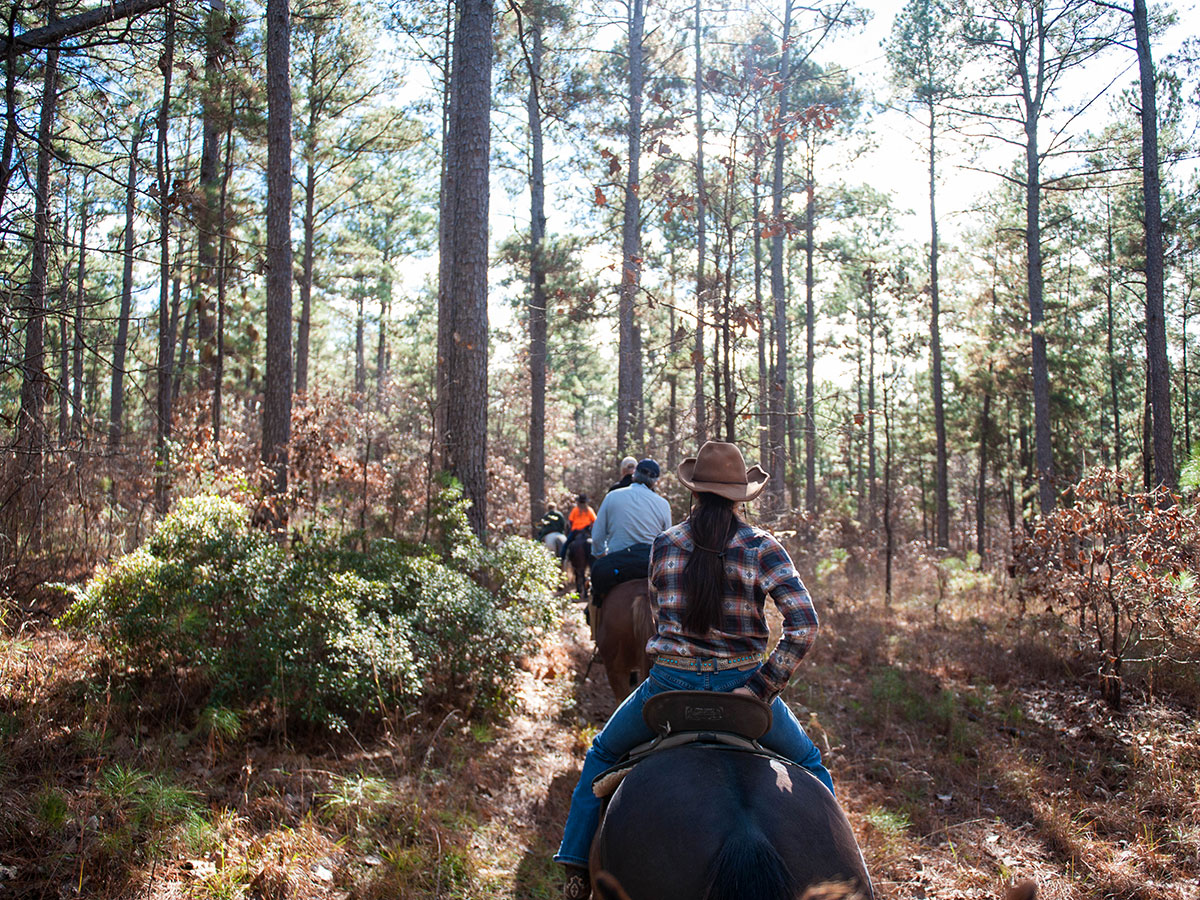 Kisatchie National Forest horseback riding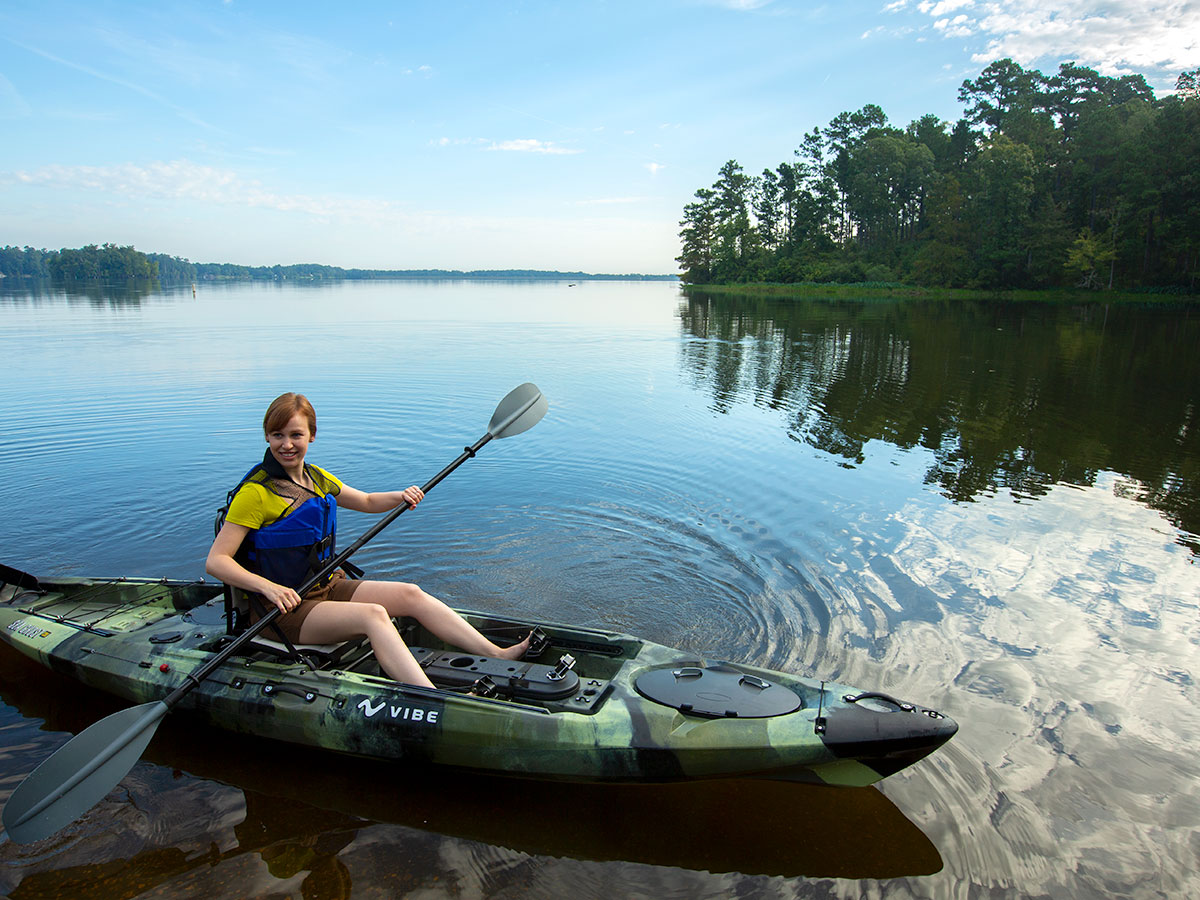 Go boating on Lake Kincaid in Kisatchie National Forest.
Mountain Biking in Kisatchie
There's mountain biking in four of Kisatchie's five ranger districts and popular rides included the Big Branch Trail, Wild Azalea Trail and the Lamotte Creek Trail. There's also the Camp Livingston Trail Complex, whose trails are open to off-road vehicles and mountain bikers. The 11-mile Hickman Trail offers rollling hills and can be beginner-friendly, or intermediate level, just listen for the off-road vehicles. Learn more about biking trails.
The Longleaf Trail Scenic Byway
Nestled within the Kisatchie National Forest, the Longleaf Trail Byway covers some of the most varied terrain in Louisiana. If you travel this byway, the elevations range from 80 feet to 400 feet above sea level, and the topography is "rugged" by Louisiana standards. Stop frequently at the turnouts to get views of the mesas, buttes, sandstone outcrops, longleaf pines and the Kisatchie Bayou. Learn more about the Longleaf Trail Scenic Byway.
Local Flora and Fauna
The Kisatchie forest has National Longleaf Pines, known as "super" trees. They are genetically designed to enable foresters to harvest more lumber on less land. As you wander the forests you can also spy extremely old pines. One known as the Statesman Tree has been determined to be more than 200 years old. As you cross the bridge over the cool waters of Kisatchie Bayou, notice the loblolly pines, white beech and evergreen Southern magnolias along the banks.
The forest provides a habitat for deer, armadillo, wild turkeys, raccoons and many others — if you're lucky, you may even spot a Louisiana black bear. Birds and waterfowl of many kinds thrive here and provide endless opportunities for birding. Keep an eye out for red-cockaded woodpeckers. Make a stop at the Catahoula Hummingbird and Butterfly Garden to see the many species of plant-loving insects attracted to the lovely pond. You can spot beavers and migratory birds at the Iatt Lake Observation Pier, and if reptiles are your thing, visit the Indian Ridge Trail, where you might spot a rare Louisiana pine snake.
Learn more about camping in Kisatchie or discover even more outdoor activities.