Mardi Gras Events in South Louisiana
Here are just a few of the activities scheduled around south Louisiana during Carnival Season.
Mardi Gras is the biggest celebration all year in Louisiana, and it takes place all over the state! There are so many Mardi Gras events from balls and parades, to cook-offs, dances and more. And of course Cajun Mardi Gras has its own set of traditions upheld each year. While Mardi Gras may be known as a wild party, which is some cases is absolutely right, it's also widely regarded across the state as a family-friendly experience. Many Krewes even have philanthropic purposes to give back to their respective communities.
Here are just some of the festivities going on in South Louisiana. By no means is this a comprehensive list (yes, believe it or not, there are even more out there!) Don't forget to check the individual parade organizations' websites for updated details of each event.
Mardi Gras Events in the Lake Charles Area
The Krewe of Krewes' Parade features 60 krewes that roll through Lake Charles tossing thousands of beads, cups, doubloons, and other trinkets. The Krewe of Omega Parade was formed in 1970 with the goal to provide social activities for the black community, from the young to the elderly. The krewe also gives service awards to those who participate in the improvement of the community. Family-friendly events include the Mardi Gras Children's Day Parade and the Krewe of Barkus Parade, where you'll see a procession of pets and their owners in quirky costumes. The title of "Mystical Dog" is given to the most strikingly costumed participant. See hot rods, classic cars and motorcycles at the Motor Gras Parade. And on Ryan Street, you'll find the Second Line Stroll and Jeeps on Parade. And finally, the Iowa Chicken Run is a Cajun celebration featuring a parade, zydeco music and dancing, a chicken run and a big pot of gumbo.
For a full calendar of Mardi Gras events in Lake Charles and the surrounding area, see Southwest Louisiana Mardi Gras.
Mardi Gras Events in the Lafayette Area
Since 1998, Krewe des Chien has had a noble mission – to raise funds for the many animal assistance organizations in the Acadiana area in need of financial support. Since the first pooch parade, Krewe des Chien has raised hundreds of thousands of dollars in support of their mission. Krewe of Rio Parada is known for its colorful floats, sparkling lights and the custom maracas that are bestowed upon revelers. In 1972, the Krewe of Bonaparte was established by a group Of 20-Year-Olds who were determined to start a new Mardi Gras Krewe for young adults. L'Empereur Napoleon and L'Imperatrice Josephine's procession is still going strong today. Krewe de Canailles is a downtown walking parade established in 2018 with a mission is to promote inclusivity, sustainability and creativity. This is proven by their man-powered floats and eco-friendly throws. Check out the Carencro Mardi Gras Parade and Scott Mardi Gras Parade for family-friendly fun.
For even more festivities around Lafayette, check Lafayette Travel's full calendar.
Mardi Gras Events in St. Landry Parish
St. Landry Parish is the place to be for Cajun Mardi Gras festivities. The Eunice Mardi Gras Celebration is jam-packed with fun times, including live music, a Cajun Canine Mardi Gras Dog Parade, Fais Do-Do Barn Dance, Children's "Lil Mardi Gras" Parade, Old Time Boucherie and a Chicken Run. The Crew of Cankton Courir De Mardi Gras features live music, a gumbo cook-off, chicken run and trail ride plus children's activities like face painting and fun jumps. And not too far away, you can experience the glitz and glamour of the Opelousas Imperial Mardi Gras.
Visit St. Landry Parish for additional event info.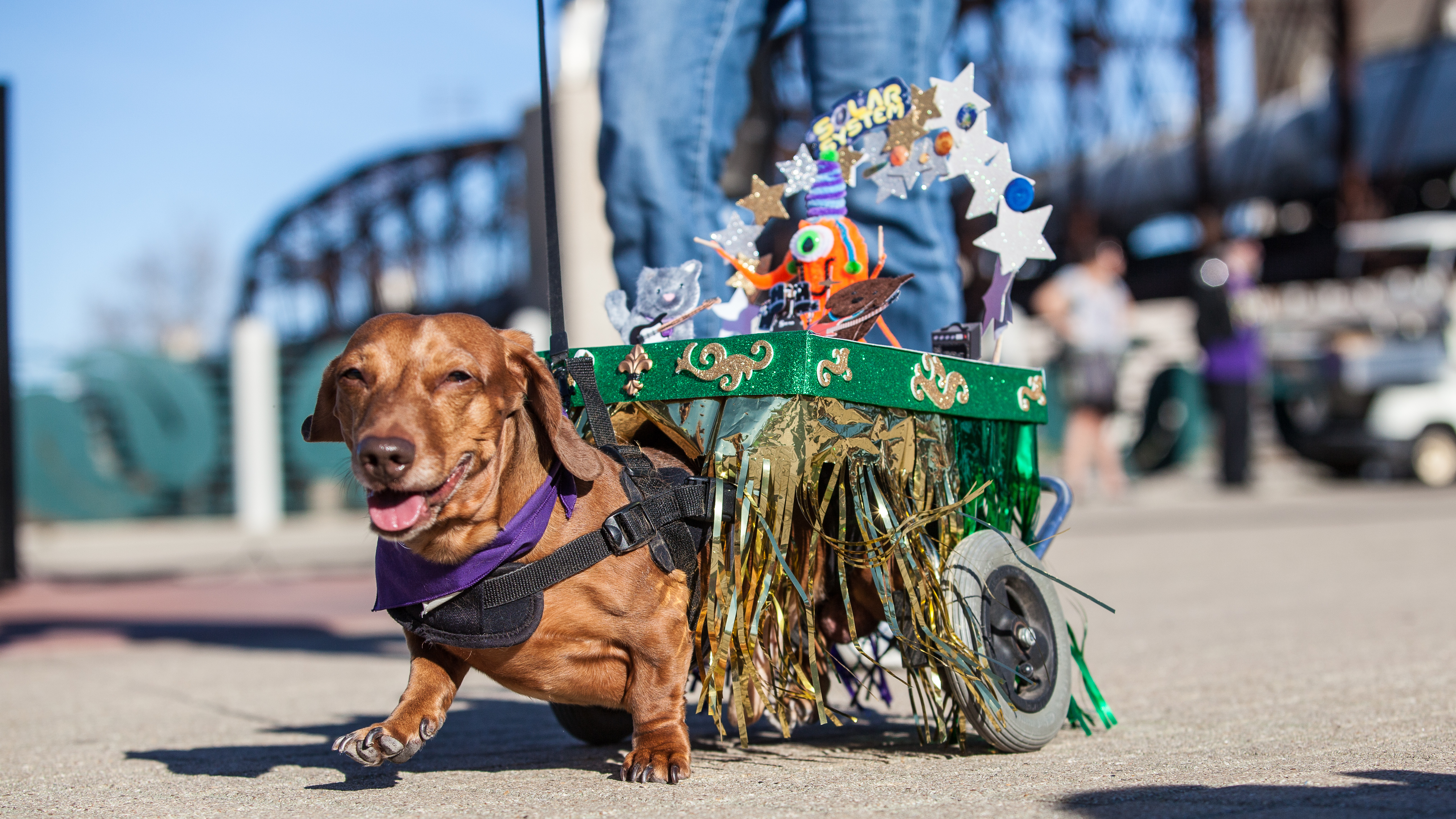 Even the pups can participate in the Krewe of Barkus in Lake Charles.
Quirky characters at Lafayette's Queen Evangeline parade.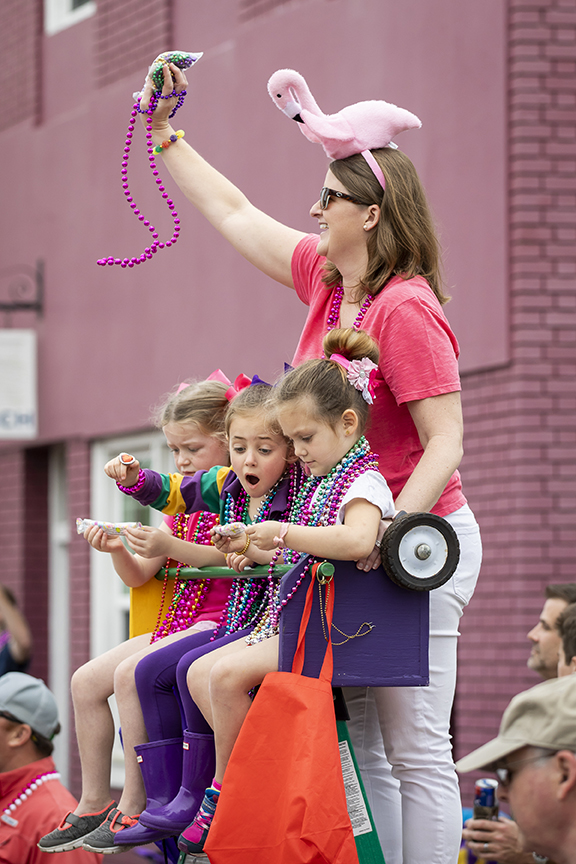 Family Fun at the Spanish Town Parade in Baton Rouge.
Creative costumes at Courir de Mardi Gras in Eunice.
Mardi Gras Events in Iberia Parish
Bayou Mardi Gras Parade aims to bring back the traditions recognized as Mardi Gras on the Bayou. This parade rolls down the historic streets of Downtown New Iberia on the banks of the Bayou Teche. More family friendly festivities include the Family Affair Mardi Gras Parade and the Grand Marais Mardi Gras Parade – complete with floats, bands, dance groups, Mardi Gras royalty, eccentric costumes and tons of beads and throws.
Visit Iberia Travel for additional event info.
Mardi Gras Events in Acadia Parish
A visit to Acadia Parish will leave you with plenty of knowledge and fond memories of Cajun heritage. Tee-Mamou Iota Mardi Gras is a Folklife Festival that preserves the tradition of Cajun Mardi Gras, featuring live entertainment, craft booths, and lots of food. Courir de Mardi Gras in Church Point offers Courir runs for both children and adults, plus a trail ride, main street parade and more. At the Courir de Mardi Gras de L'anse, see masked men parading on horseback in the tradition of singing and dancing for gumbo ingredients.
Visit Acadia Tourism for more information.
Mardi Gras Events in Jefferson Davis Parish
City of Jennings Mardi Gras Run and Parade is complete with food and crafts for a family-friendly experience. The Welsh Mardi Gras Run and Parade also features a street dance with live music and local food vendors. The Lake Arthur Mardi Gras Run and Parade has been delighting locals and visitors alike since 1999 with their parade, chicken run and horseback country riding.
Visit Jeff Davis Parish for more information.
Mardi Gras Events in the Houma Area
The Krewe of Terreanians held its first parade in 1951 and is thrilling spectators still today, and the Krewe of Hyacinthians is the oldest women's carnival club in Terrebonne Parish, established in 1951. Try to grab one of their signature throws, the top hat. The Krewe of Houmas is a family affair, as almost every float in the parade features either a father riding with his son or a pair of brothers riding next to one another. Additional popular events in the area are the Krewe of Hercules and Krewe of Titans, who pull out all the stops to provide a great festival experience for all who participate.
For more details of events in the Houma area see HoumaTravel.com.
Mardi Gras Events in St. Mary Parish
Krewe of Galatea Parade in Morgan City was the first female Krewe in St. Mary Parish, established in 1969. The parade includes over a dozen floats with special throws and marching bands. The Krewe of Hephaestus Parade in Morgan City has a rich history of royalty dating to 1914, and parades were introduced in 1969. From long-standing krewes to new kids on the block, the Krewe of Hera Parade debuted its first parade in 2022!
For more details on events in the Morgan City area, see CajunCoast.com.
Mardi Gras Events in Baton Rouge
Mystic Krewe of Mutts is an annual fundraiser for the Capital Area Animal Welfare Society, and features costume contests for dogs and their owners, a parade and l0ocal vendors at Bark in the Park. Krewe of Artemis is Baton Rouge's first all-female parading Mardi Gras Krewe with a mission to create an environment for people of all ages to enjoy. In 1977, Krewe of Mystique had a mission is to bring Mardi Gras to Baton Rouge and became the premier parade Krewe in Baton Rouge. Today, La Krewe Mystique de la Capitale's parade is one of the longest running parades in the city. The Krewe of Orion was founded in 1998 and annually brings an assortment of entertainment, family fun, service, and economic stimulation to the Baton Rouge community with a full scale lighted nighttime parade of floats and marching bands. Krewe of Southdowns was inspired by the Mardi Gras flambeauxs in New Orleans. In an effort to bring this feature into Baton Rouge, the Krewe of Southdowns Flambeaux Parade was born in 1988. The first Spanish Town Mardi Gras Parade took place in 1981 in the Spanish Town historic district which was commissioned in 1805. The traditional purple, green and gold is replaced by hot pink as a reflection of the pink flamingo mascot.
For more Baton Rouge Mardi Gras info, go to Visit Baton Rouge's event calendar.
Mardi Gras Events in St. Tammany Parish
The Krewe of Titans in Slidell mixes the New Orleans Mardi Gras experience with a family friendly atmosphere a short drive away on the Northshore of Lake Pontchartrain, and is Slidell's first co-ed night parade. The Krewe of Eve is an all-female krewe that first paraded in Mandeville in 1987. Members give back to the community by Making Mandeville beautiful and "picking up the Litter with Glitter." The Mystic Krewe of Olympia in Covington was born out of a desire to bring a "New Orleans style" parade to a more rural area. In addition to this popular parade, the foundation also raises financial support for the community's first responders.
Learn more about Mardi Gras on the Louisiana Northshore.
Of course there's New Orleans Mardi Gras, and considering it's the OG of the Mardi Gras we know and love today, we think it deserved its own list. Check it out to read all about the events that take place where it all started!
Learn more about Mardi Gras with 10 Things You Might Not Know About Mardi Gras, and learn more about Mardi Gras events in North Louisiana and Central Louisiana.