10 Things You Might Not Know About Mardi Gras
What is Mardi Gras? Do you know the meaning of krewe? Or where to get one-of-a-kind beads? Here you will find 10 things to know about Mardi Gras to make your Carnival the best!
Mardi Gras. Two little words with an infinitely large explanation. For different people, it means different things — an event, an idea, a day, a way of life, a piece of history, a state holiday, a million parades or countless memories. 
Think you know Mardi Gras? That it's all about booze and beads? Think again!  
10 Things to Know About Mardi Gras
1. Carnival is a Season; Mardi Gras is a day.
Sure, we all do it. "Yea, I'm going to New Orleans for Mardi Gras!" we say, when we're actually going to see parades the weekend before Mardi Gras, or the weekend before that. Technically, "Mardi Gras" is the last Tuesday before Ash Wednesday and ushers in 40 days of best behavior during Lent, and "Carnival" is the season that begins on the Feast of Epiphany, January 6. A krewe (pronounced the same way as "crew") is an organization that puts on a parade and/or a ball for the Carnival season.

Bonus Fun Fact: Mardi Gras is a legal holiday in Louisiana, and has been since 1875, when Governor Warmoth signed the "Mardi Gras Act."
2. Your Dog Will Love Mardi Gras.
Dogs just want to have fun! And that's what they get at their very own parades in New Orleans, Baton Rouge, the Louisiana Northshore and more! These animal-dedicated parades show off the fun and revelry from our furriest of friends, and man, do they look cute. Start planning your dog's costume for the celebration.
3. Mardi Gras is for Families.
There are many activities and Mardi Gras parades that are family-friendly. In New Orleans, there are a few favorite family parade watching spots, which include St. Charles and Napoleon Streets. As you explore the state, you'll find that many Louisiana cities host huge Mardi Gras celebrations with brightly colored floats and marching bands that are perfectly appropriate for the whole family.
4. The Best Ways to Get Parade Goods Aren't Always Obvious.
Sure, you could say, "Throw me something, mister!" or you could stick your cute kid on your shoulders, but if you really want to test your suitcases' weight limit, head to the end of the parade. You'll be showered by effervescent float-riders with a single goal: chuck all bags of beads off before they get off the float themselves.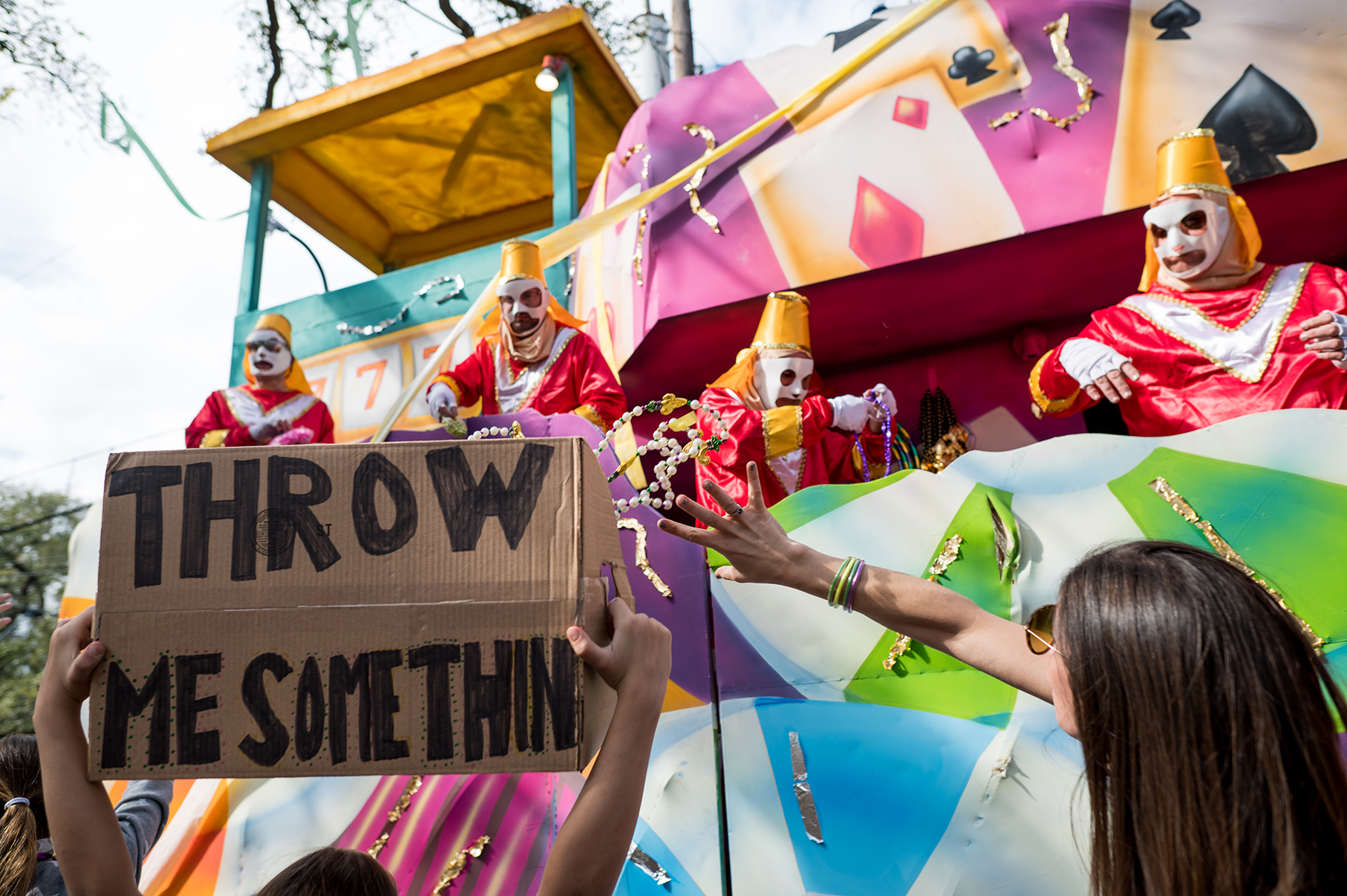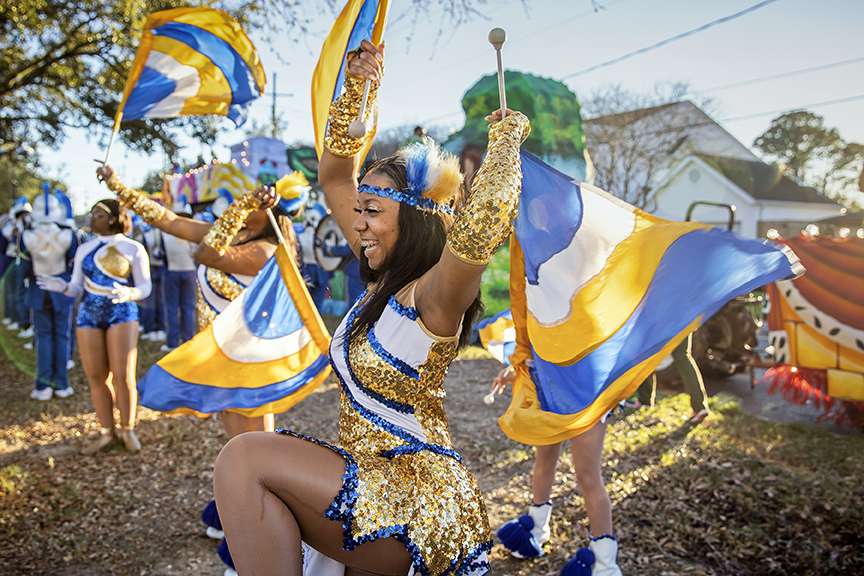 Cajun Mardi Gras in Eunice is unique.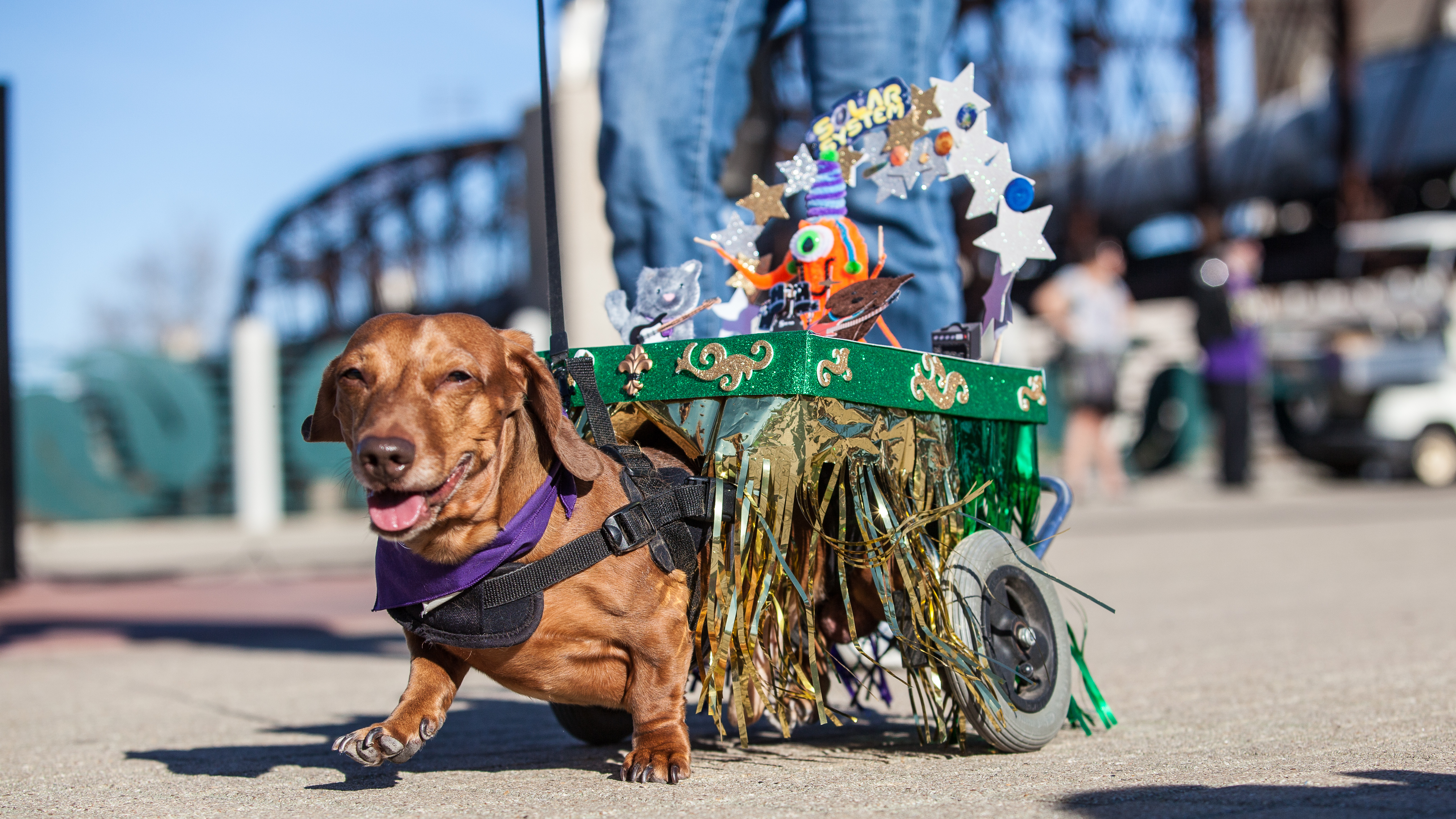 Mardi Gras is for everyone, both two-legged and four!
5. You Never Know What They'll Throw.
Bathroom humor never grows old, as evidenced by the irreverent joy of Krewe of Tucks riders and their giant toilet bowl float! The screaming crowds line the street begging for their bathroom-themed throws, including monogrammed toilet paper, sunglasses shaped like toilets, mini-plungers, and more. In Shreveport, we love the Krewe of Highland, who throw Spam and hot dogs. Anyone can come home with beads. Only those "in the know" get miniature squirting toilets and dinner.
6. The Best Parades Aren't Necessarily the Biggest.
You can't get any smaller than 'tit Rex, known as "New Orleans' first and only MicroKrewe." This krewe, founded in 2009, features miniature floats made from shoeboxes and found objects. Carnival throws are handed out by krewe members rather than tossed, since — in keeping with the theme of the parade — they are so tiny.
7. Why Do We Throw Beads at Mardi Gras?
Legend has it that in the 1880s, a man dressed as Santa Claus received such fame throwing beads, that other krewes followed suit. Makes sense, seeing as, before that, krewes threw any manner of items, including food and dirt. Today, krewes buy plastic beads en masse which parade-goers prefer over dirt! Locals still love to see throws of tiny glass bead strands, which are rare and seemed to have phased out in the 1960s and 1970s.
8. The Weight of Revelry.
Think your suitcase is heavy? Officials estimate upwards of 25 million pounds of Mardi Gras items get tossed from floats. In fact, locals like to visit ARC of New Orleans and recycle their beads for next year.
9. Royalty is Often Top Secret.
Ever seen the term "Mystic Krewe" and wondered what that means? Many Mardi Gras Krewes use "mystique" or "mystic" in their titles, meaning krewes will not reveal the identities of their royalty until they're presented at the royal ball. King, Queens and Maids are often sworn to secrecy all year until they're able to make their grand debut.
10. Mardi Gras is More Than New Orleans.
When you hear "Mardi Gras" do you only think of the New Orleans celebration? Think again. Mardi Gras is celebrated around the state! Cajun Mardi Gras (yes, there is a Cajun spin on Mardi Gras) can be found in the Lafayette and Eunice area. In Baton Rouge, parades roll many weekends before and during Mardi Gras. Plan to experience some Mardi Gras fun in South, Central and North Louisiana.
Now that you are well versed in Carnival knowledge, it's time to plan your trip to visit the Bayou State and "let the good times roll." Be sure to explore ExploreLouisiana.com for all your planning needs, and pick up your free copy of The Louisiana Official Inspiration Guide.