Day Trip Itinerary: Slidell
Many visitors to Slidell come for the swamp tours of this haunting, pristine freshwater swamp nestled between the west and east Pearl Rivers. Slidell is also home to most of the Northshore's charter fishing captains and the St. Tammany Fishing Pier. Olde Towne Slidell is a walkable district of restaurants, shops, galleries and history museums.
Breakfast Options:
Big Easy Diner
The 1950s-style Big Easy Diner (complete with neon signs and lunch counter) serves up tasty comfort food, plus a variety of Louisiana-centric Creole dishes like corn, crab and shrimp bisque and New Orleans-style favorites.
Camellia Café
Camellia Café has been in operation for over 15 years, gaining a reputation along the way for outstanding service and outstanding meals. Enjoy the French Quarter-style atmosphere of this restaurant, and don't miss the expansive breakfast buffet.
Morning Activities and Attractions:
Honey Island Swamp Tours 
Climb aboard a flat bottom boat and traverse through swamps and around cypress knees as you go deep into the Honey Island Swamp ecosystem, courtesy of Dr. Wagner's Honey Island Swamp Tours or Cajun Encounters. On your tour, your knowledgeable captain will tell you all about the flora and fauna of Louisiana, throw in a little culture and history, and introduce you to resident alligators of the Honey Island Swamp. Keep your eyes peeled for the legendary Honey Island Swamp monster!
Lori's Art Depot
If you're feeling creative, check out Lori's Art Depot. Lori Gomez - a local artist - offers art projects and classes of all sorts, for visitors of all ages. Original art, prints, supplies, jewelry and more are also available for retail.
Slidell Museum
Experience Slidell's history through the Slidell Museum. The building, which housed a former jail, firehouse and mayor's office, has plenty of stories to tell. Phonographs that play wax spheres instead of records, period costumes, an early dictation machine – invented by Thomas Edison – called the Ediphone, vintage photographs, a Super 8 video camera and projector, and an old baby scale are only a few of the antiquities on display. The second floor of the museum, once the mayor's office, now houses the Slidell Mardi Gras Museum, featuring numerous artifacts, photographs and costumes.
Lunch Options:
Old Town Slidell Soda Shop
Old Town Slidell Soda Shop is a family-friendly destination for those with a sweet tooth, located in Slidell's historic Olde Towne district. Lunch options include po'boys, muffulettas, soups and more. Then for a sweet snack, order up old-fashioned ice cream sodas, root beer floats, shakes, malts, sundaes, banana splits, snowballs and cones.  
Bruiser's
Bruiser's, located in Olde Towne Slidell, is the town's only gourmet hot dog restaurant, serving up creative dogs like the Muffuletta dog (with olive salad, mozzarella and grilled Genoa salami) and the Barduca (a deep-fried dog with chili, cheddar, bacon and coleslaw). Bring your pup and hang out in the courtyard.
Kenney Seafood
Kenney Seafood is a large seafood market with seasonal fresh and boiled seafood. Their restaurant serves traditional po'boys, classic Louisiana-style sides and daily specials. They also ship seafood, so you can get your fix of fresh Louisiana seafood even after your trip ends!
Honey Island Swamp Tour. Credit: Cajun Encounters
Olde Towne Slidell. Credit: Louisiana Northshore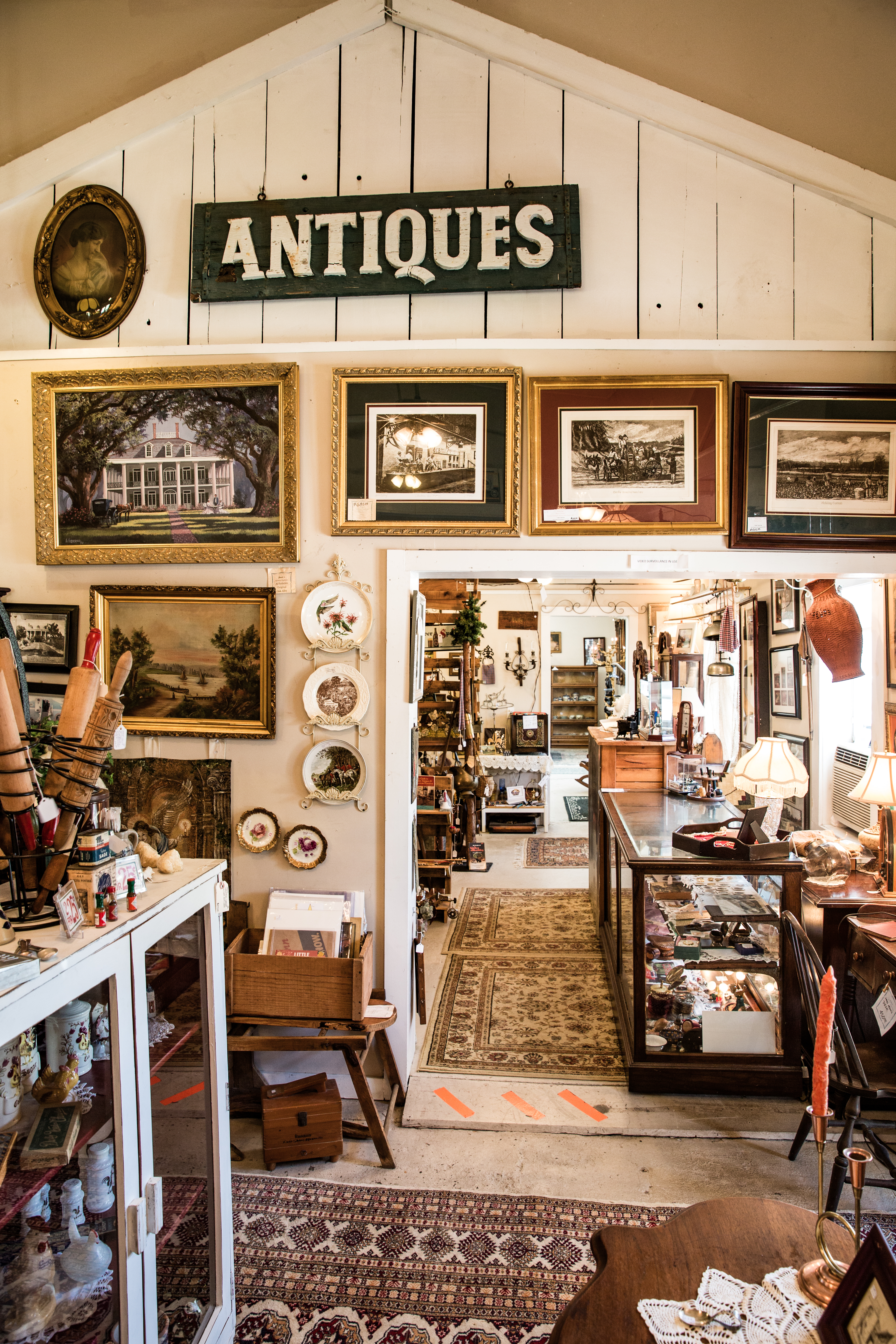 Antiques in Olde Towne Slidell. Credit: Louisiana Northshore
Dancing at Palmettos on the Bayou. Credit: Louisiana Northshore
Afternoon Activities and Attractions:
Shopping in Olde Towne Slidell
In Olde Towne Slidell, check out Cafe du Bone Dog Bakery & Boutique and grab something for your furry friends. At Meme's Beads and Things, you'll find jewelry made by local artists, and can even get custom pieces. If you're looking to get extra creative, look into one of their jewelry-making classes.  Spend the afternoon strolling Slidell's Historic Antique District and you'll find antiques, clothing and home décor shops, restaurants and gift shops.
Brooks' Bike Shop Slidell
At Brooks' Bike Shop, a variety of bicycles are available to rent. And with the location so close to Heritage Park and the Tammany Trace, you'll find some excellent paths to explore. The facility also rents kayaks, paddleboards, and canoes for you to paddle a nearby river or bayou.
Dinner Options:
Gallagher's on Front Street
Gallagher's on Front Street serves up steaks and seafood by award-winning chef Pat Gallagher (who also operates Gallagher's Grill in Covington and Pat Gallagher's 527 in Mandeville). You'll find Gulf-fresh seafood on Gallagher's appetizer menu, and savory filets, lamb chops and grilled meats on the dinner menu.
Times Grill
Times Grill offers casual family dining located inside the historic Slidell Train Depot, and serves up great burgers, sandwiches, wings, fries and thick, handmade milkshakes.
Palmettos on the Bayou
Palmettos on the Bayou is a charming and elegant Acadian-style restaurant, set on the Bayou Bonfouca at the historic site of Roberts Landing. Enjoy a tasty meal surrounded by beautiful Louisiana Cypress.
Discover additional trip ideas in St. Tammany Parish or attractions in the surrounding area.