New Orleans Mardi Gras
Take part in one of the biggest Mardi Gras celebrations, where it all started!
Mardi Gras is magnificent, costumed, beaded and feathered party laced with tradition, and New Orleans is where it's at! Carnival traditionally begins the 12th night after Christmas, also known as Epiphany, and about two weeks before Mardi Gras, the parading begins!
Every year Carnival parade organizations—known as "krewes"—are deep into preparations for their annual parades, costume balls and parties. Be sure to learn about Mardi Gras and get familiar with Mardi Gras lingo. Fat Tuesday itself typically features back-to-back processions by some of the largest and oldest Carnival organizations in the state. Remember flights and hotels fill up quickly so start planning your Mardi Gras celebrations now! 
Historic Krewes
Krewe of Rex was founded back in 1872 and still carries on its traditions to this day, including Rex Proclamations and the gold Rex doubloon which continues to be a highly-sought-after throw. Founded in 1937, the Krewe of Hermes is one of the longest-running parades in the area. The Krewe of Tucks began in 1969 and takes its name from Friar Tuck, an uptown pub where two Loyola University students decided to create their own Carnival. The Krewe of Thoth entered the Carnival picture in 1947 with an uptown neighborhood route designed to pass in front of 14 institutions that care for persons with disabilities and illnesses who were not able to attend other parades in the City.
Parades like Hermes feature massive, intricate floats.
There are parades for all ages.
The 610 Stompers marching in Thoth.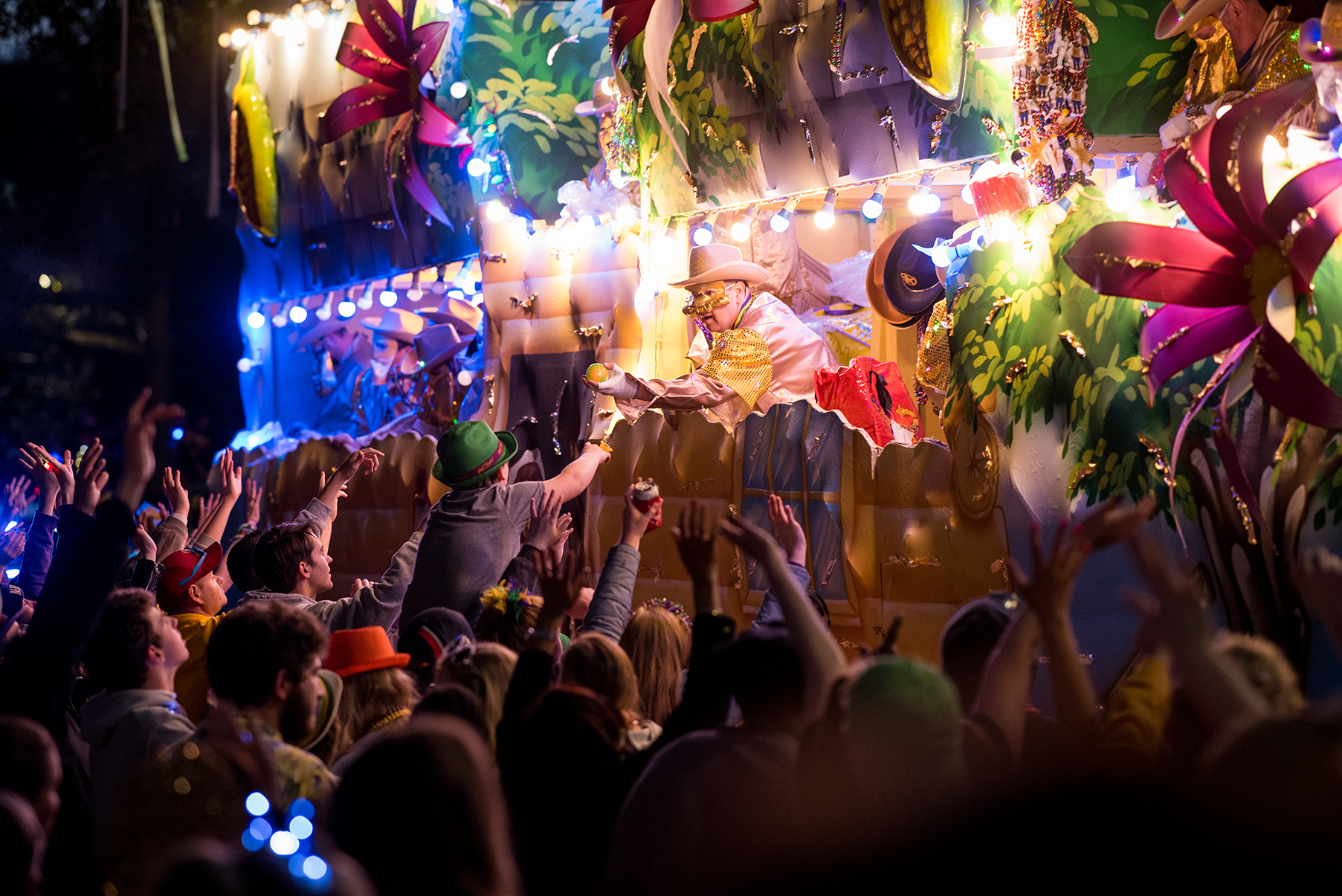 Bacchus draws plenty of revelers.
Bringing Out the Big Guns
One of the city's "super krewes", the Krewe of Orpheus is a nonexclusive and diverse krewe welcoming members from all walks of life. The parade rolls on Lundi Gras and culminates with the Orpheuscapade, a black-tie party that draws thousands of revelers to welcome the parade through the convention center as they are entertained by popular live acts. Another well-known krewe is the Krewe of Endymion, which not only puts on an amazing parade - complete with the latest fiber optic and LED lighting, billowing smoke, and confetti machines and animated props – but also hosts the Endymion Extravaganza featuring world-renowned musicians. And the Krewe of Bacchus is famous for recruiting celebrity Kings to lead this massive procession – from the sports world to the entertainment industry and everything in-between.
Mardi Gras is for Everyone
Mardi Gras may have originally been exclusively for men, but over the years, female Krewes have popped up left and right to join the fun. The Krewe of Iris is one of the oldest all-female Krewes in New Orleans, rolling since 1959, and in 1972, the all-female Krewe of Cleopatra was born. Since 2012 the Krewe of Nyx has exceeded over 80 floats and three thousand female riders. Founded in 2013, the Mystic Krewe of Femme Fatale became the first krewe founded by African American women for African American women. And in 2018, The Krewe of Nefertiti joined the scene of Mardi Gras sisterhoods.
Let's Talk About Throws
Krewe of Zulu marched in Mardi Gras as early as 1901 and offers one of the most sought after Mardi Gras throws – the Zulu coconut or "Golden Nugget." The earliest reference to the coconut appears to be about 1910. One of the most famous all-female krewes is Muses, established in 2001 and known for their coveted Muses shoes. The Krewe of Morpheus' signature throws include LED Beads, LED Sleepy Time Hats, 3D Cups and plush sheep, moons, pillows and bears. The Krewe of King Arthur introduced its signature throw, The King Arthur Grail, in 2017. The grail is one-of-a-kind, created by local artists, and is handed out to one lucky parade goer each year.
Feel the beat of the marching bands.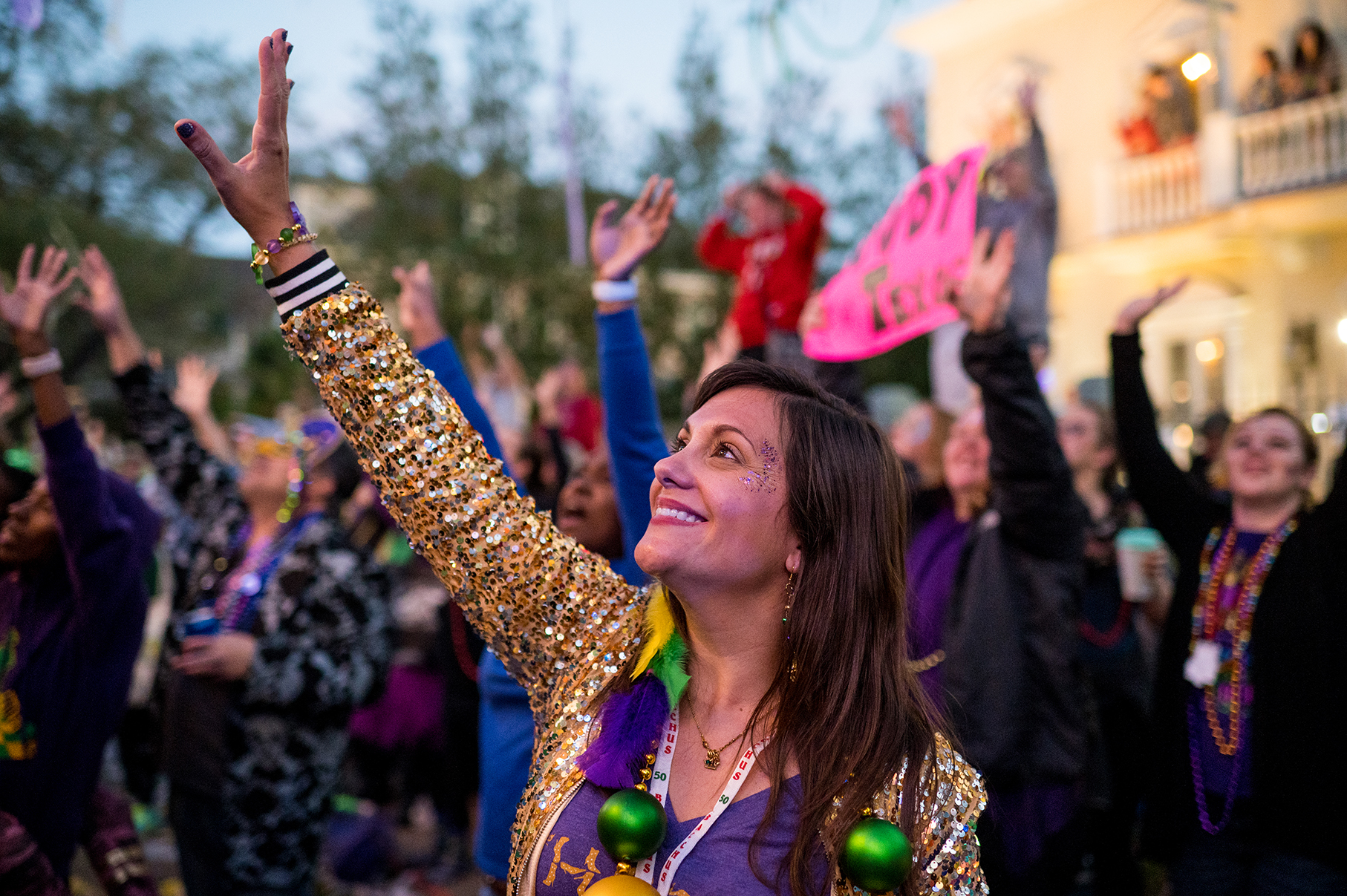 Don your purple, green and gold.
You'll see all kinds of fun characters roaming the streets.
Keeping it Quirky
New Orleans Mardi Gras just wouldn't be the same without its wacky krewes parading through the city. First and foremose, we have to talk about the 610 Stompers – self-proclaimed "Ordinary Men with Extraordinary Moves" who debut their moves at their annual Debutante Ball leading up to Carnival Season. The Phunny Phorty Phellows first appeared on Fat Tuesday, 1878. After disbanding in 1898, they eventually made a grand return in 1981. With the addition of Krewe du Vieux, these parades are lively, satirical parades full of hijinks and well-meaning mockery of current events. The sci-fi themed Intergalactic Krewe of Chewbacchus is "revelrous Star Wars freaks, Trekkies, Whovians, mega-geeks, gamers, cosplayers, circuit benders, cryptozoologists, UFO conspiracy theorists, mad scientists, and all super nerds" and aims to keep it green by using DIY, homemade, and sustainable materials and practices including tricycles, shopping carts, robotic power chairs, rickshaws, golf carts, and more. In a city where Mardi Gras parades seem to be larger than life, 'tit Rex takes the opposite approach and marches with floats made of shoe boxes. And of course, what would Mardi Gras be without a costumed puppy parade? The Mystic Krewe of Barkus even elects two lucky pups as King and Queen Barkus each year.
Bonus: Neighborly Love!
Check out nearby festivities right outside of New Orleans. The all-female Krewe of Isis in Kenner is Jefferson Parish's oldest and longest continuously parading organization. In Metairie, the Krewe of Argus welcomes men, women and children to participate in this family-friendly celebration. And The Knights of Nemesis pleases spectators in Chalmette.
If you want more Mardi Gras, you're in luck because parades and celebrations take place all over Louisiana! Learn more about Mardi Gras celebrations in the surrounding cities of South Louisiana, North Louisiana and Central Louisiana.