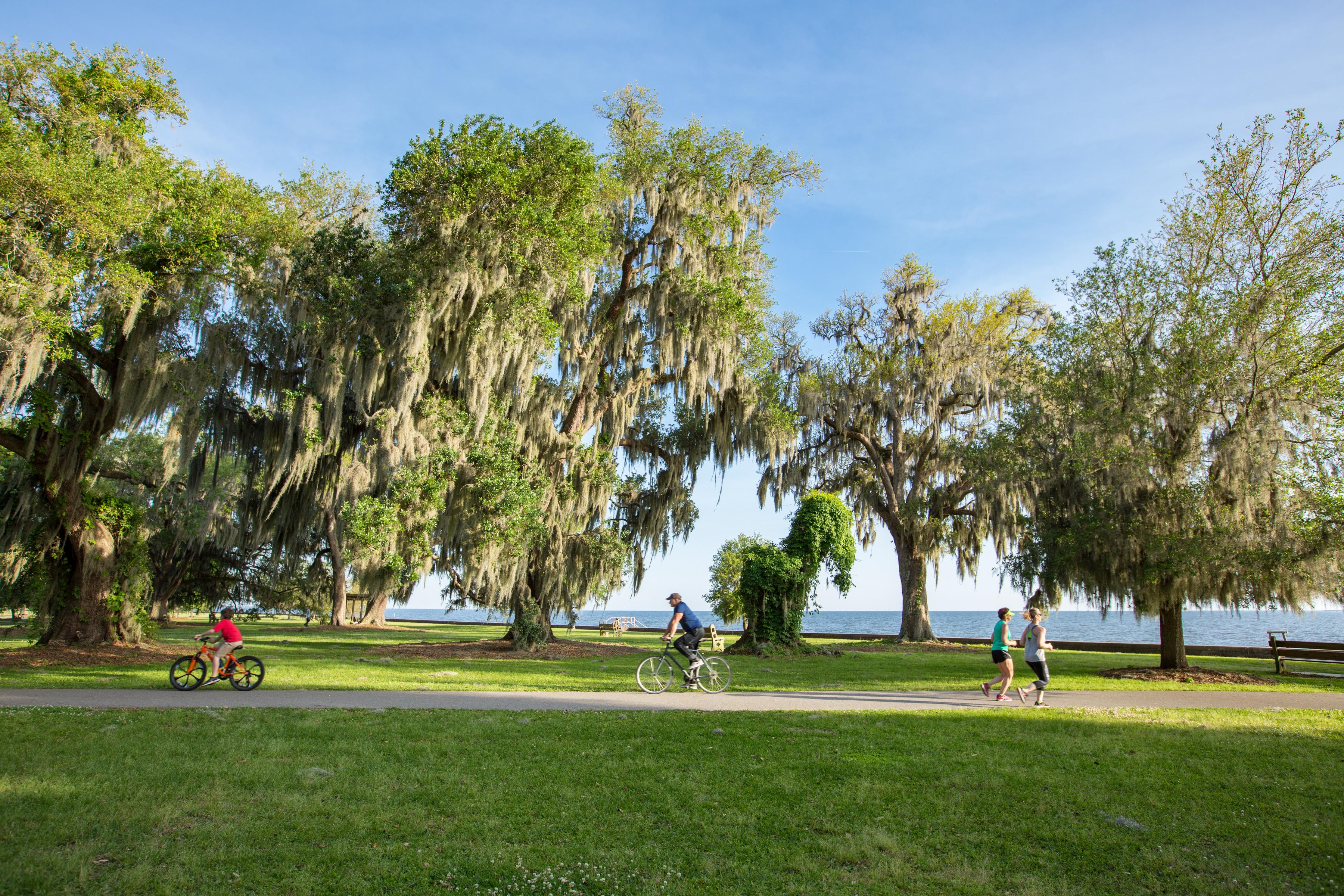 Three Ways To Explore The Louisiana Northshore
Vacationers and explorers looking for beautiful waterways, historical landmarks and tons of adventure – check out these three ways to Visit The Northshore.
1. Take A Paddle Down The River
You see, this area is not only located on Lake Pontchartrain but it's also adorned with gorgeous rivers and mossy bayous. Whether you prefer kayaking, canoeing or paddle boarding, getting out on the water is a must when you explore the Louisiana Northshore.
Connect with Canoe and Trail Adventures, one of the best kayak rental and tour companies in the area according to TripAdvisor. Rentals launch from a private floating dock behind The Chimes restaurant.
As you paddle the slow-moving Bogue Falaya River, you'll come across beautiful mossy trees, sandy banks and even a few rope swings. The locals are always looking to pass a good time so they keep the riverbanks full of tree swings for everyone to use! Remember to always check that the water is deep enough before jumping in.
Upon return to the dock, be sure to grab a spot on The Chimes' nice outdoor patio to enjoy classic Louisiana dishes with a riverfront view. Plus, beer enthusiasts will be happy to find a selection of local brews, especially locally-founded Abita Brewery, one of the nation's top craft breweries.
2. Ride a Bike Through History 
Biking through Old Mandeville is an immersive way to cruise around and taste what this charming town has to offer. The 31-mile Tammany Trace is a rails-to-trails conversion was once a corridor for the Illinois Central Railroad, and many of the markers along the path were actual train stations.
If you don't have a bicycle, don't worry. Brooks Bike Co-Op and Museum has rentals in Historic Mandeville, directly next to the lakefront. Park your car, rent a bike for the desired time and go explore. You can venture on your own, or arrange for a guided tour based on your interests! If you decide to just explore on your own, here are some must-see spots:
As you cruise among the beautiful homes that line Lake Pontchartrain, you will come across this picture-perfect gazebo. Stop for a selfie!
Check out the Mandeville Trailhead where local farmers, artisans, and musicians gather in this outdoor event space for the Mandeville Trailhead Community Market.
Jean Baptiste Lang Creole House - Once the home of an extremely wealthy tobacco merchant, the Lang house is now a museum and multifunctional community event venue. One of the only Anglo-Creole houses left standing in Old Mandeville, the Lang House is full of unique architectural features. Get your map of the Old Mandeville Historic Marker tour, and explore many more historic spots on your own.
What was originally the Mandeville Bank is now the Candy Bank - a dreamland for children (and the young at heart). Sticking to its historic roots, the Candy Bank has traditional candies from your great-grandparents' era! They also offer homemade fudge, Blue Bell ice cream with homemade waffle cones, and yummy nitro brew iced coffees.
Kayaking on the Bogue Falaya
3. Boating Down the Tchefuncte River
A full day of paddling and biking requires a little bit of rest and relaxation. What better solution than a leisurely pontoon tour on the Tchefuncte River? Area expert Captain Mike with Louisiana Tours and Adventures can accommodate.
The tour launches from Fairview-Riverside State Park in Madisonville. As you ride along the river, you'll learn about the area and see tons of bird species, turtles and alligators. Often when you look up, you'll see an osprey nest. Ask Captain Mike to help you spot the Egrets, Blue Herons, and gators to get some close-up snapshots!
Where the Tchefuncte River meets Lake Pontchartrain, you'll see the Tchefuncte River lighthouse. This beautiful and unique historical landmark lit the way for ships coming to and from the Jahncke Shipyard during the War of 1812. History lovers can learn more about the Northshore's role in the war at the Lake Pontchartrain Basin Maritime Museum near the river. 
Fun Facts About Tchefuncte River 
The name Tchefuncte is believed to derive from the word Hachofakti which is the Choctaw word for the American chinquapin, a species of chestnut used by Native Americans to relieve headaches and fevers.
Scenes from "Where the Crawdads Sing" were filmed here! 
So Much to Explore on the Louisiana Northshore
Get ready for an invigorating vacation on the Louisiana Northshore! The area's natural wildlife, charming atmosphere and amazing dining will have you excited for more. Remember to share your Northshore adventures using the hashtags #LANorthshore, #TammanyTaste, #OnlyLouisiana and #FeedYourSoul.