New Orleans' Best Off the Beaten Path Attractions
Find unique, bizarre and unusual things to do in New Orleans.
New Orleans' nicknames include America's Most European City and The Northernmost Caribbean City — descriptions that speak to its unmistakable and at times downright eccentric qualities. This is the city of the jazz funeral and Mardi Gras, gumbo festivals and Voodoo, after all. If you are looking for some amazing things to do in New Orleans that are not the typical stops, try out this list.
New Orleans delivers unique, bizarre, unusual, beautiful and sometimes strange experiences you'll find nowhere else on Earth.
Take a few steps outside the norm and check out some of these local attractions that are perfect for the intrepid traveler.
Visit the singing oak in City Park and listen to the wind chimes in this live art installation.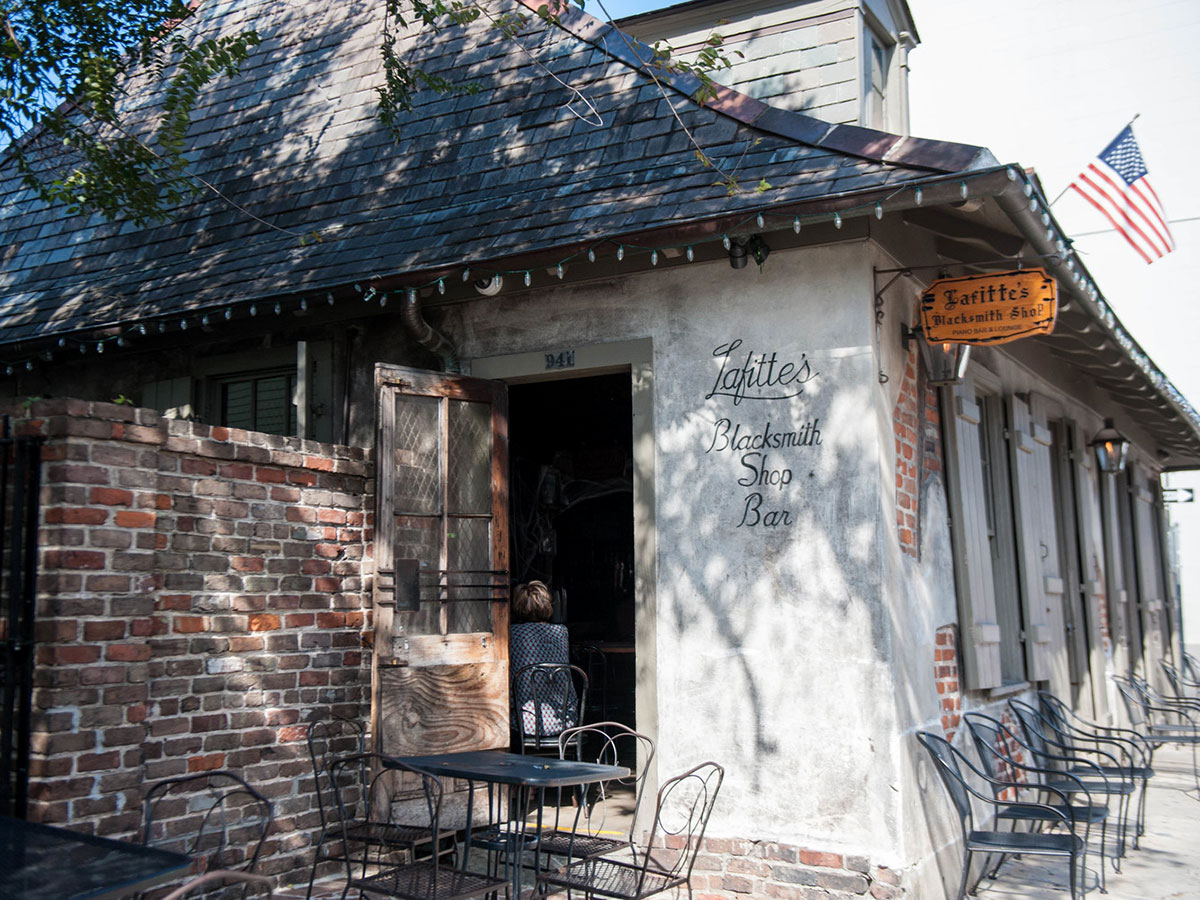 Lafitte's Blacksmith Shop, built in 1772, is still a popular hangout on Bourbon Street.
The Music Box Village
Imagine a sculpture garden in a little-visited section of one of New Orleans' oldest neighborhoods, populated with an assortment of artistic shacks and tiny homes made with recycled materials. Step inside one and find an assortment of homemade musical instruments that are built into the buildings themselves. You can literally "play" these houses. That is the concept behind The Music Box Village. It's open to the public for tours, where visitors are invited to tinker around themselves.
Perhaps the best way to experience The Music Box Village is during one of its concerts, when artists use the DIY instruments on site. Past performers have included GRAMMY® Award winners Wilco and local legends Tank & the Bangas. 
Lafitte's Blacksmith Shop
It's fitting that Louisiana's oldest bar is located on its most famous street. Lafitte's Blacksmith Shop, established in 1772 and housed inside a building dating to 1720, sits at the far end of Bourbon Street, where crowds are a little more dispersed and the vibe takes on more of a "neighborhood" feel. Lafitte's is named for Pierre Lafitte, a blacksmith and brother of pirate and Battle of New Orleans hero Jean Lafitte. The Lafitte brothers allegedly planned their many exploits at the shop, which in the 1940s became a café popular with local artists.
Lafitte's Blacksmith Shop is still going strong today as a piano bar and one of the French Quarter's most famous haunts. Soak up some history while sipping on a cold cocktail, and raise a toast to the pirate brothers.
New Orleans Historic Voodoo Museum
The Historic Voodoo Museum is one of the best spots in New Orleans where the public can learn about the real history of Voodoo in New Orleans. The New Orleans Historic Voodoo Museum was founded in 1972 as a repository for Voodoo-related artifacts and objects that tell the story of its long history in the Crescent City.
Located in the heart of the French Quarter, visitors can tour the museum daily, and join one of its haunted cemetery walking tours. 
Studio Be
The Studio Be arts venue does everything on a grand scale. The converted warehouse in the Bywater neighborhood features 35,000 feet of gallery space. Studio Be is also the home gallery of one of New Orleans most notable up-and-coming artists, Brandan "Bmike" Odums. Odums' canvases are walls, on which he paints powerful, hopeful and at times politically charged murals.
Backstreet Cultural Museum
The Backstreet Cultural Museum in the historic Tremé neighborhood is the only one of its kind in the world, celebrating the contributions of the city's African Americans to New Orleans' culture. And it all began, literally, on the backstreets. According to the museum's website, founder Sylvester Francis began collecting Mardi Gras Indian costumes and photos in his garage in 1988. Tourists began hearing about Francis' collection, and by 1999, the Backstreet Cultural Museum became a formal institution. 
Over the years Francis has collected a priceless collection of artifacts from Mardi Gras Indians, jazz funerals, social aid and pleasure clubs (which put on weekly second line parades throughout the city), and archived images of more than 500 related cultural events.
Island of Salvation Botanica
Voodoo has its roots in Haiti but had a profound influence on New Orleans' African American culture, dating back over 200 years. Reminders of the city's Voodoo past abound, and one place where you can learn more about the religion is at Island of Salvation Botanica in the Marigny neighborhood. There you'll find everything from Haitian art to statues of saints, herbs and oils, and uncommon items such as crystal pendulums and dragon's blood ink.
HEX: Old World Witchery
If you've ever wondered what it would be like to meet a real-life warlock, here's your chance. HEX: Old World Witchery  is described as an Old World Witchcraft shop that offers a range of ritualistic objects that include love potions, amulets, herbs and a trove of other objects to fulfill your witchcraft needs. Don't leave HEX without visiting the Witches' Altar of the Dead.
Doullut Steamboat Houses
Head towards the less-touristy New Orleans neighborhood of Holy Cross to see a couple spectacular relics of the city's nautical past. The Doullut Steamboat Houses, located at 400 and 503 Egania Street, were constructed in 1905 and 1913 by riverboat pilot Milton P. Doullut for himself and his son. Both of these privately owned houses, featuring pagoda roofs and wraparound verandas overlooking the Mississippi River levee, are closed to visitors but are easily visible from the public trail that runs along the crest of the levee. Take a tour with the French Quarter Phantoms to learn more.
House of Broel's Victorian Mansion and Gardens
House of Broel is an opulent 19th century mansion located in one of New Orleans' most picturesque neighborhoods, the Garden District. Owner Bonnie Broel has turned her home into an in-demand wedding destination that offers brides and grooms some of the best Southern charm that New Orleans has to offer.
For casual visitors, House of Broel offers an off-the-beaten-path gem: a doll museum. The entire second floor of the house is devoted to collections of intricately designed doll houses and miniature vignettes that feature Broel's painstakingly crafted dolls, dressed in historically accurate period costumes. The museum is open by appointment only.
The Singing Oak
You may very well hear this tree before you see it: a massive live oak in the middle of City Park. The Singing Oak is an art installation by artist Jim Hart that features wind chimes measuring as long as 14 feet. Part of the charm of The Singing Oak is just finding it. City Park is filled with stately oaks, picnic-perfect fields and waterways for kayaking (which you can rent on-site), as well as destinations-within-a-destination such as the New Orleans Museum of Art and the New Orleans Botanical Garden — and locating one tree among all of these sites is a fun little task. Here's a hint: The Singing Oak is on the east side of Big Lake (in front of the museum), next to the Reunion Shelter. Once you arrive at the shelter, just follow your ears… 
Learn more about the top things to do in City Park.
Want more trip ideas in New Orleans? Check out 8 Ways to Tour New Orleans, Free Things to Do in New Orleans or the Live Music on Frenchmen Street.