Louisiana Swamp Tours
Airboat, kayak or cruise through some of the country's most fascinating landscapes on a guided swamp tour.
Louisiana serves up a lot more memorable experiences than just bowls of its famed gumbo.
To experience an indelible part of the state's past, present and future, visit the mysterious and exquisite swamps throughout south Louisiana, home to one of the planet's richest and most diverse ecosystems.
Perceived as beautiful and menacing, south Louisiana's ancient swamps have long captivated writers, historians and travelers.
Modern-day explorers still have an intense curiosity about the beauty found in Louisiana swamps—the untouched nature and groves of gnarled cypress trees dripping with lush Spanish moss. Voyagers encounter indigenous critters such as alligators peering just above the waters and hundreds of species of birds, and hear colorful lore about pirates and other inhabitants of the vast, winding waterways. 
One of the best ways to experience the intricate network of Louisiana's scenic swamps is by hopping on a guided tour.
And the ways to get up close and personal with the wildlife are as varied as swamp life itself. Tours aboard airboats and kayaks accommodate sightseers' desire to explore the swamp.
Embark on a paddle through our swamps, rivers and bayous with the team at New Orleans Kayak Swamp Tours. You're sure to see plenty of wildlife as you kayak among the moss-draped cypress trees during your exploration. First time paddling? Don't worry, most of the tours are beginner-level to ensure fun for the entire family.
Atchafalaya Basin Landing & Swamp Tours, located in Henderson, offers airboat trips at the gateway to the expansive Atchafalaya wilderness, America's largest river swamp—perfect for photographers, birders or anyone wanting an unforgettable glimpse into swamp life. Licensed captains who live on the water narrate these exhilarating swamp tours.
The 20-mile-long Honey Island Swamp, a wild and pristine river swamp, has breathtaking scenery plus alligators, deer, turtles and sweet-smelling azaleas. Dr. Wagner's Honey Island Swamp Tours offer small covered and uncovered boats that have access to this cypress-loaded wonderland and are led by knowledgeable and licensed interpretative guides.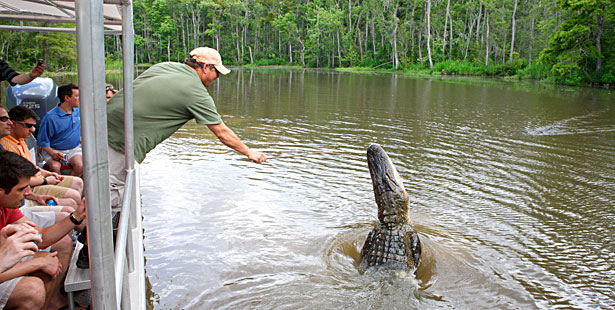 Swamp tours like Dr. Wagner's get you into the swamps.
Explore the incredible flora and fauna.
A Cajun Man's Swamp Cruise is led by Captain Billy, a Louisiana native and an alligator hunter of over 30 years.
Come face to face with Louisiana's wildlife and exotic plant life with Jean Lafitte Swamp & Airboat Tours, headquartered near New Orleans in the Jean Lafitte National Historical Park and Preserve. Navigators will take you along the meandering, murky waters of swamps where you can capture pictures and memories of a true paradise that time has forgotten. 
Paddle along tranquil cypress, tupelo and oak-forested swamps in the Maurepas Swamp Wildlife Management Area near New Orleans. Lost Lands Environmental Tours combines the unique perspective of Pulitzer Prize-winning journalist Bob Marshall, who educates visitors while giving them an incomparable experience on Louisiana's swamps.
Whichever tour you choose to explore Louisiana's postcard-perfect swamp culture, one thing is guaranteed—it will be the ride of a lifetime.
Learn more about swamp tours and opportunities to get up close with gators.