As Seen on TV: Louisiana Restaurants
Louisiana eateries have often been deemed worthy of recognition by the Food Network.
Louisiana has received worldwide acclaim for its amazing cuisine, so it only makes sense that the Food Network has continuously featured the state on a variety of its shows. Check out just a sample of what restaurants and dishes made the cut! 
Note: Some menu items may have changed since the shows' production. We still encourage you to stop by and experience these restaurants for yourself – you might find your next favorite dish!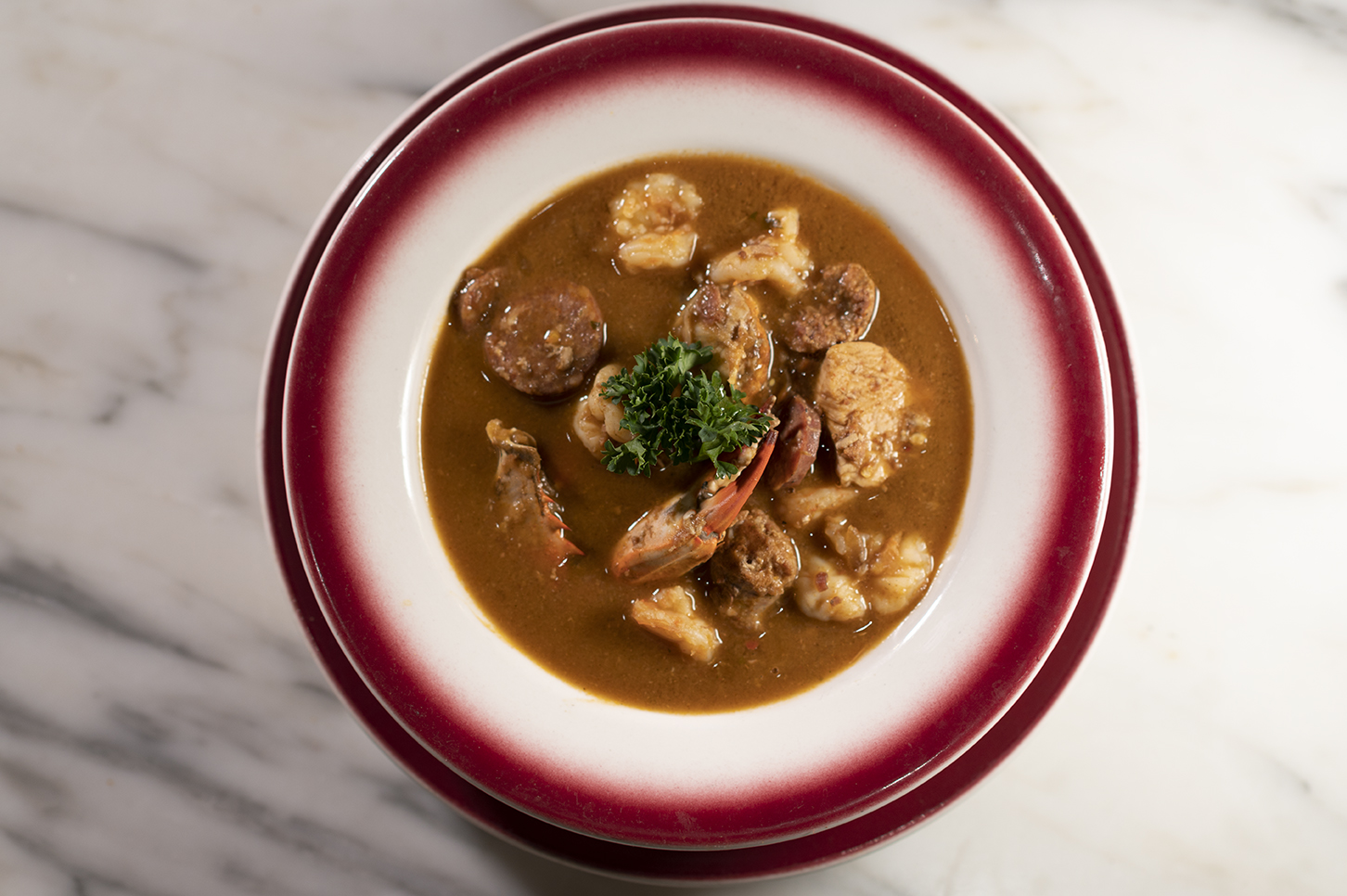 Gumbo from the iconic Dooky Chase's in New Orleans.
The Best Thing I Ever Ate
"The Best Thing I Ever Ate" features a rotating cast of renowned figures from the culinary world, each divulging their favorite dishes based on each episode's category.
The city of New Orleans earned itself its own episode, and in it the legendary Chef Emeril Lagasse praised Pho Tau Bay for its Pho Ga, a savory Vietnamese chicken noodle soup. Pascal's Manale is home of The Original BBQ Shrimp, and Chef Alex Guarnaschelli chose this spicy local delicacy to highlight in the "Bar-B-Que" episode. According to Sunny Anderson, the Giant Seafood Platter with shrimp, catfish, soft-shell crabs and crawfish at Deanie's is one of the best things to eat in the city. However, Scott Conant prefers the po'boys and muffaletta from Johnny's Po'Boys, and John Besh can't get enough of the Gumbo Z'Herbes from Dooky Chase's. When it comes to the sweet things, Alton Brown prefers beignets from Café Beignet, paired with a hot chicory coffee for dunking. And Wolfgang Puck was wowed by a banana cream pie with stacks of bananas and a creamy custard filling at Emeril's. The iconic Roman Candy Company's pulled taffy is a favorite of Candace Nelson, mixing all three flavors of vanilla, chocolate and strawberry into one Neapolitan bite.
While television host, author and chef Claire Robinson loves the bread pudding over at the award-winning Commander's Palace, Sunny Anderson claims in the show's "Guilty Pleasures" episode that the bread pudding at Mother's is not something to ignore. Galatoire's is a New Orleans staple established in the 1960s, so it's no mystery why the famed eatery, and its Poisson Meunière Amandine, were featured on this show's "Old School" episode. From old school to modern, Chef Aaron Sanchez considers the Potato Gnocchi with Blue Crab and Perigold Truffle from Restaurant August his favorite dish in the "In a Bowl" episode. And food writer John T. Edge brought viewers to New Orleans in the show's "Sugar Rush" episode for pecan pie from Brigtsen's.
Diners, Drive-Ins & Dives
Guy Fieri takes viewers to Flavortown on "Diners, Drive-In's & Dives," and New Orleans has a top spot on the show's list of destinations.
Starting with the most important meal of the day – the "What's For Breakfast" episode featured handmade bagels and fresh juice from Surrey's. And like "The Best Thing I Ever Ate," Triple D produced an episode focused solely on New Orleans eats. In the episode, titled "Eating Up New Orleans," Guy chowed down on the upside-down Asian-style taco called The Volcano, the Totem Pole with crab stuffing, crispy soft-shell crab, fried eggplant and a shrimp kabab from Seither's Seafood.
Some Louisiana restaurants were so good, one episode wasn't enough. Casamento's made an appearance on two episodes – "Cookin' It Old School" and "Triple D Nation: From the Sea" – to showcase their deep fried oysters, shrimp and soft-shell crab and their oyster stew. Katie's was praised for their seafood sandwich that's so large it's known as The Barge, and the handmade pizza topped with Cajun pork in the episodes titled "Fully Loaded" and "Triple D Nation: Flavortown Favorites." Sammy's Food Service & Deli has earned a spot on three episodes of the show – "Ultimate Turkey Fest," "A Triple D Thanksgiving" and "Triple D Nation: Trottin' Out the Turkey" – thanks to its Turkey Dinner with Oyster Gravy Stuffing and Pumpkin Bread Pudding. Guy enjoyed the Peace Maker - a po'boy stuffed with fried oysters, bacon, and cheddar - plus a slice of the sweet potato crunch pie at Mahony's in the "Super Sandwiches" and "Po'Boys, Pasta and Pork" episode.
Speaking of po'boys, Louisiana knows a good sandwich. In the episode titled "Where the Locals Go," The Rivershack Tavern's po'boys were on display. And in the "Places You Sent Me" episode, inspired by viewer recommendations, Guy tried the "capital-T tender" roast beef po'boy and muffaletta sandwich – which he called "an absolute must-try" at Parasol's. In the "Signature Sandwiches" episode, La. Pines Café in Slidell's Prime Rib Po'boy was a hit, in addition to their Cajun Corn Pudding and Rib Plate. The "All Kinds of BBQ" episode highlighted The Joint's brisket sandwiches, pulled pork and ribs. And Guy loved the Shrimp Magazine, oyster po'boy and jambalaya from Joey K's in the "Regional Classics" episode.
The show has uncovered the eclectic culinary scene in New Orleans. Turkey and the Wolf's Hog's Head Taco filled with homemade head cheese and vegetarian Collard Green Reuben were hits in the "Piling on the Pork" episode. The same episode also included the Honey Butter Yardbird and Crispy Pork Knuckles over at Marjie's Grill. Guy indulged in hot sausage meat pies, spicy shrimp boudin, beef tallow fries and daiquiris at Bourrée in the "From Pied to Fried" episode. The "Cultural Twist" episode takes viewers to Red's Chinese for Bywater Eggplant, Crawfish Rangoon, MaPo Dauphine with tofu and Swallow Cloud Soup. And to end on a sweet note, the Creole Creamery's unique ice cream flavors and sundaes were a favorite of Guy's in the episode titled "Brain Freeze."
Burgers, Brew & Que
In "Burgers, Brew & Que," restaurateur and chef Michael Symon road trips around the country in search of the best classic American grub and beers.
In the show's "Comfort Creations" episode, Evangeline's cheesy and spicy Acadia Crawfish & Grits and creamy Decatur Street Sundae took the spotlight. Cane & Table's Crispy Rum Ribs and Rice Calas were highlighted on the "Juicy, Crunchy and Tangy" episode. The "Hot, Charred and Crispy" episode appropriately included the Oyster Remoulade Po' Boy, BBQ Shrimp and Fried Catfish Platter from High Hat Café. And the "Ooey, Gooey and Cheesy" episode featured the Crab Mac & Cheese and the Brown Butter Brunch Burger at Brown Butter Southern Kitchen and Bar. In the "Meat, Meat and More Meat" episode, Michael considers La Petite Grocery's LPG Cheeseburger a "burger dreams are made of." Outside of New Orleans, the "Smoked and Stacked" episode travels to Baton Rouge for the Wild Boar Flautas and Pork Belly Hoagie from City Pork Brasserie & Bar. And Michael ventures up to BeauxJax Crafthouse in Shreveport for decadent mac and cheese studded with crawfish, alligator andouille sausage and shrimp in the "Bayou Barbecue and Saucy Skillets" episode.