So Many Spring Festivals in Louisiana
It's near impossible to try to take inventory of all the spring festivals in Louisiana. A better idea is to just stop by and enjoy!
*Always check the festival websites for the most up-to-date information, as events and dates are subject to change.
Louisiana can properly claim the title "Festival Capital of the World," with more than 400 festivals scheduled annually around the state. In the spring, however, the festival action goes into warp speed. Every weekend—and sometimes the weekdays in between—brings a new round of events that makes it hard for a festival-goer to choose. There's no shortage of festivals kicking off just after Mardi Gras.
Food Festivals
Springtime brings an abundance of fresh produce in Louisiana. Taste the bounty at the Ponchatoula Strawberry Festival or the Louisiana Peach Festival in Ruston for sweet and juicy fruit, try some dishes that incorporate them, and enjoy all the classic fun that comes with a festival.
Louisiana has quite a few festivals that are centered solely on the state's signature dishes. See the Étouffée Festival in Arnaudville, highlighting the savory rice dish that comes smothered in a seafood gravy, and the Gonzales Jambalaya Festival. A traditional Cajun snack, boudin (a spicy sausage and rice mixture stuffed into casing), is the star of the Scott Boudin Festival. Get a taste of fresh Louisiana seafood at the Amite Oyster Festival. And of course, what would Louisiana be without crawfish festivals? Show up with a healthy appetite!
Music Festivals
Arguably the most popular music festival in Louisiana is the New Orleans Jazz & Heritage Festival, a seven-day festival that draws some of the best musical acts of all genres, including jazz, rock, R&B and more. The French Quarter Festival, the South's largest free music festival, is a massive event with 21 stages and 400-plus hours of live entertainment. 
Great music can be found outside of New Orleans as well. The Baton Rouge Blues Festival, one of the oldest blues festivals in the nation, honors Louisiana's own blues artists and specifically the unique sound of swamp blues. In Natchitoches, you can find the Natchitoches Jazz / R&B Festival rocking country and rock n' roll to zydeco, blues and everything in between on the banks of Cane River.
Trombone Shorty at Jazz Fest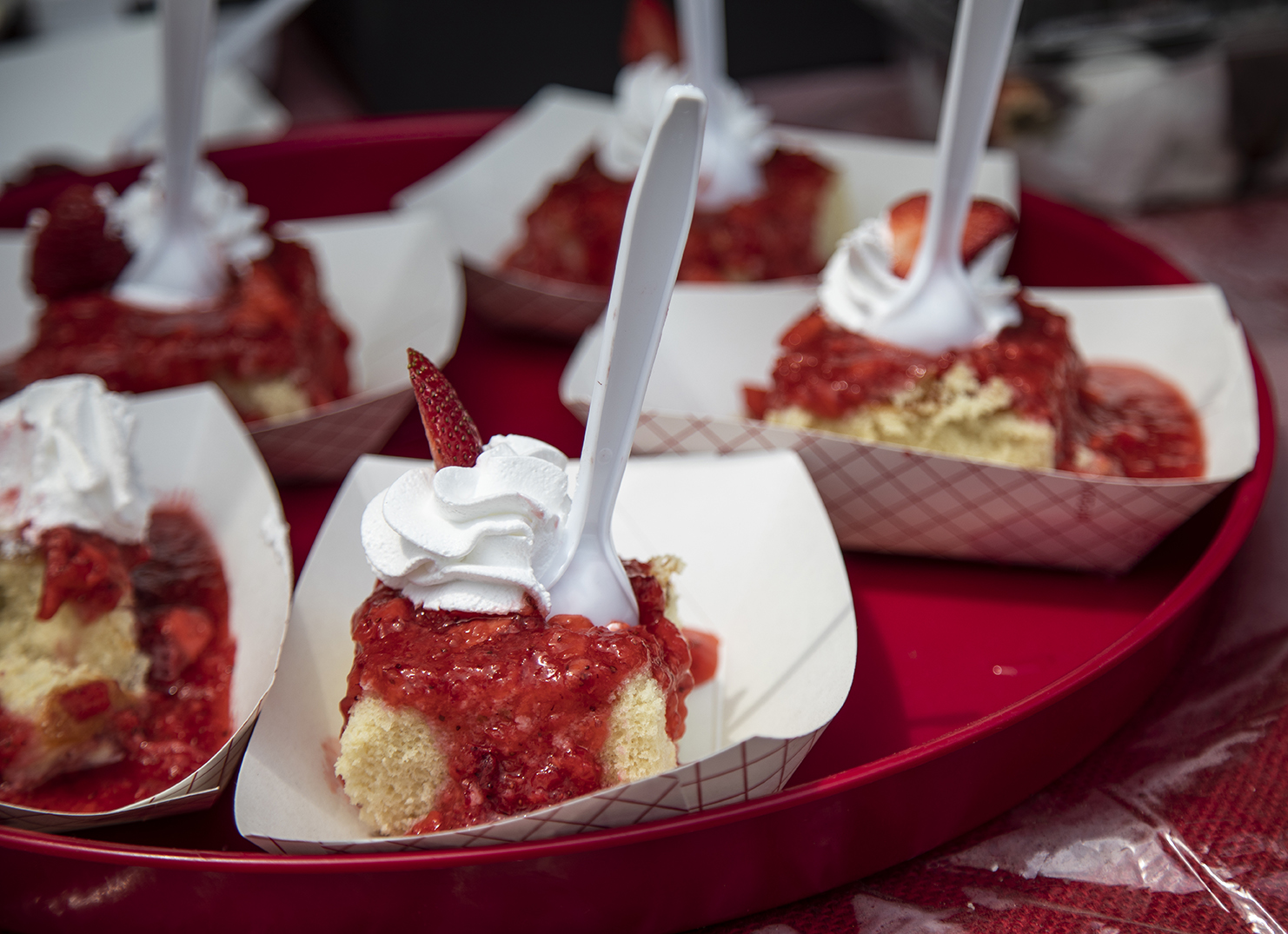 Sweet treats at the Strawberry Fest
Etouffee Festival in Arnaudville
Get on your feet at French Quarter Fest
Cultural Festivals
Lafayette hosts Festival International de Louisiane, a free festival celebrating south Louisiana's French cultural heritage. Native musicians as well as performing artists from Europe, Africa, Canada and the Caribbean play on the festival's six stages. Shop Marche des Arts, a fine arts market with artists from around the country, and Marche du Monde, a world market with sculptures, photography, jewelry and more by artisans around the globe.
While music is a main attraction, Louisiana celebrates all forms of the arts. In New Iberia, take a unique look at the hometown of author James Lee Burke through the lens of his fictional character Detective Dave Robicheaux at the Books Along The Teche Literary Festival. Explore local Cajun culture through storytelling, poetry, workshops, music, tours by bus or boat and plenty of good food. The Tennessee Williams & New Orleans Literary Festival has been supporting and shining a spotlight on writers, actors, musicians and other artists for decades. The organization is credited with providing professional writing instruction for hundreds of students in New Orleans. Literary fans of all kinds flock to the fest, hosted in the city Tennessee Williams dubbed his spiritual home.
In Krotz Springs, participants at the Sportsman's Heritage Festival can see, hear and taste the unique culture created on the banks of the Atchafalaya River. Foodies will love the wild game cook-off, music fans will be entertained by the Cajun, swamp pop and zydeco tunes, and kids of all ages will enjoy traditional festival activities. The history of Krotz Springs is inseparable from the river that sustains it.
Last but not least, you can count on Louisiana to have some wacky festival themes. Did you know Rayne, Louisiana, is the "Frog Capital of the World"? The Rayne Frog Festival honors this title with a frog cook-off, frog-eating contest, folklore tent, frog racing and jumping and more. And in Lake Charles, the Louisiana Pirate Festival unfolds with music, food, games, contests—all of which occur around a pirate theme that pays homage to Louisiana's "patron" pirate, Jean Lafitte.
We've always believed that there's more fun to have in Louisiana than just about anywhere else. If this list of incredible festivals hasn't convinced you, come on over and let us show you in person. Foodies, adventure-seekers, heritage lovers and fun-seeking families will not be disappointed with all there is to do at Louisiana's festivals. For more about Louisiana's abundance of food, music, culture and every quirky festival in-between, take a peek at our festivals calendar. 
Find more festival fun with Louisiana's Summer Festivals and Fall Festivals.