Louisiana's Top Saltwater Fishing Towns
In a state whose nickname is Sportsman's Paradise, great fishing is abundant. Grab your fishing gear and head to these dream destinations.
It is time to get out on the water, cruise the coast and discover the rich waters off the coast of Louisiana.
The best locations for saltwater fishing in Louisiana:
Fishing in Venice:
For many fishermen, Venice isn't the best place for Louisiana fishing; it's the only place. The town has achieved such a mythical status as a destination for outdoorsmen, that you have to wonder—is it really that good? No question it is. Year after year, magazines like Field & Stream and Outdoor Life put Venice on their best-of lists, thanks to the fish that are caught year-round in the freshwater, saltwater and brackish channels just outside of town. Visit the Venice Marina website to hook up with one of the town's dozens of charter boat captains. If you want to see how local chefs prep their catch, stop in for a bite at Harbor Seafood Oyster Bar.
Fishing in Port Fourchon:
Port Fourchon, similar to Venice and Grand Isle, has direct access to the open waters in the Gulf of Mexico. Grab a charter and get ready to catch some huge fish. Fishing offshore from Port Fourchon will take you into the deep waters where many of the nation's oil rigs sit. And there's a whole art and science to fishing near these structures. Get ready to reel in marlin, tuna and wahoo, amberjack, cobia, grouper, and snapper. Outfitters such as Cajun Made or Southern Pride Charters will ensure you have an incredible day of fishing. Also head to the Port Fourchon Marina to get all the gear and have a bite to eat before you head out fishing.
Fishing in Jean Lafitte:
Jean Lafitte, a village named after Louisiana's most infamous pirate, has plenty of attractions that set the town apart. The inland saltwater fishing is phenomenal, with redfish and speckled trout making up much of fishermen's catches. Also, its location makes the village an easy drive from New Orleans. Imagine spending the morning enjoying café au lait and beignets, and by noon, easing into a canoe and cruising past Spanish moss-draped cypress trees. The Lafitte Public Fishing Pier is a great spot for those looking to cast a line as quickly as possible. For visitors interested in charter fishing, Jean Lafitte Fishing Charters and Last Cast Guide Services are a few suggestions of great charter outfitters. View the entire list of fishing charters. And for those who are just looking for a casual day kayaking, Jean Lafitte National Historical Park and Preserve can be found on the north end of town.
Head out on a saltwater fishing trip from the Tradewinds Marina in Cocodrie.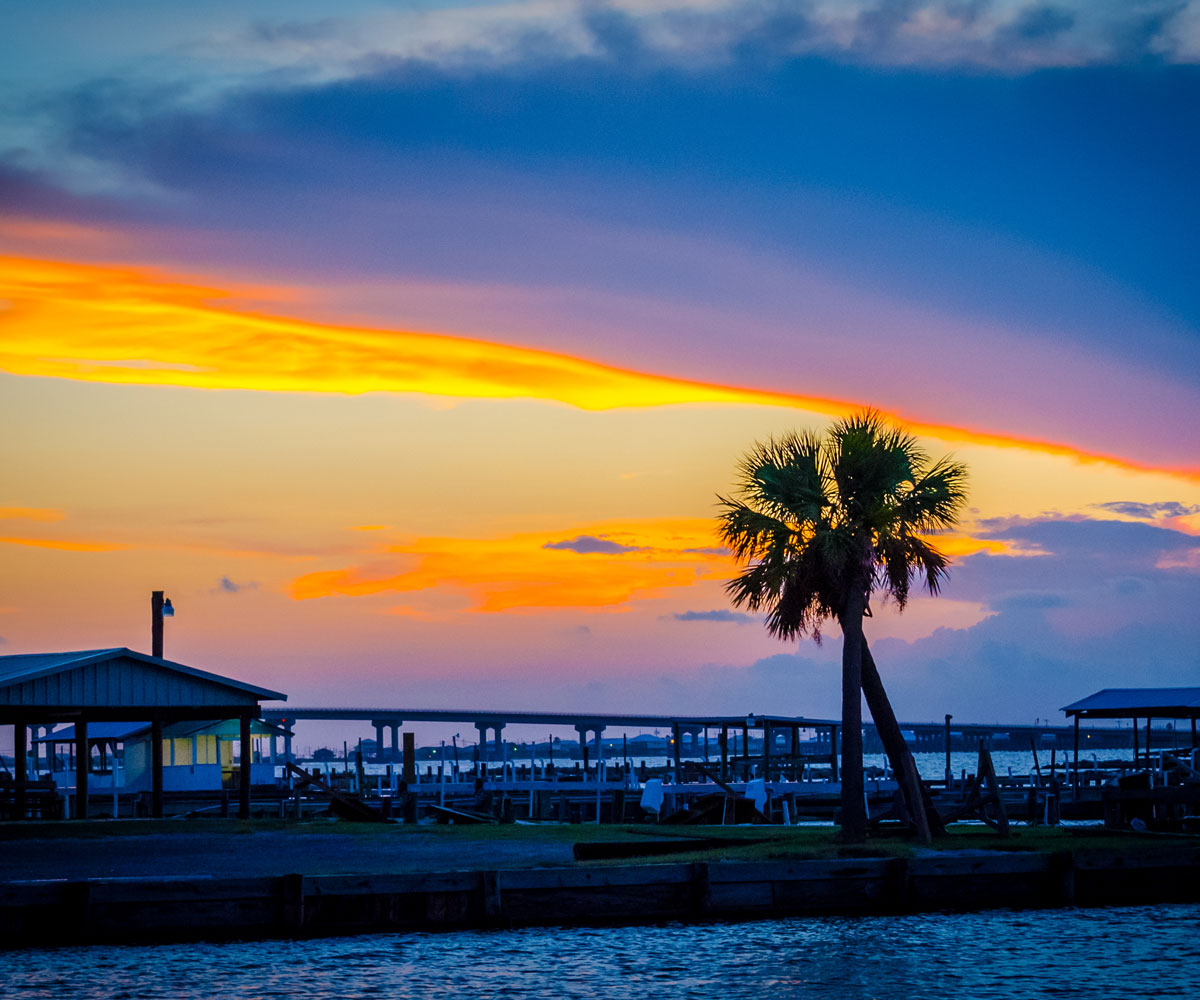 Enjoy the sunset after a day of fishing in Venice.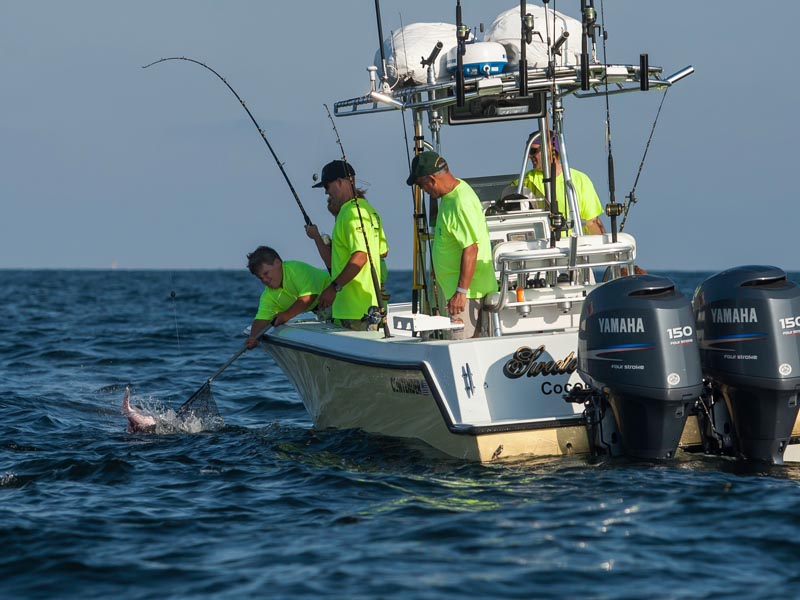 Fish on! Try deep sea fishing off the coast of the Louisiana.
Fishing in Cocodrie
To get an idea of why Cocodrie is so popular among fishermen, just look at a map. Cocodrie sits close to miles of marshland and beaches that spotted sea trout and red drum love. South of town sits a string of barrier islands that serve as havens for flounder and snapper coming in from the Gulf of Mexico. The local charter boat captains know this maze of waterways better than any GPS. Crawdaddy Charters, Light Tackle Charters and Bayou Guide Service are a few operations that will help you navigate the waters and find the best spots near or along the coast. Tradewinds Marina and Lodge offers overnight accommodations, a bait shop, charter services and a restaurant and bar for relaxing after a day on the water.
Fishing in Cameron
In Cameron, the long sandy stretches of Louisiana's southwest coast are perfect for surf fishing. No need for a boat—just show up, cast a line, and see what you can snag. Make sure you're up for the challenge, though—bull redfish caught on shore frequently weigh more than 30 pounds. One of the more popular spots among anglers is the Cameron Jetties Pier. Others include Holly, Cameron and Constance beaches. Crabbing is another big draw to the Cameron area, especially during the summer months. Head inland a couple of miles and you'll find calmer waters in Lake Calcasieu. Explore the Creole Nature Trail, a 180-mile-long series of roads that connect visitors with hiking and wildlife viewing destinations. Here you'll also find inland saltwater fishing opportunities galore. Call charter boat operator Bayou Charter Service to set up your southwest Louisiana fishing trip of a lifetime.
Fishing in Grand Isle
Home to the oldest fishing tournament in the U.S., Grand Isle sits at the top of many anglers' must-fish list. The International Tarpon Rodeo is three days of saltwater fishing fever, and is a testimony to how big the Gulf's sea monsters can get—2014's prize-winning tarpon weighed in at over 175 pounds! Other big game fish lurking beneath the surface include wahoo, blackfin tuna and the Cadillac of trophy fish—blue marlin. Head down to Grand Isle and catch one yourself with the help of Pair-A-Dice Charters or Reel Screamers Guide Service. And because Grand Isle is a barrier island, fishermen in search of a shallow-water experience can paddle in nearby Caminada Bay. 
Bonus: Every April, Grand Isle hosts Ride the Bull, the world's largest extreme kayak fishing tournament. Don't miss this one!
Learn more about Louisiana fishing and fishing licenses through our Fishing Resources page.