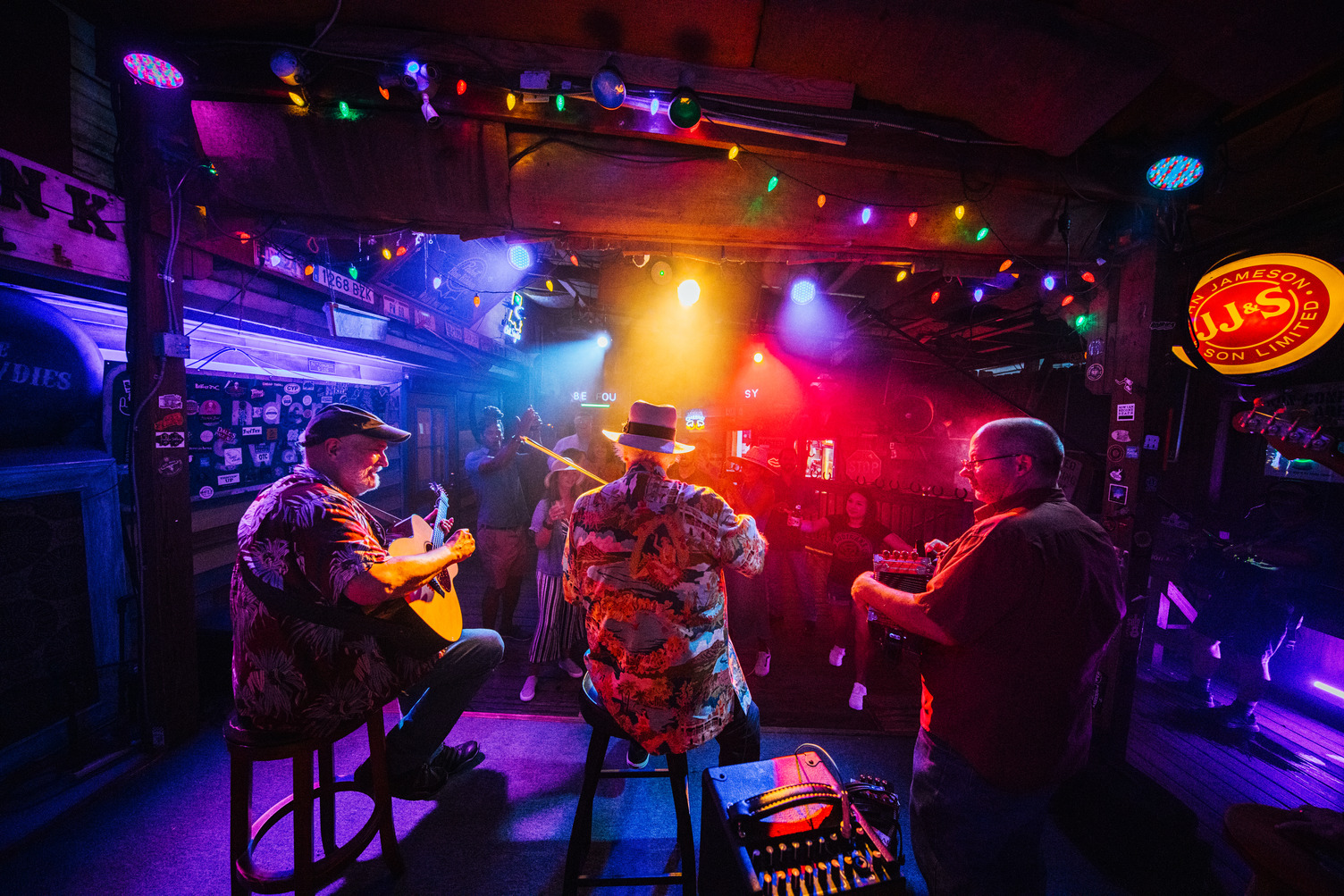 Great Songs From (and About) Louisiana
Louisiana songs about Louisiana places - recall good times you've enjoyed here – and new memories yet to be made!
It's been said that music feeds the soul, and nowhere is that more true than in Louisiana, where countless talented musicians have written or performed songs that will forever be part of our nation's soundtrack. These are songs about Louisiana!
Ready to take a listen? We've compiled this Louisiana playlist highlighting some of the state's favorite songs – and the places you can visit to learn more about them.
You Are My Sunshine (Jimmie Davis)
The Lyrics: "You are my sunshine, my only sunshine. You make me happy when skies are gray. You'll never know dear, how much I love you. Please don't take my sunshine away."
The Backstory: One of the most recognizable songs in the world, "You Are My Sunshine" was penned by Louisiana's own 21st governor, Jimmie Davis. A country music singer and former actor in Hollywood westerns, Davis is known for famously riding his horse, Sunshine, up the 50+ steps of the Louisiana State Capitol in Baton Rouge.
Where to Visit: You can walk those same steps Davis and Sunshine climbed on a visit to the Louisiana State Capitol, the tallest state capitol building in the country! The views at the top are breathtaking, giving you a direct look at LSU's famed Tiger Stadium. (Also don't miss the infamous bullet hole in the marble wall, marking where a Louisiana governor, Huey Long, was assassinated.) Check the website for current hours of operation.
How to Hear It: One of the most recorded songs in the world, it has been covered by countless artists through the years. But check out this classic 1940 recording of "You Are My Sunshine" by the man who wrote it.
Feels Like Rain (John Hiatt/Buddy Guy)
The Lyrics: "We never going to make that bridge tonight, baby, across Lake Pontchartrain. And it feels like rain. And it feels like rain."
The Backstory: Considered one of the most beautiful and evocative songs ever recorded about Louisiana, Hiatt recalls memories of Lake Pontchartrain on a warm summer evening with a storm ready to blow in. And that bridge he references? It's the Lake Pontchartrain Causeway Bridge, a 24-mile-long pair of parallel spans that make up the longest continuous bridge over water in the world! Although written by Hiatt, the song was later recorded by legendary Louisiana blues guitarist and singer Buddy Guy.
Where to Visit: Louisiana is full of rivers, lakes, swamps and streams, with Lake Pontchartrain being one of its finest. Covering 630 square miles in southeastern Louisiana, the lake offers abundant recreation, fishing and tours showcasing the area's natural beauty.
How to Hear It: Although Buddy Guy's version of the song is well-known, you won't want to miss John Hiatt's recording of the song he originally wrote.
Goodnight Irene (Huddie "Lead Belly" Leadbetter)
The Lyrics: "Irene, goodnight. Irene, goodnight. Goodnight, Irene. Goodnight, Irene. I'll see you in my dreams."
The Backstory: When legendary singer/songwriter (and former Louisiana resident) Bob Dylan won the Nobel Prize for Literature back in 2016, he said he knew he wanted to be a songwriter the first time he ever heard a record by Louisiana singer Huddie Leadbetter. Better known as "Lead Belly," the Mooringsport native played multiple instruments and recorded memorable songs like "Midnight Special" and "Goodnight Irene."
Where to Visit: Check out the Lead Belly Statue in downtown Shreveport, which is also just a few blocks away from the Shreveport Municipal Auditorium, home of the original Louisiana Hayride music show where the phrase "Elvis has left the building" was first spoken. 
How to Hear It: Listen to Lead Belly himself regale a crowd while performing "Goodnight Irene" – then getting them all to sing along with him!
Fire on the Bayou (The Meters/Neville Brothers)
The Lyrics: "I got swamp water runnin' through my veins. The Mississippi River can't be tamed. I pole my pirogue in the middle of the night. I'm an uptown ruler, I can do it right."
The Backstory: With its title song originally recorded by New Orleans funk band The Meters, the second album released by Neville brothers Aaron, Art, Cyril and Charles, "Fiyo on the Bayou," was called the best album of 1981 by Rolling Stones rocker Keith Richards.  Fun fact: A young Whitney Houston sings background vocals with her mother Cissy Houston on the album's title track, "Fire on the Bayou," which Cissy vocally arranged.
Where to Visit: A tradition you'll find only in Louisiana, Bonfires On The Levee features dozens of wooden towers – some 20 feet or more tall – that are built along the Mississippi River and set on fire, creating a spectacular sight in a festive atmosphere. Why such large flames? As legend has it, Santa (or as the Cajuns call him, Papa Noel) needs a little help finding the homes of local good girls and boys.
How to Hear It: Watch the beloved Neville brothers break it down on this 1987 performance of "Fire on the Bayou."
Oops, I Did it Again (Britney Spears)
The Lyrics: "Oops, I did it again. I played with your heart. Got lost in the game. Oh baby, baby. Oops, you think I'm in love. That I'm sent from above. I'm not that innocent."
The Backstory: When Louisiana-born Britney Spears debuted this now-ubiquitous track back in 2000, it broke the record for highest first-week sales by a solo artist at the time and went on to move more than 24 million copies, making it one of the best-selling songs of all time. But the Kentwood native later went on to break her own record with the even bigger hit, "Baby One More Time."
Where to Visit: There's no mistaking how proud the city of Kentwood is of their homegrown talent, with a "Welcome to Kentwood" sign proclaiming itself the birthplace of this music megastar. You can also see the white wings costume worn on her Femme Fatale tour, a Mickey Mouse Club poster with Justin Timberlake, her intact bedroom from a 1999 Rolling Stone photoshoot and more on display at the Kentwood Museum, just 90 minutes north of New Orleans.
How to Hear It: Oh baby, baby, be sure to watch Britney's official "Oops, I Did it Again" video to get yourself dancing in no time.
Born on the Bayou (John Fogerty/Credence Clearwater Revival)
The Lyrics: "And I can remember the Fourth of July, runnin' through the backwood bare. And I can still hear my hound dog barkin', chasin' down a hoodoo there."
The Backstory: Although he grew up in California, Credence Clearwater Revival frontman John Fogerty was obsessed with the music of Louisiana as a boy. So much so, that he even developed the unique New Orleans accent heard on many of his classic rock songs through the years. Interestingly enough, he had never actually been to a bayou when he wrote the song, having researched through encyclopedias to try to capture what that "magical experience" would be like. 
Where to Visit: If you're looking for your own magical, mystical outdoor experience in Louisiana, there are countless bayous and swamps to explore. One of the most exciting ways to do so is on airboat or swamp tours which provide an up-close look at the diverse geography and wildlife of these unique ecosystems.
How to Hear It: Fogerty has called this his favorite song, often choosing it to open his shows. Catch this live performance of "Born on the Bayou" to see why!
Lake Charles (Lucinda Williams)
The Lyrics: "He had a reason to get back to Lake Charles. He used to talk about it. He'd just go on and on. He always said Louisiana was where he felt at home."
The Backstory: Born in Lake Charles herself, singer/songwriter Lucinda Williams wrote this bittersweet song about a late boyfriend, who always considered his true home in Louisiana, even though he was born just across the border in Texas. The heartbreak in her voice comes from the boyfriend suddenly passing away while Williams was traveling back from a performance in California to see him.
Where to Visit: A visit to Lake Charles will make it easy to see why this beautiful waterfront city feels like home to so many natives and visitors. Historic homes line postcard-pretty streets, outdoor adventures abound, lively casinos offer top-notch entertainment and Cajun-inspired food and music star at year-round festivals.
How to Hear It: Listen to Williams share memories of driving through Lafayette and Baton Rouge, "down the Louisiana highway across Lake Pontchartrain" and back to her beloved hometown in this "Lake Charles" live performance.
Louisiana (Tim McGraw)
The Lyrics: "But every night I close my eyes, and I go walking under that magnolia sky that I left it in Louisiana. Blowing in the wind, hiding in the Quarter. Gotta get back there again, to the sweet sounds of the bayou. Let it wash right over me, make me whole again. Bring back that missing piece, that I left in Louisiana."
The Backstory: Recorded for a benefit to help New Orleans recover after Hurricane Katrina, Louisiana-born country superstar Tim McGraw shares a range of emotions and memories in this ode to the state he calls home.
Where to Visit: Just as McGraw's song celebrates the entire state, you can travel all throughout Louisiana to enjoy rich culture and history, abundant outdoor recreation, lively fairs and festivals – and, we'll say it, the best music and food around! Start planning your Louisiana trip!
How to Hear It: Hear McGraw relive some of the memories of his youth growing up in "Louisiana."
Louisiana Saturday Night (Mel McDaniel)
The Lyrics: "Well, you get down the fiddle and you get down the bow, Kick off your shoes and you throw 'em on the floor, Dance in the kitchen 'til the mornin' light, Louisiana Saturday night"
The Backstory: This fiddle-forward and harmony-laden track became a country sensation and a craze in the country line dancing world. With cheeky lyrics about front yard festivities and an opportunity to get a belly full of Cajun food, Louisiana Saturday Night is a feet-stomping, hand-clapping hoedown that rages on until the morning light.
Where to Visit: If you're ready to "get down the fiddle," make your way to one of Louisiana's many Cajun dance halls, such as The Jolly Inn in Houma. Don't worry if you don't know the Cajun two-step; a friendly local is more than willing to walk you through the steps.
How to Hear It: Be sure to have your favorite dancing shoes ready when you listen to Louisiana Saturday Night. 
Hurricane (Band of Heathens)
The Lyrics: "I was born in the rain on the Pontchartrain, Underneath the Louisiana moon, I don't mind the strain of a hurricane, They come around every June"
The Backstory: Written by Stewart Harris, Thom Schuyler and Keith Stegall, Hurricane was first recorded in 1980 by Levon Helm. After Hurricane Katrina, Band of Heathens resurfaced the song with new depth. Lyrics such as "it takes a lot of water to wash away New Orleans," Band of Heathens brings a haunting, yet beautiful take on this anthem of resilience.
Where to Visit: Visit the Living With Hurricanes exhibit at The Presbytere to hear eyewitness accounts, see immersive environments and witness in-depth explorations of some of Louisiana's most devastating moments in history and how the state rose through adversity.
How to Hear It: Experience the pain and triumph of Hurricane by Band of Heathens. 
Learn more about Louisiana's music scene and popular music genres.