Cajun Music in Louisiana
Explore the Cajun music genre with its roots based in storytelling, singing and dancing.
Next to jazz, perhaps no musical tradition is more associated with Louisiana than Cajun. The Acadians, or Cajuns, found refuge in Louisiana after being exiled from Nova Scotia in 1755 and made a new life in the harsh environment. As their communal ties grew stronger, so too did their traditions of storytelling, singing and dancing. Instead of giving in to pressure to assimilate to American culture, Louisiana's Cajuns kept their folk music alive and true to its roots.
The Music: Cajun
Cajun music is most easily recognized by three elements: the button accordion, the fiddle and the French language. Even today's songwriters write their songs in French, having learned the language from their parents and grandparents, participating in local French tables and through the French immersion school programs. Most Cajun songs are either two-steps or waltzes and are written to accompany particular dance steps. While there is no question that the music "belongs" to the Cajun people, it also incorporates influences from Irish, German, African, Native American and Appalachian traditions. A lot of Cajun music can be heard in dance halls at fais do-do (dance party) and mixes traditional Cajun music with influences of rock, blues, soul and zydeco.
The Cajun Music Icons
The first recordings of Cajun music date to the 1920s, featuring performers such as Joe Falcon and Cléoma Breaux, Dennis McGee, Sady Courville and Creole accordionist Amédé Ardoin. Performers such as Iry LeJeune, Lawrence Walker, Aldus Roger and the Lafayette Playboys, the Balfa Brothers, Harry Choates (a.k.a. "The Fiddle King of Cajun Swing") and D.L. Menard (a.k.a. "The Cajun Hank Williams") helped develop and stretch the sound throughout the 20th century.
A crowd-stirring performance at the 1964 Newport Folk Festival by Gladius Thibodeaux, Louis "Vinesse" LeJeune and Dewey Balfa finally drew national attention to the tradition. And the decades that followed saw the rise of acts such as Zachary Richard, Michael Doucet and BeauSoleil, Wayne Toups, the Red Stick Ramblers, Lost Bayou Ramblers, Balfa Toujours, The Pine Leaf Boys and Cedric Watson.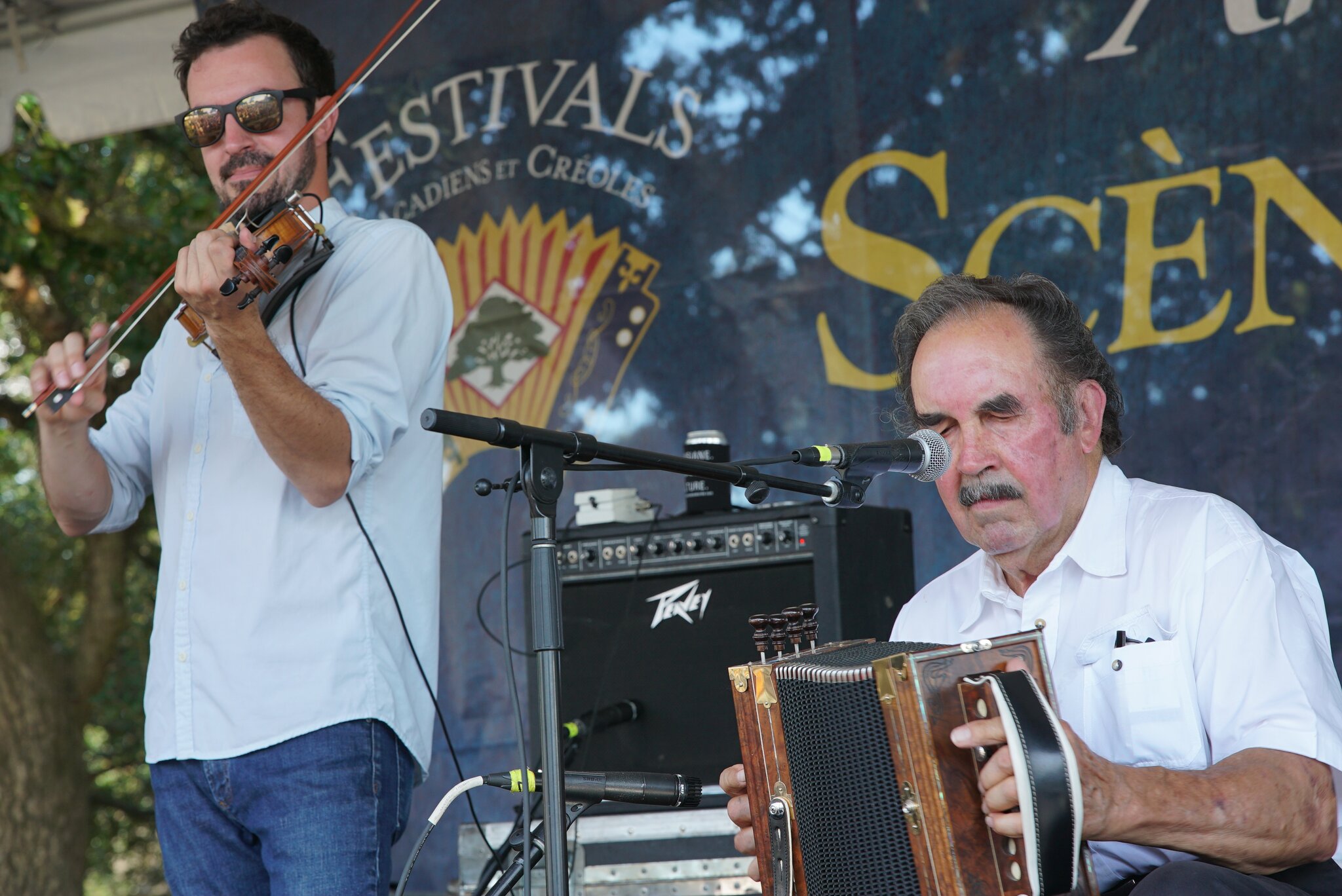 Festivals Acadiens et Creoles in Lafayette.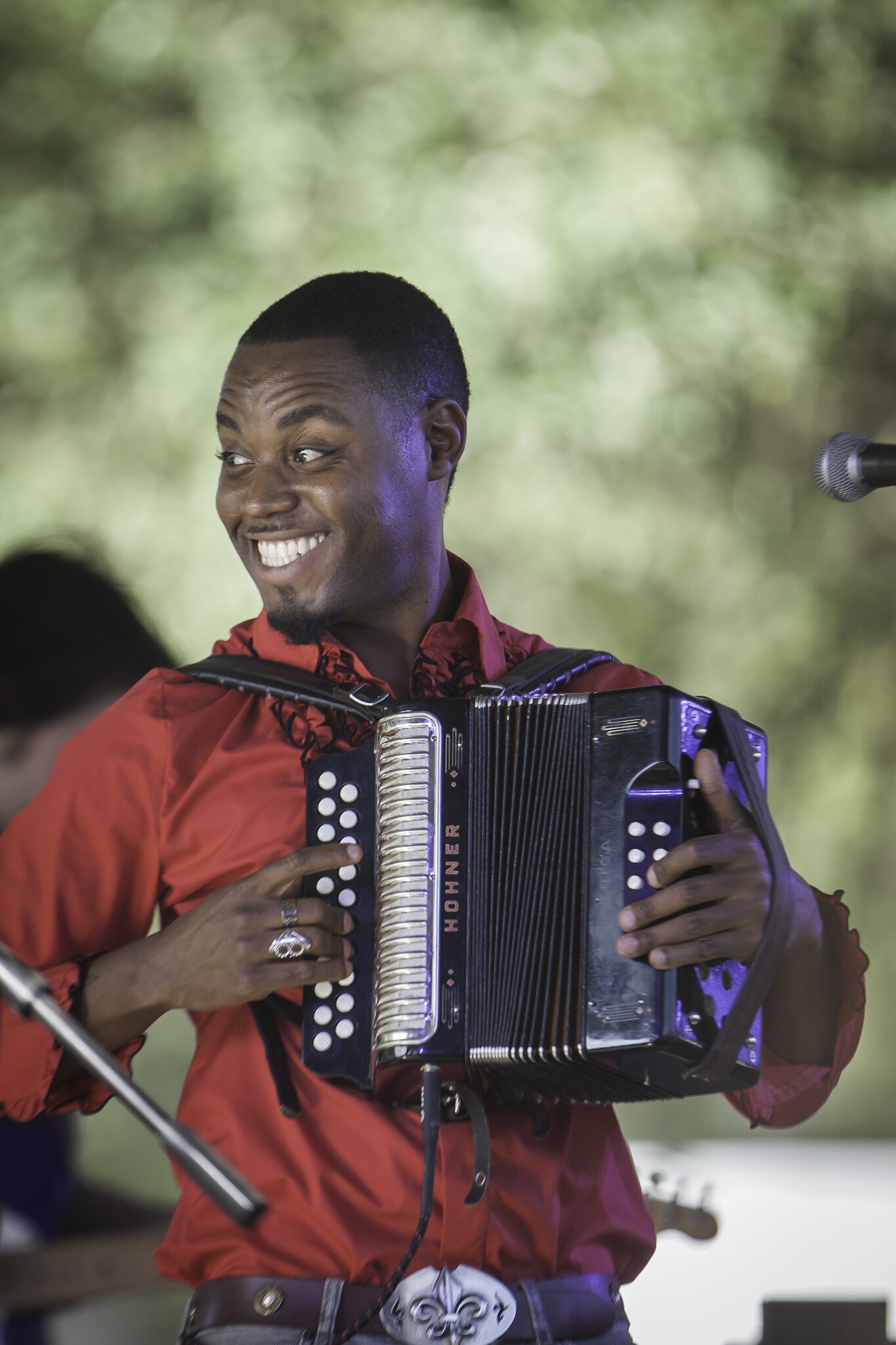 Cajun jams are found all over southern Louisiana.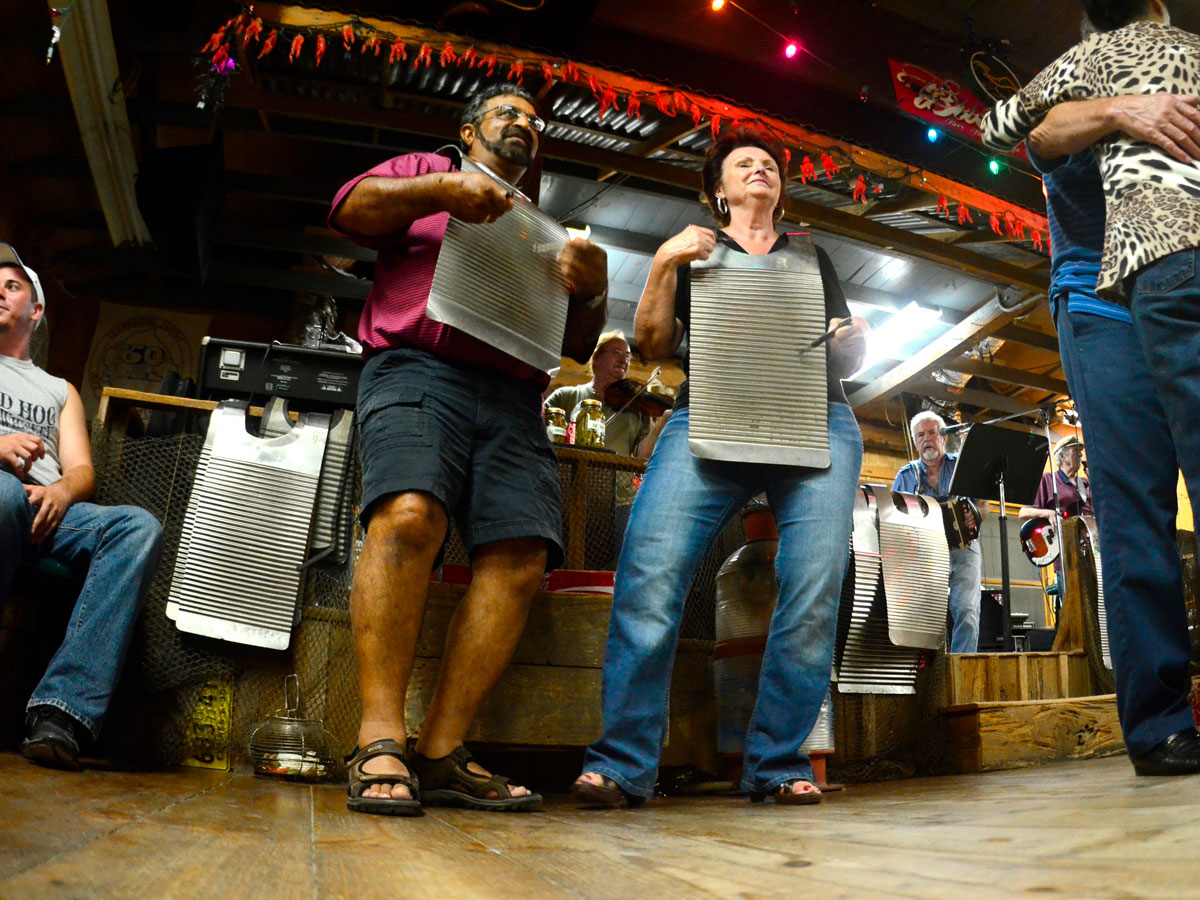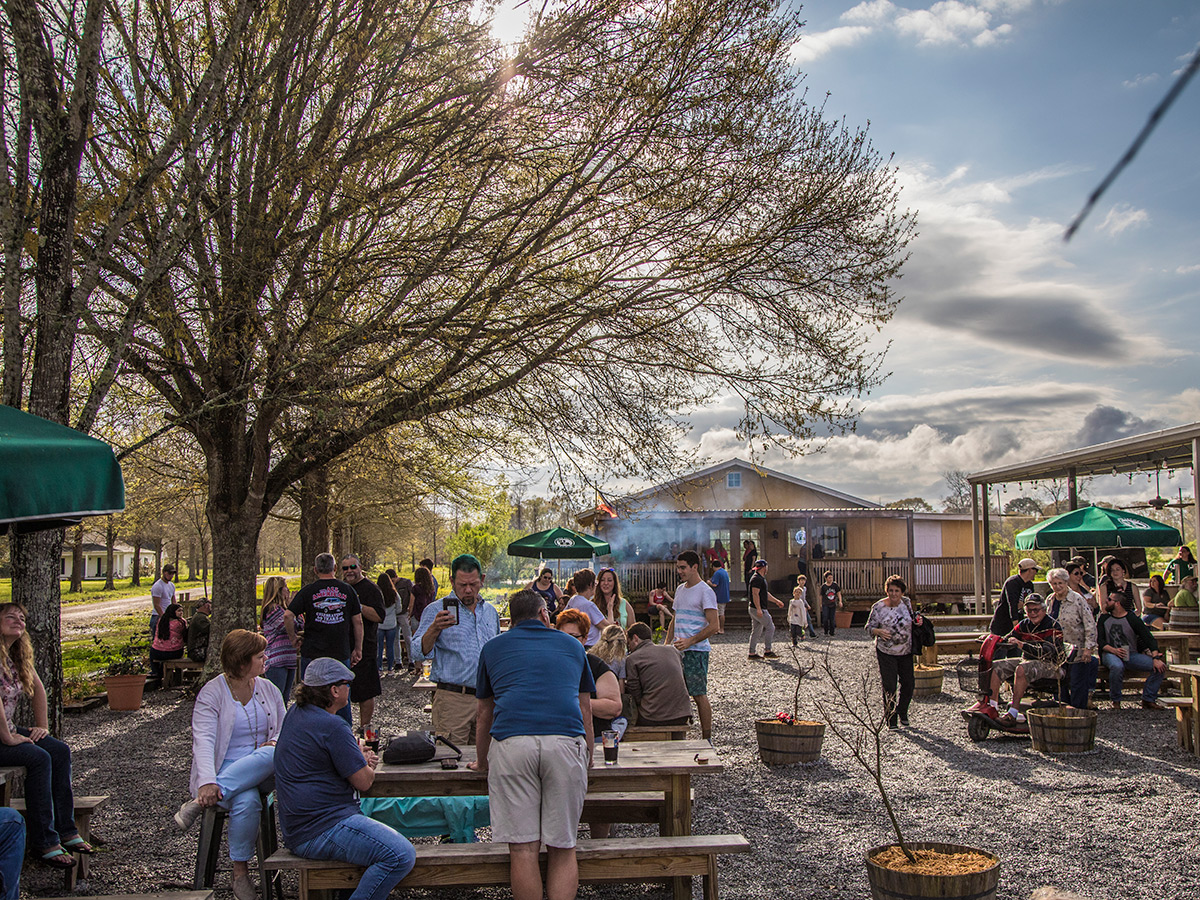 Bayou Teche Brewing in Arnaudville.
Hear it Here
Today, you can hear live Cajun music at dance halls throughout southwestern Louisiana and at local festivals like the annual Festivals Acadiens et Créoles in Lafayette, Mamou Cajun Music Festival, Cajun Music & Food Festival in Lake Charles, Cajun Woodstock in Church Point, Le Cajun Awards and Festival in Rayne, and Louisiana Cajun-Zydeco Concert Series in New Orleans.
The Grouse Room
Named after a beloved family ritual – a toast with Grouse Scotch on special occasions - The Grouse Room is inspired by the legacy of John Chiasson. John was a renowned photographer who graduated from the University of Louisiana at Lafayette and photographed many famous athletes, United States Presidents, kings and queens of countries and celebrities for magazines such as Time, People, and ESPN magazine. He also was hired by many musicians, both locally and abroad, to create their CD covers, etc. John's work is displayed throughout the Grouse Room. Stop by for dinner and a show! Choose from libations ranging from pre-prohibition classics to modern concoctions and chow down on delicious small plates, sandwiches and more before turning your attention to the sound stage for premier musical performances. Stay for a midnight toast of The Famous Grouse scotch to John's legacy.
Fred's Lounge
Fred's Lounge, a spot known worldwide, can be found in a little town called Mamou – also known as the Cajun Capital of the World. Alfred "Fred" Tate opened Fred's Lounge in 1946, and what once was open seven days a week is now a Saturday tradition. Fred's - home to a two-hour radio tradition that has played on KVPI out of Ville Platte for more than 50 years - is only open on Saturdays from 8 a.m. to 2 p.m. Mardi Gras weekend leading up to Fat Tuesday is the only time that Fred's Lounge is open Friday and Saturday nights – giving locals and visitors alike an extra chance to take in the local Cajun culture. Since Fred passed away in 1992, his ex-wife Sue Vasseur has continued the tradition earning the nickname "Tante Sue de Mamou."
Mulate's Original Cajun Restaurant
Mulate's brings Cajun culture and traditions to New Orleans. Mulate's founder, Kerry Boutté, grew up in Arnaudville in the heart of Cajun country. The restaurant's menu is inspired by his mother's cooking. Boutté found himself in Germany in the 1960s, where he was introduced to beer gardens. These places where people of all ages came together to eat, drink and dance to traditional German music reminded him of his own Cajun culture, where families gathered in their homes to enjoy good food and a unique musical tradition. Fast-forward to today, and patrons from near and far flock to Mulate's for Cajun food and music seven nights a week.
Bayou Teche Brewing Company
Bayou Teche Brewing was founded on this simple dream: to craft beers that complement the cuisine and lifestyle of Cajuns and Creoles. In the family & pet-friendly taproom, you'll find many of Bayou Teche's award-winning beers plus awesome pizzas made with Cajun flair. Even better, Bayou Teche features live music frequently – including live Cajun jams every weekend.
The Jolly Inn
Head to Houma to check out The Jolly Inn. This live music venue, café and lounge has welcomed visitors from across the globe, thanks in no small part to performances by Jolly Inn co-owner Werlien Prosperie's band Couche Couche. This is a great spot to pick up on some Cajun dancing moves.
The Ruins Lounge
The Ruins is a sanctuary for music lovers looking for a more upscale, yet still warm and friendly ambiance (this is Louisiana, after all). At any given time there is a fun event scheduled – from open mic nights to karaoke to trivia nights. But we're here for the music, right? Between their Saturday Club nights and Cajun acts – there's something for every taste here.
To learn more about this genre and Cajun culture as a whole, visit Capitol Park Museum in Baton Rouge. See how Acadians from Nova Scotia - eventually known as Cajuns - populated and cultivated Louisiana, shaping it into one of the most culturally rich regions in the world, with two permanent exhibits: Grounds for Greatness: Louisiana and the Nation and Experiencing Louisiana: Discovering the Soul of America. In the interactive music exhibits, hear the distinctive southwest Louisiana sounds of Cajun, zydeco and swamp pop, blues and world-famous New Orleans jazz. See eclectic displays on the state's musical history, including Clifton Chenier's Grammy award and accordion. Over in Eunice, peruse the Cajun Music Hall of Fame and Museum.