Golf Getaway in Southwest Louisiana
Go to Gray Plantation for the golf, stay in Lake Charles for the getaway.
There are 18 golf courses around Louisiana known as the Audubon Golf Trail. Each course is as unique as the state itself. One such course is Gray Plantation in Lake Charles.
Gray Plantation is an outstanding golf course and a must-play if you are in Lake Charles. The layout will challenge the advanced golfer from the back tees (reaching nearly 7,200 yards) but is very playable and golfer-friendly from any of the forward tees.
The main clubhouse sets the day up with the inviting southern charm of the staff. The pro shop, in a small building adjacent to the clubhouse, is fully stocked with all your golf needs and a friendly staff as well. Some tips from their onsite golf professional: aim for the center of the greens on the par 3's (especially the sixth hole), think twice before deciding to go for hole seven in two, and the carry over water on the 16th hole is longer than you think.
The challenge gets underway on the first hole, a 514-yard par 5 with bunkers guarding the fairway on both sides. An accurate drive sets up a decision—go for the green in two, meaning you have to carry the front bunker or put yourself in position to pitch on in three. Par is a good opening score here.
There are birdie opportunities over the next few holes, but the Cajun heat of south Louisiana gets cranked up on what locals call their version of Augusta National Golf Club's "Amen Corner" on holes five, six, and seven. It begins with hole five, a medium-length par 4, but don't let it fool you—if you try to cut too much off the left side you can find yourself in marshland quick. Get your par and move on.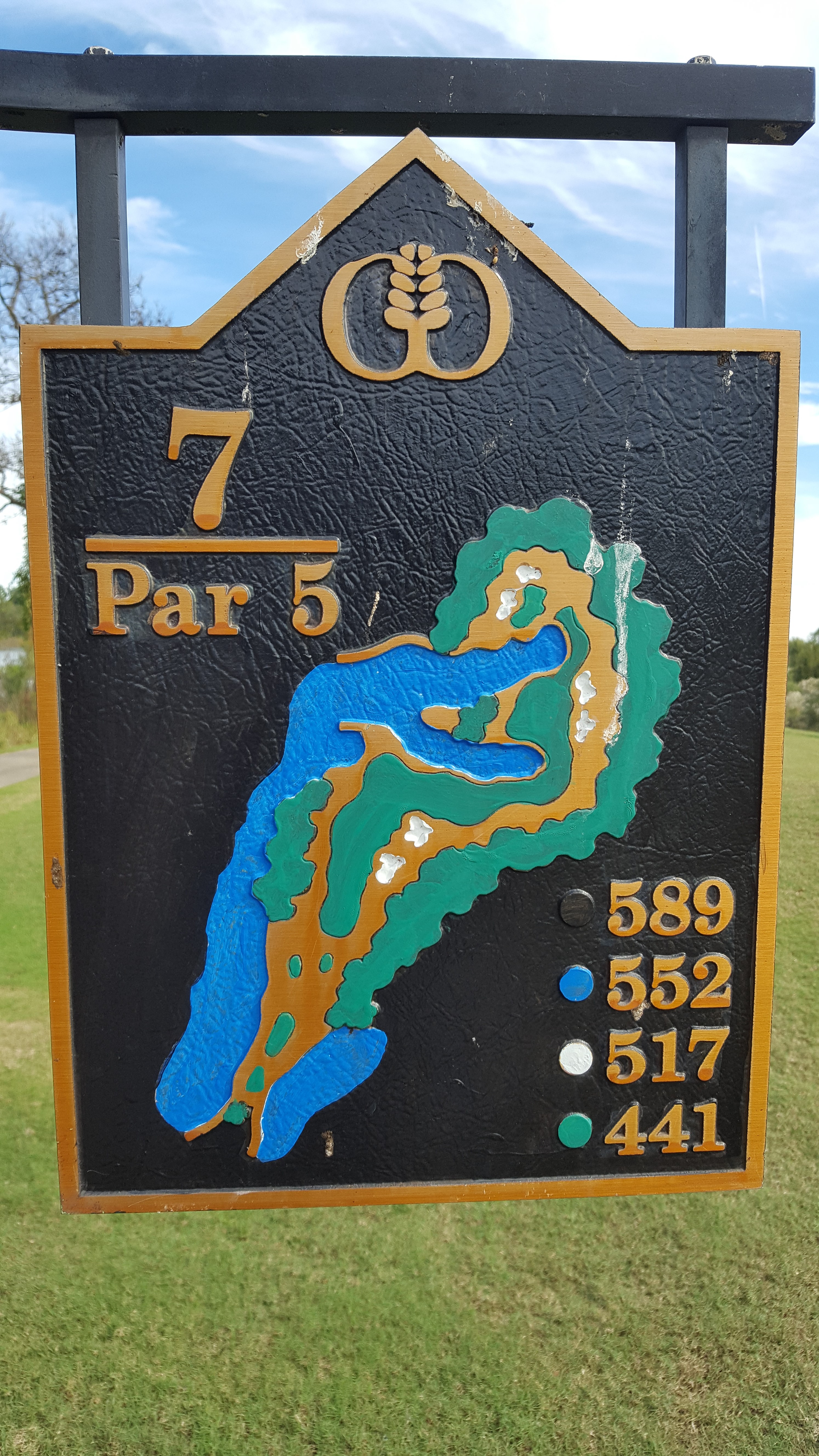 Next up, one of several signature holes at Gray Plantation—hole six, a short par 3 that is big on accuracy. While there are no bunkers surrounding the green, it sits on a peninsula with very little room for error on any side. This is where the advice to aim for the middle of the green comes in handy. Par is a great score here.
The final hole in this stretch—hole seven—is a definite risk/reward opportunity. A very generous landing area makes the tee shot not so difficult. The next shot will have you thinking about the advice you received in the pro shop. Do you go for it? It could be a carry of nearly 230 yards over water and marshes. Or do you lay up? There is another generous landing area to the right of the green that leaves about 100-120 yard approach over water, but still allows you to stay in position for birdie. And, back to that advice about the carry over water on hole 16. The hole is essentially a horseshoe bending right from the tee box. A word of advice: just go at the bunkers straightaway.  
Overall, here is what's really great about Gray Plantation:
Friendly staff, from the pro shop to the grounds crew, everyone is ready to share a quick conversation.
It's a high-quality course with reasonable rates.
It boasts a challenging layout with some real risk/reward holes—namely numbers seven, 11, and 16—and a fantastic finishing hole with the main clubhouse serving as the backdrop.
While generous with landing areas for tee shots, approach shots are challenged by several elevated and bunker-guarded greens putting a premium on ball striking.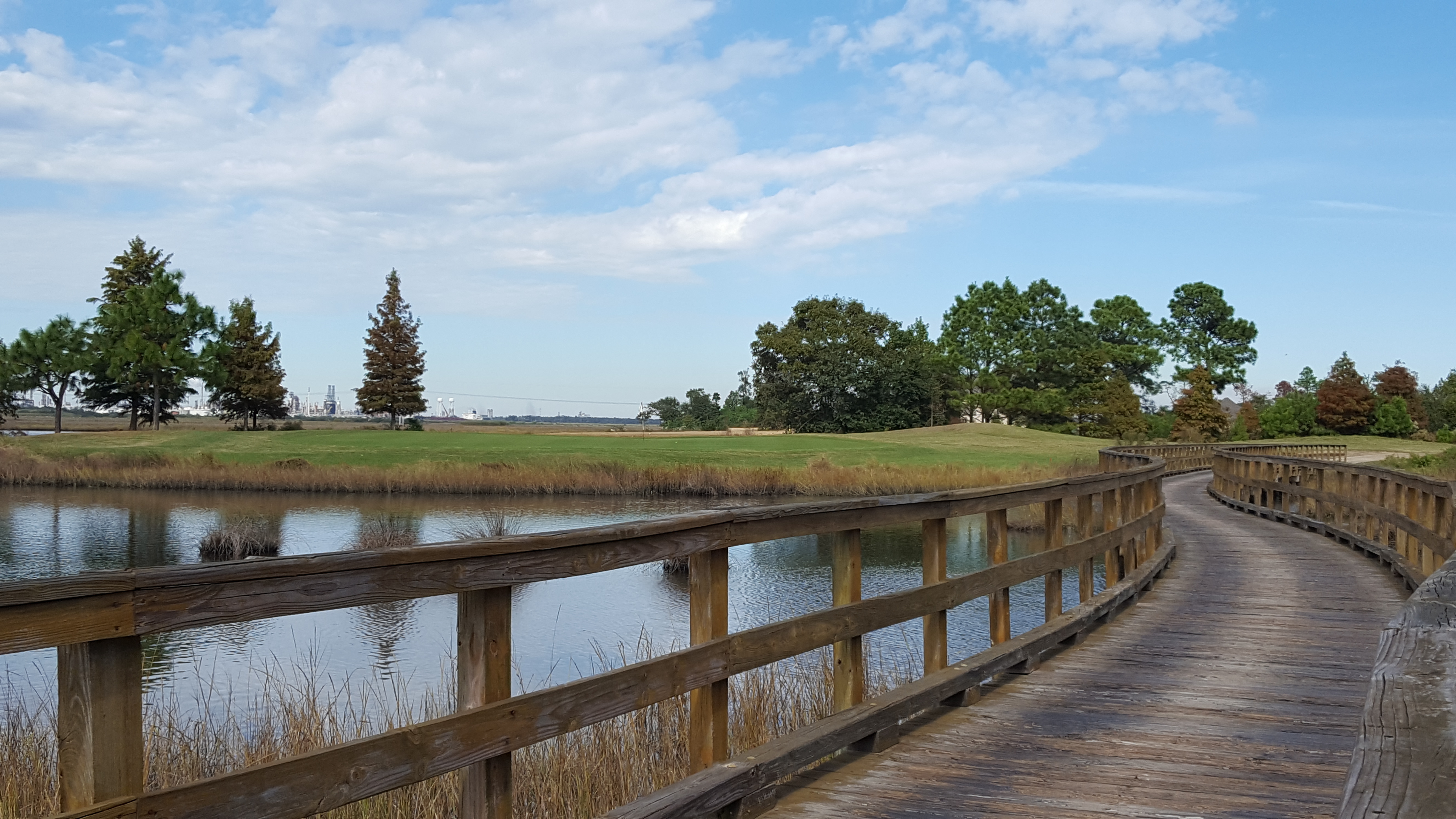 Make it a weekend
If you are heading out to play Gray Plantation, there are several ways you can make it a weekend family getaway or buddy trip.
For families, there are many things you need to put on your to-do list. A favorite is the Creole Nature Trail All American Road. It's a great way to get up close with wildlife through a series of walking trails over the untamed marshlands near Lake Charles. Get your cameras ready and be prepared to see everything from alligators and birds to native swamp foliage in bloom and glimpses of Louisiana's iconic waterways.
There is also plenty for the kids. The folks over at Visit Lake Charles have a list of the Top 10 Things To Do For Kids.
And, if you are planning a buddy trip for the weekend—whether those buddies are guys or gals—make those tee times early in the day because there are plenty of sights to see in the afternoon and nightlife to enjoy. Take a stroll through the several Cultural Districts such as the Cottage Shops in mid-town Lake Charles, the Charlestown District (comprised of the Charpentier Historic District and the Downtown Development District) and the Nellie Lutcher Memorial Cultural District.
And when the sun gets lower in the sky, head out for a bite to eat and enjoy the Lake Charles new craft brewery scene. Lake Charles is home to Crying Eagle Brewing Co. and Rikenjaks Brewing Company. Need more information on the craft brewery scene in Lake Charles? Check out this blog.
So whether it's just one round of golf or a weekend getaway make sure you head out to southwest—or they call it, "south best" Louisiana. Plan your trip by starting with the folks over at Visit Lake Charles.