By the Region: Louisiana's Local Products and Tasty Treats
Get a taste of Louisiana from each culinary region and take home some tasty trip mementos.
In Louisiana, we don't just eat—we dine with gusto. Louisiana foods connect us to our culture, one that includes French, Spanish, African and German influences. It is over a meal that Louisianans come together in celebration, whether it's a Mardi Gras gumbo or simply a Friday night crawfish boil. Join in on our fun as you travel around the state visiting our eight culinary trails, tasting Louisiana delicacies and picking up some local products to take home with you.
New Orleans is the home of fancy cocktails, tantalizing dishes and perennial favorites like café au lait and beignets from Café Du Monde. Pick up some Café Du Monde chicory coffee and beignet mix before leaving town and savor the flavor and memories of your vacation in your own kitchen. Before you head home, the French Market is a must-see. As America's oldest continuously operated open-air market, the French Market is truly a hip and historic culinary landmark. This historic and vibrant market has full-service eateries serving breakfast, lunch and dinner and a variety of fresh produce and seafood, local specialty foods, cheese, wine, sandwiches and sweets. Nearby, the original Spanish settlers of St. Bernard Parish were known as Isleños. Visit the Los Isleños Museum and village to learn about their way of life and take home a copy of Los Isleños Cookbook: Canary Island Recipes.
If your travels take you outside of New Orleans to the Northshore, head to the fertile grounds of St. Tammany Parish. In Mandeville, the Mandeville Trailhead Community Market is abuzz on Saturday mornings, showcasing fresh produce, eggs and herbs and prepared foodstuffs, too, like pepper jelly, beef jerky, boudin and fresh-roasted coffee. In Covington, Pat's Seafood & Cajun Deli offers unique Louisiana food and gifts – including cookbooks, beignet mix and premade dishes such as crawfish pie, gumbo, jambalaya and more. Or pick up fresh raw and boiled seafood and try your hand at your own Louisiana dish! And you can't leave the Northshore without paying a visit to the Abita Brewing Company, the 21st-largest craft brewery in America, for some local brews, root beer and merch.
Head into the center of the state toward Opelousas and St. Landry Parish to discover savory home cooking featuring rich smoked meats and hearty plate lunches. Capture the flavor and spice up your home cooking with a St. Landry Parish favorite, Tony Chachere's Creole Seasoning. Looking for Cajun delicacies? Stop by Hebert's Boudin & Cracklins for delicious, authentic, Cajun pork cracklins made fresh. Also on the menu: boudin, smoked boudin, boudin balls, smoked sausage, smoked tasso and many more Cajun products, such as seasonings and hot sauce.
Louisiana's capital region is home to a diverse culinary landscape that features everything from tailgating fare to fine dining. No Baton Rouge trip is complete without a visit to Tony's Seafood, the largest seafood market in the Gulf South. While on the property, check out the headquarters and manufacturing plant for their sister company, Louisiana Fish Fry, and stock up on seasonings, sauces and mouthwatering mixes. Visit the MidCity Makers Market for a variety of local treats and trinkets. And at Red Stick Spice Company, you'll find hand-selected spice blends, house-blended teas, soup mixes, olive oils and other authentic local Louisiana products. Pick up some of Red Stick Spice's ingredients, take one of their hands-on cooking classes with a local chef, and you're set to make delicious meals with a Louisiana kick at home!
Cafe du Monde beignet mix and coffee.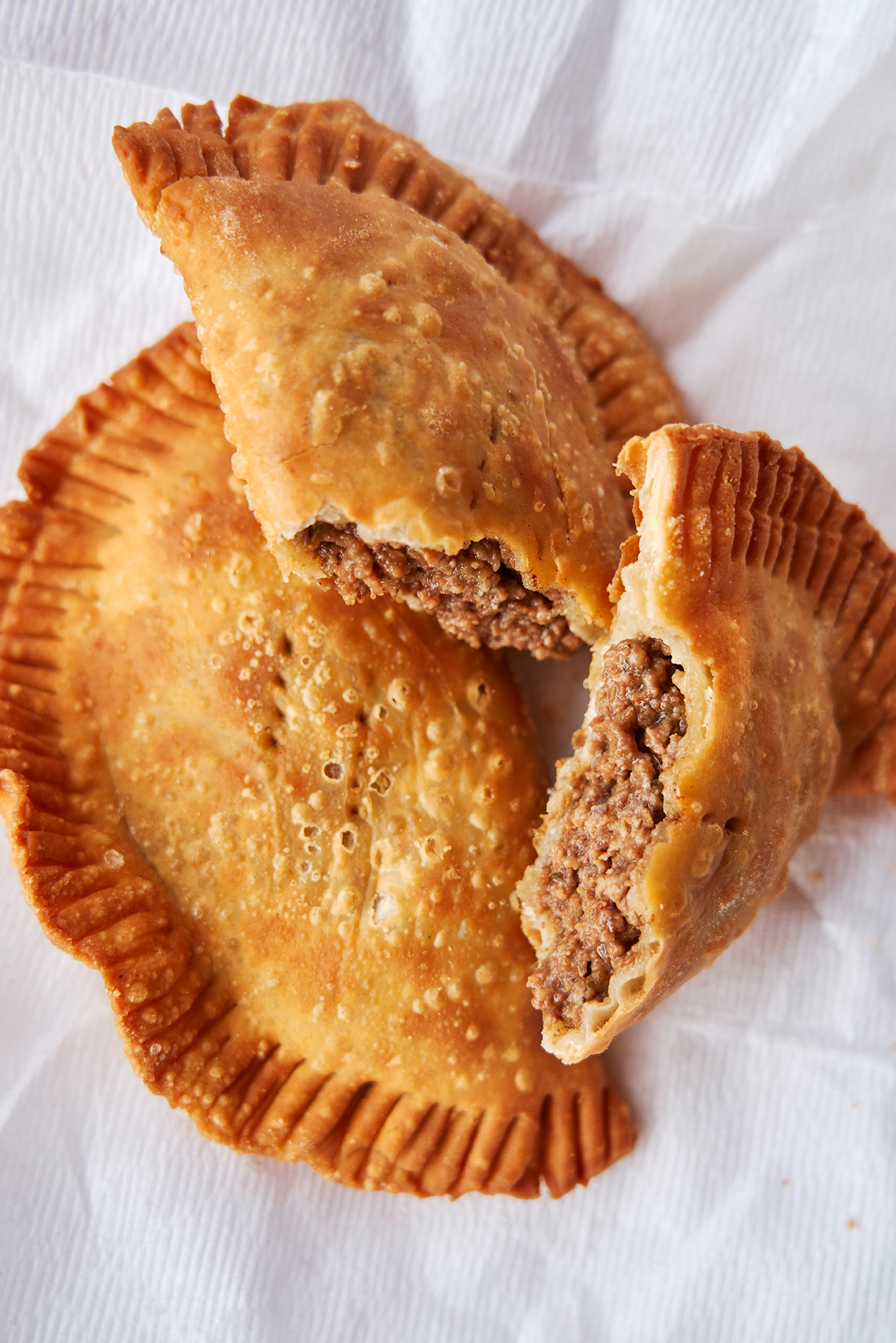 Meat Pie from Lasyone's in Natchitoches.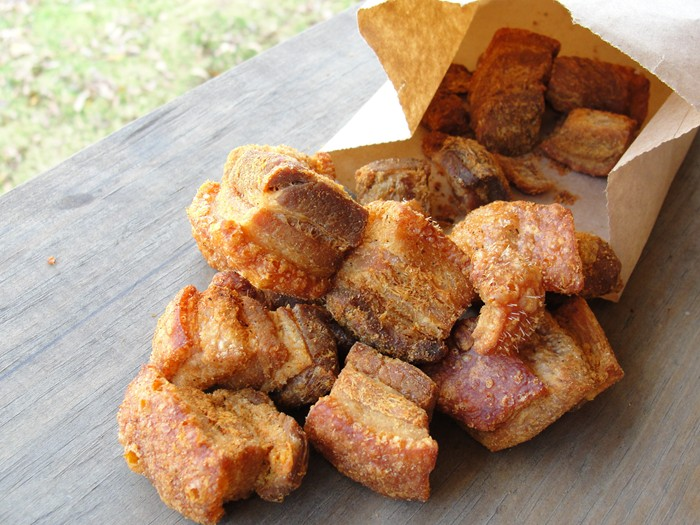 The Bayou Bounty Trail lies in the heart of Cajun Country where the quest to preserve the Cajun way of life can be found in the food—gumbo, fresh seafood, boudin balls and hot sauces. In Lafayette, experience some of Louisiana's best boudin and other regional specialties. Learn more about the Cajun Boudin Trail and plan some tastings. Most of the shops along the way will ship boudin to be waiting when you arrive home from vacation. You'll want to wash down all that flavorful fare with a nice cold craft brew! Taste award-winning beer at the local brewery, Bayou Teche Brewing in Arnaudville.  Take a brewery tour, sample the beers and get your favorite t-shirt or pint glass.
The abundance of Southwest Louisiana's coasts and wetlands makes this the ultimate road trip for seafood lovers. In Lake Charles, Big Easy Foods offers shrimp and cornbread casserole and turduckens - ready-to-cook, pre-seasoned, and stuffed with an Authentic Louisiana pork or seafood stuffing – along with gumbos, sausage and boudin balls ready to be shipped back home for you to enjoy as you reminisce on your trip. If you're a coffee fanatic, check out Acadian Coffee Roasters, where you can pick up organic, specialty grade, gourmet blends. Other Louisiana-made products can be found with a visit to Vermilion Parish. Your trip would not be complete without picking up Steen's Cane Syrup or CajunPower Garlic Sauce. C'est bon! The cane fields around the Seafood Sensation Trail offer up a liquid libation: rum. Jefferson Davis Parish is home to Bayou Rum; handmade in the largest privately owned rum distillery in the USA utilizing traditional methods in a new state-of-the-art factory. See firsthand how Bayou Rum is pasteurized, fermented, distilled, aged, bottled and served at the in-house tasting bar.
The Red River Riches Trail will greet your taste buds with meat pies, crawfish étouffée and fried shrimp while the desserts feature iconic icebox pies. Natchitoches is the home to Lasyone's Meat Pie Kitchen. Their meat pies are the perfect road food packed in a delicious pastry shell.  Take some extras for the trip! In the Alexandria area, visit Lea's Lunchroom and sample their world-famous pies. They'll be happy to box one or a few up for you to take home to enjoy. While in Shreveport, discover what really puts the signature flavor on a muffuletta with Papa Fertitta's Famous Olive Mix. Fertitta's Delicatessen has served muffulettas with this delicious olive mix since 1927. At Monjunis Italian Café & Grocery, you can purchase their very own specialty oils, vinegars, olive salad and their famous red sauce. Want it all and more? They even offer curated gift boxes with a variety of their products with some extra treats – shipped right to your door!
As you tour the Delta Delights Trail, the relaxed atmosphere of Northwest Louisiana is contagious. The food reflects this vibe with warming cornbread, delicious catfish, crawfish and lots of fresh garden items like peaches. In West Monroe, tour the picturesque, family-owned Landry Vineyards in the hills outside of town and enjoy samples of their unique wines. After touring around Ruston, known for their sweet peaches, don't forget to stop by Mitcham Farms and pick up any of their peach preserves, cobblers, sauces or dessert mixes for the road.
Learn more about Louisiana's Eight Culinary Trails and find inspiration for your next trip.