Zydeco Music in Louisiana
Discover zydeco, a rockin' dance music that is unique to Louisiana.
The Music: Zydeco
Early zydeco was a blend of Louisiana French accordion music and Afro-Caribbean beats. It sat at the crossroads of Creole, Cajun, gospel and the blues, yet has since evolved to include influences from several other genres. Instrumentation almost always includes an accordion and a frottoir, a washboard. Guitar and drums typically add even more rhythm and syncopation to create a highly danceable mix. The word Zydeco gets its name from a colloquial Creole French expression "Les haricots ne sont pas salés" meaning "the snap beans aren't salty" or idiomatically for "the times are hard." Like the blues, early zydeco offered a way for the rural poor both to express and to escape the hardships of life through music and dance.
The Zydeco Musicians
In 1929, Creole accordionist Amédé Ardoin made the first recordings of la-la music, laying the groundwork for the genre. In the 1950s, zydeco found its first stars in Boozoo Chavis with a first hit "Paper in My Shoe" and Clifton Chenier who recorded several hits as well, earning him the title "King of Zydeco" and a GRAMMY® award in 1983. Other notable Louisiana performers have included Rockin' Sidney Simien, Buckwheat Zydeco, and Terrance Simien as well as Rockin' Dopsie, Goldman Thibodeaux, Geno Delafose, Sid and Nathan Williams (Nathan & the Zydeco Cha-Chas), Beau Jocque and Rosie Ledet, Chubby Carrier and the Zydeco Hellraisers. Discover more Louisiana zydeco musicians.
Buck & Johnny's in Breaux Bridge.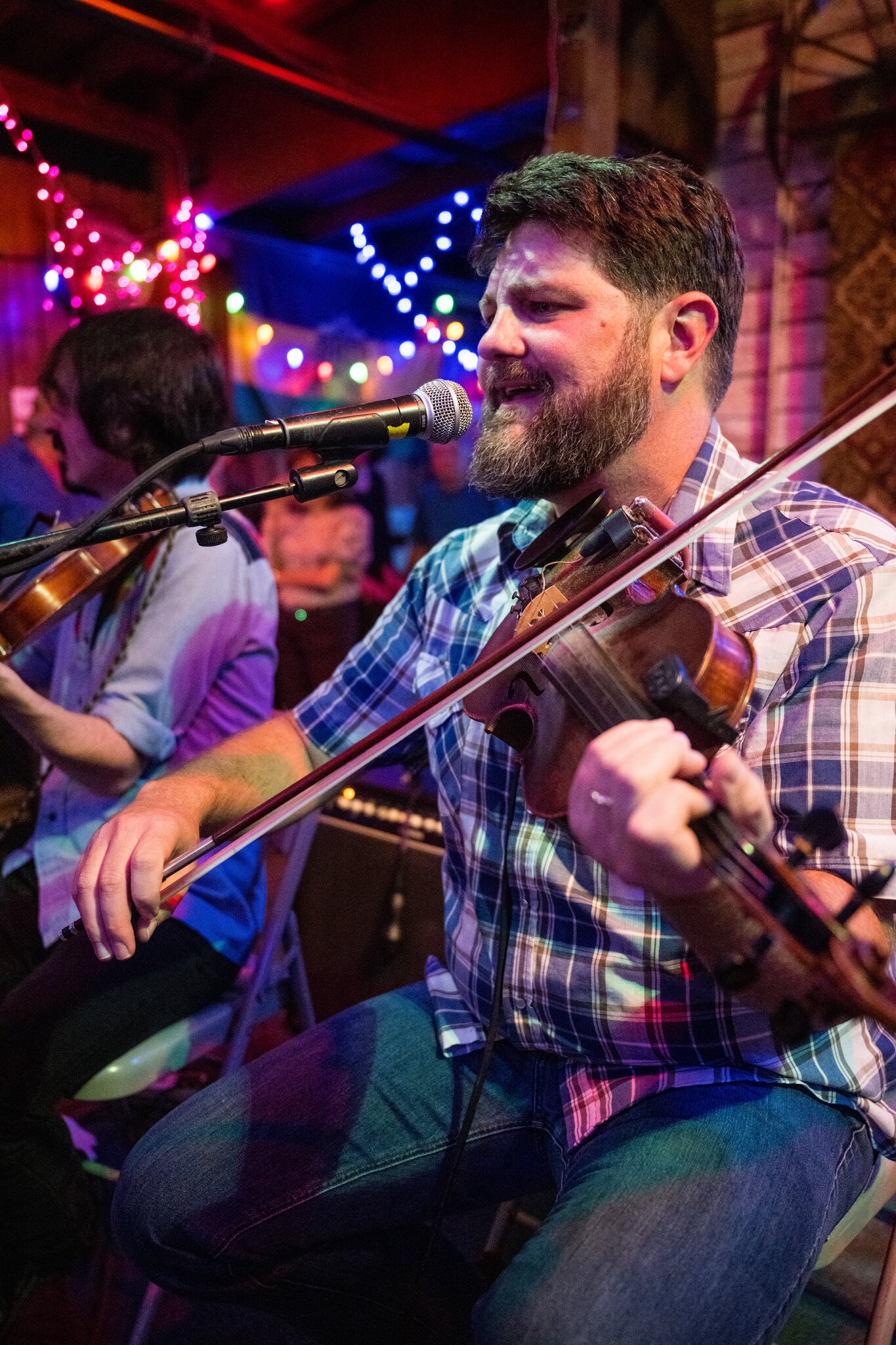 Blue Moon Saloon in Lafayette.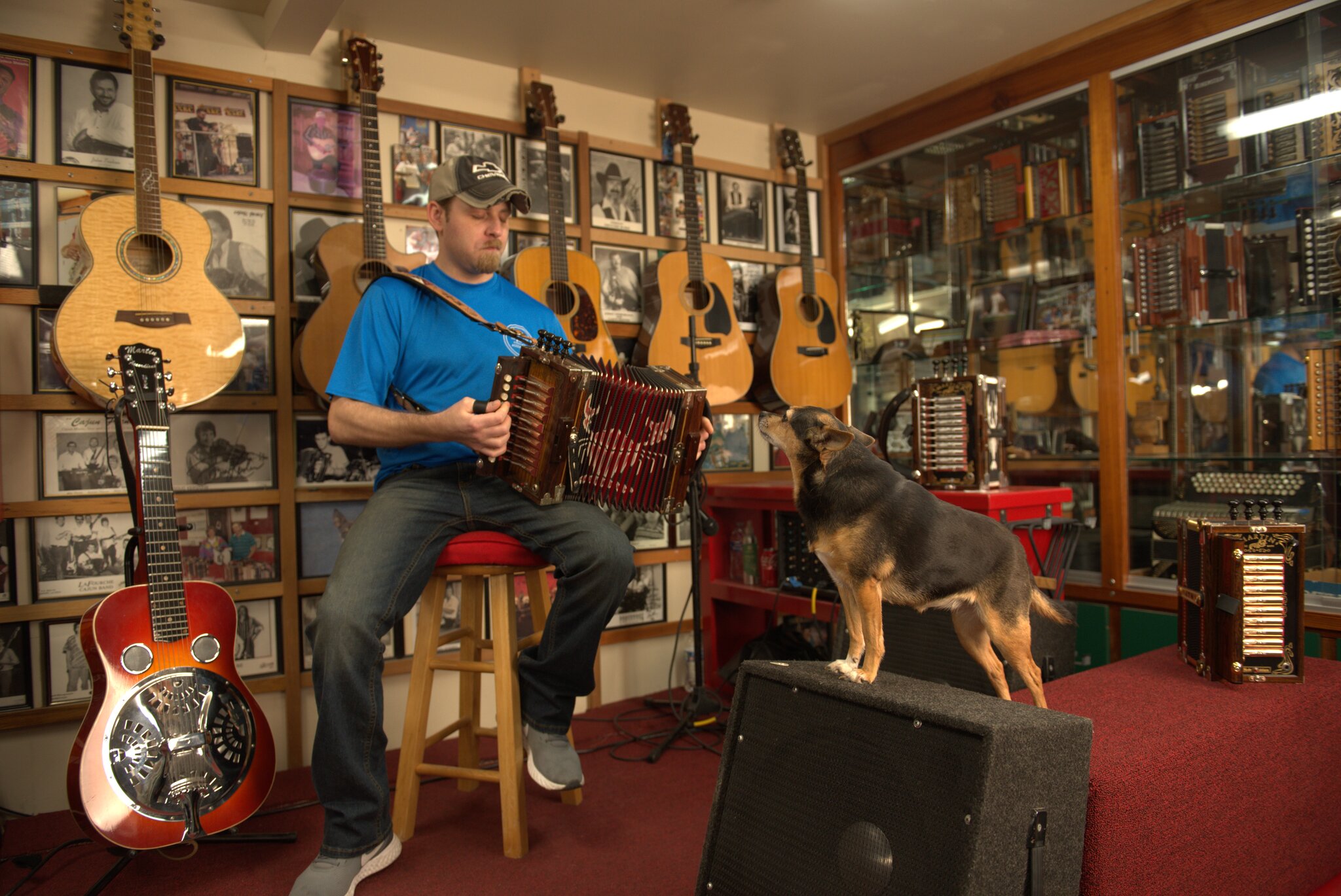 Martin Accordions in Scott.
Hear it Here
While zydeco music can be heard around the world, nowhere is it more popular than Louisiana. Here, people carry on the tradition of the trail ride, riding out to the countryside for music, food and dancing. Weekend nights, you'll find live zydeco in just about every town in southwest Louisiana as well as the big cities of Baton Rouge, Shreveport and New Orleans. It's also a staple at local festivals, including the Original Southwest Louisiana Zydeco Music Festival in Opelousas, Lebeau Zydeco Festival, NOLA Zydeco Fest in New Orleans and Mudbug Madness in Shreveport.
Blue Moon Saloon
Lafayette has numerous music venues playing both Cajun and Zydeco jams, and Blue Moon Saloon is among its best-known. Head to the back porch to hear some of the brightest stars in and immerse yourself into the local culture with Cajun and zydeco dance lessons. Grammy award-winning acts such as Steve Riley & the Mamou Playboys and the Lost Bayou Ramblers have graced the stage here, along with Terry & The Zydeco Bad Boys and Radio Zydeco.
Buck & Johnny's
Buck & Johnny's hosts the famous "zydeco breakfast," where customers dine on a special brunch menu, and the dance floor fills up during the daylight hours with the likes of Gerard Delafose & the Zydeco Gators, Lil Pookie & Zydeco Sensation, Step Rideau & The Zydeco Outlaws, and Leroy Thomas & The Zydeco Roadrunners. Seeing a trend in band names here?
The first Zydeco Breakfast was held at the former Café de Amis on Saturday, April 25, 1998, as the concluding event of the International Business Exchange hosted and managed that year by the City of Lafayette's International Center. There were 42 international delegates present from several parts of Europe and Canada. After much positive feedback, the Zydeco Breakfast became a weekly tradition. In 2017, the current world-famous Zydeco Breakfast began a block away at Buck & Johnny's. If you like this experience, check out Prejean's Cajun Restaurant's Zydeco Brunch in Carencro, Rikenjaks Brewing Company's Sunday Fun Day Zydeco Brunch in Lake Charles and Cane River Commissary's Zydeco Breakfast in Natchitoches.
Rock'n'Bowl
Rock'n'Bowl had become a recognized part of the New Orleans music scene in 1993 and began a recurring Zydeco music night every Thursday, attracting great attention to the genre in a city that's heart belongs to jazz. The venue was catapulted into national and international fame when, by happenstance, a writer from National Geographic stopped in for an alligator po'boy on Thursday night. In January 1995, the article on New Orleans in National Geographic hit the newsstands, featuring a full page covering Rock'n'Bowl, initiating a snowball effect leading to stories by CNN, USA Today, Life Magazine, Southern Living, Rolling Stone in June, and the NBC Today Show within the following six months. Still today, New Orleans' flair for quirkiness is on full display at this combination zydeco music venue and bowling alley, where the sounds of accordions are accompanied by the crash of strikes and spares.
El Sido's Zydeco & Blues Club
El Sido's has been hosting life performers since 1984. Former acts include Clifton Chenier, Buckwheat Zydeco, Rockin Dopsie, John Delafose, Nathan & the Zydeco Cha-Chas, Lil' Nathan & The Zydeco Big Timers, Beau Bayou & Sabine Connection and more. They are only open on Friday and Saturday nights, so this is a must-stop for those night owls out there looking for authentic zydeco tunes.
Hideaway on Lee
Hideaway on Lee is a restaurant, bar and music venue that has taken inspiration from old hotel bars around the world while incorporating the intimate feel of a Louisiana house dance. Acts like Jeffery Broussard & The Creole Cowboys, Curley Taylor & Zydeco Trouble, Alphonse Ardoin and The Zydeco Kingz, and Horace Trahan & the Ossun Express have played here. Have a local beer, snack on some fried okra and do it all over again.
Learn more about this unique genre at the Zydeco Music Exhibit in Opelousas - the birthplace of Grammy award-winning, zydeco legends such as Terrance Simien and Clifton Chenier. Located at Le Vieux Village Heritage Park, interpretive panels display a musical timeline of the zydeco genre and the musicians who influenced it. And at Martin Accordions in Scott, learn all about the instrument that was, well, instrumental to the creation of Zydeco and Cajun music. Martin Accordions offers shop tours and musical demonstrations for all who in search of experiencing this unique culture.