Blues Music in Louisiana
Discover Louisiana's influence on the blues. Musicians from every corner of the state have helped shape this music genre.
The Music: Blues
The Mississippi River rolls through Louisiana, and this being the deep South, you know there's some great blues music to be discovered. This is the down-home music introduced to the world by African-American laborers, and you can hear elements of gospel and old-school country in the sounds of blues, even today. The classic blues song is built around a "12-bar blues" chord progression with the lyrics following a pattern of a line sung twice, followed by a longer third line. Of course there's nothing rigid about the blues. Each song is as individual as its performer.
The Blues Music Icons
The Louisiana blues origins can be heard in the music of the blues greats! Louisiana's blues brought us Huddie "Leadbelly" Ledbetter, one of the architects of blues music as we know it today along with Robert Pete Williams. New Orleans gave rise to performers like James Booker, Snooks Eaglin, Earl King and the legendary Professor Longhair, whose weaving of Caribbean rhythms and the blues created New Orleans' distinct style. Upriver in Baton Rouge, swamp blues took root under the direction of producer J.D. "Jay" Miller who recorded artists such as Slim Harpo, Lightnin' Slim, Silas Hogan, Henry Gray, Lonesome Sundown and Lazy Lester.  Of course, scores of other blues greats have called Louisiana home including Raful Neal, Buddy Guy, Ernest "Tabby" Thomas and Clarence "Gatemouth" Brown.
And the state continues to nurture a new generation of performers such as Tab Benoit, Larry Garner, Kenny Neal and Chris Thomas King, Irma Thomas, Kenny Wayne Shepherd and Marcia Ball. Discover all the great Louisiana Blues Musicians.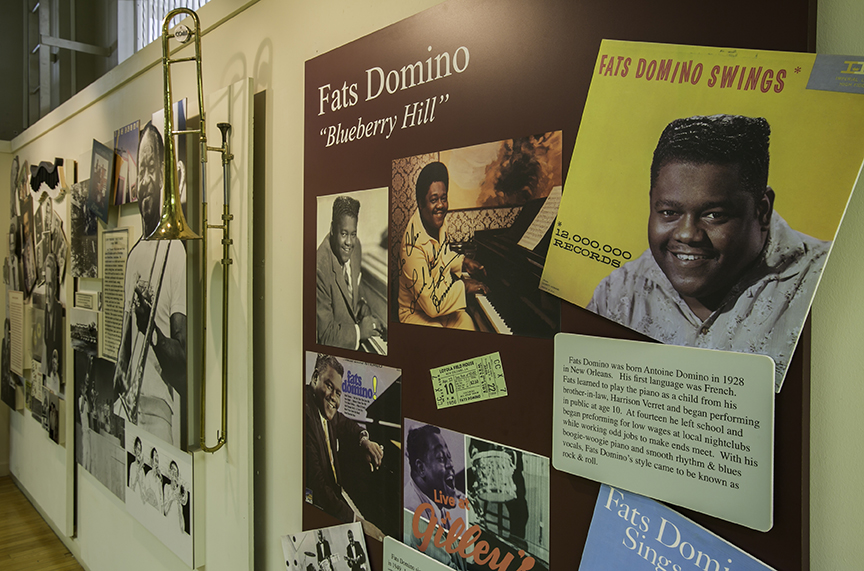 Learn about Blues icons at the Delta Music Museum in Ferriday.
Baton Rouge Blues Fest is fun for all ages.
Front Street, home to Mama's Blues Room.
Music exhibit at the West Baton Rouge Museum.
Hear it Here
Live blues is easy to find throughout Louisiana both in nightclubs and at festivals such as the annual Baton Rouge Blues Festival, Shreveport Blues Festival at the famed Shreveport Municipal Auditorium; Bluesberry Festival in Covington, Crescent City Blues and BBQ Festival in New Orleans; Bogalusa Blues and Heritage Festival and the BBQ, Bourbon and Blues Festival in Thibodaux.
Teddy's Juke Joint
Zachary
Teddy's Juke Joint was established back in 1979, in the very building (a little shotgun house) where founder Lloyd "Teddy" Johnson grew up. Both world-renowned and beloved local blues acts play at Teddy's multiple nights a week, with classic rhythm & blues spinning the rest of the time. Enjoy scrumptious meals from Nancy's Kitchen such as turkey wings, gumbo, red beans & rice, pork chop sandwiches, smoked sausage and more. Old photographs and relics from the past cover the walls and the venue is lit up with Christmas lights 365 days a year!
The Howlin' Wolf
The Howlin' Wolf - named after the legendary bluesman Chester Burnett - has been packing in audiences since 1988 and is still running strong with a roster of both local and national acts. It's a diverse group of artists, too, so even if you don't show up on a night when blues bands are playing, you're sure to find something that'll be music to your ears. The exterior will pull you right in with its colorful mural done by renowned artist Michalopoulos. The mural conveys New Orleans neighborhood scenes and their music history, from Louis "Satchmo" Armstrong to a second line with the Dirty Dozen Brass Band. The grill in The Howlin' Wolf Den uses local ingredients to curate a fusion menu of Creole-style cooking and classic bar bites. Pair with a beer from one of 25 taps pouring local and international beers.
Ruby's Roadhouse
The lakefront town of Mandeville is home to historic structures, meandering waterways and one of the most authentic old-school music joints in Louisiana. Ruby's Roadhouse is part neighborhood bar and part music mecca. It's one of the last true remaining roadhouses, established in 1984 and housed in over a century-old building. When you walk through the doors and see the hundreds of visitors' names scrawled on the ceiling, along with pulsing, energetic blues music coming from the stage, you know you're in a special place.
Mama's Blues Room
Mama's Oyster House is a popular eatery located in the downtown Historic District in a building dating back to the 1800s. Inside, you'll find Mama's Blues Room - featuring live music every Friday and Saturday night. The Blues Room has been entertaining guests since 2006 and blues fanatics will hear everything from country or urban blues to acoustic or electric blues or even blues rock. In addition to the soulful blues, this venue emits smooth jazz and upbeat zydeco up and down Front Street on the banks of the Cane River. Order up a tray of oysters (raw or grilled with garlic butter), or try a crawfish pie or fried frog legs!
d.b.a
At d.b.a, you'll find popular names as well as up-and-coming acts, along with a full bar stocked with local beers and creative cocktails. Performers such as the uber-popular Little Freddie King have graced the stage here, along with Layla Musselwhite (daughter of blues legend Charlie Musselwhite), Washboard Chaz Blues Trio. This venue has been a hot spot for genres of all kinds since the year 2000, so make sure to check out their calendar for an array of tunes worth catching.
Learn more about the genre at the Delta Music Museum in Ferriday - the only Louisiana location marked with a Mississippi Blues Trail designation. Along with the blues, the museum showcases gospel and country acts. During the 1950s, these genres would converge in the delta to create the new sound of Rock and Roll and Rockabilly music. See displays on Irma Thomas, Fats Domino, Aaron Neville, Percy Sledge and more. And the West Baton Rouge Museum features images, documents, and artifacts pertaining to the blues including local musicians Slim Harpo and the Raful Neal Family in its permanent collection.