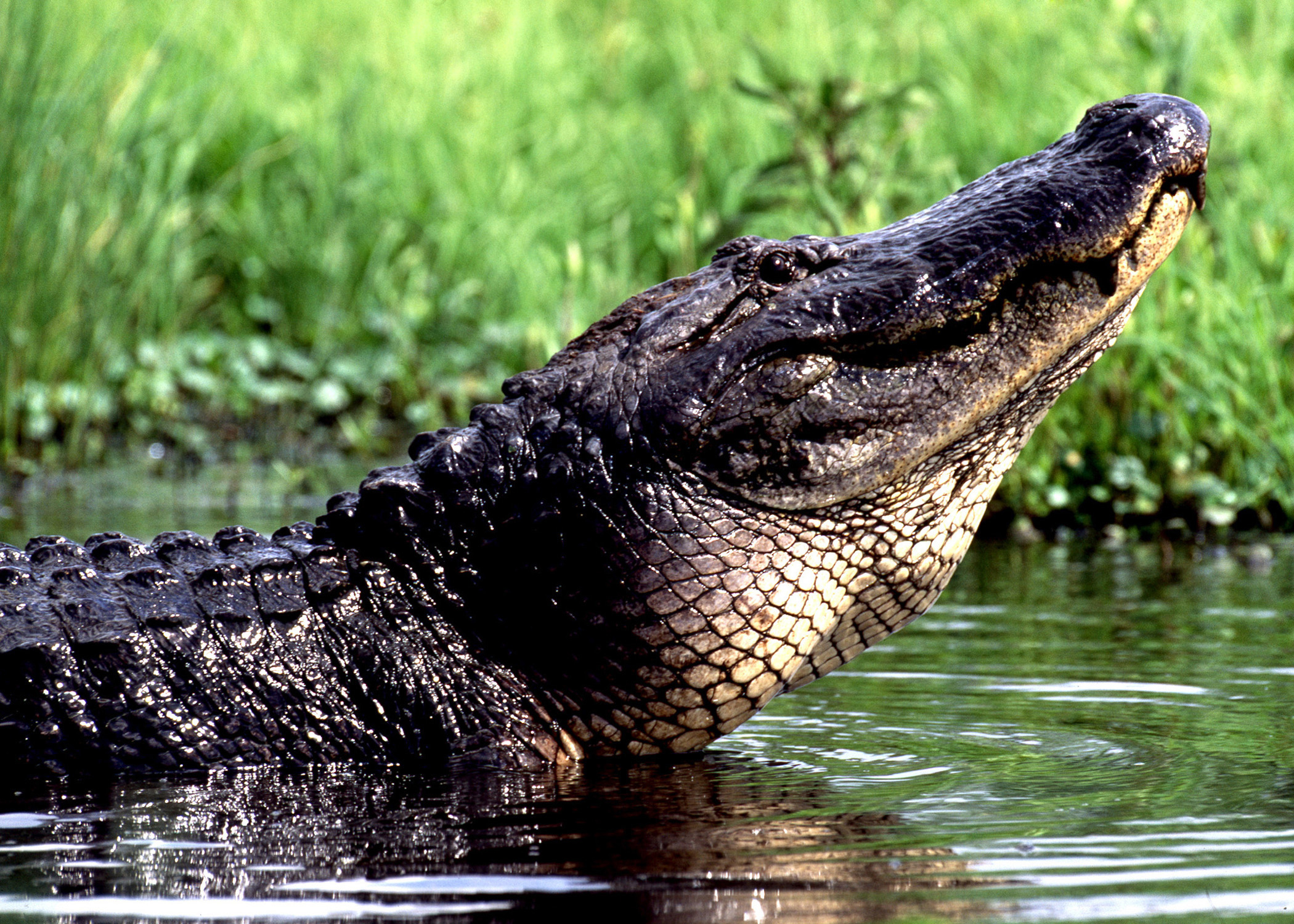 See Alligators on Louisiana Swamp Tours
Louisiana's alligator population tops that of all other states combined, so opportunities abound to marvel at these fierce, inquisitive creatures.
For many of us, spotting an alligator in the wild might signal that it's time to start running. But fear not, despite that sinister-looking grin, alligators rarely make unprovoked attacks on humans.  In fact, even though they possess the strongest bite of any living animal, alligators will typically avoid contact with us.
Louisiana didn't always have such an abundant alligator population. In the early 1960s, the Louisiana Department of Wildlife and Fisheries noticed a massive drop in the alligator population.  Poachers, eager to make a buck, were killing alligators and selling the much-coveted skins to the fashion industry.  Since then, conservation programs help ensure their survival. Alligator ranches incubate eggs found in the wild and then release 10 percent of the alligators back into their natural habitat.  Since 1985, some 300,000 gators multiplied to nearly 3 million today.
It is no wonder these reptiles are referred to as the "King of the Everglades."  Typically ranging in size from eight to 15 feet and living for up to 80 years, the force of their famed bite is roughly equivalent to a small car being dropped upon you.  A car with teeth.  Ironically, their spoon-shaped jaw makes it difficult for them to pick up food.  They compensate by typically swallowing (whole) anything surrounding the meal at hand. Their strong stomach acids mean that even steel - like a discarded license plate - can be digested.  Sensors inside their jaws allow them to detect subtle movement in the water, helping them locate potential food sources.
The Bayou State offers a wealth of opportunities to get close to these reptiles at various Louisiana attractions without the potential dangers of meeting one in the wild. On Cajun Pride Swamp Tours in LaPlace, they lurk beneath the water with just their eyes and a bit of snout showing. Eccentric tour guides regale you with information and tales of gator wrestling. 
If you're a night owl, take off at sunset for an evening tour of the Honey Island Swamp with Cajun Encounters Tours in Slidell.  Make sure to ask about the Honey Island Swamp Monster. Native language tour guides can be arranged for French, Spanish, Italian and Arabic groups.
Head down the bayou to LaFourche Parish and enjoy an educational experience combined with a boat tour with Zam's Swamp Tours! Your "unapologetically Cajun" guide will entertain you with stories about life on Louisiana's Cajun Bayou. Then you'll visit Zam's Educational Zoo where you can meet their gators! They offer tours in French as well as English.
Just 25-minutes from New Orleans, Jean Lafitte Swamp Tour offers swamp tours and airboat tours from Jean Lafitte National Historic Park and Preserve. You'll get up close and personal with gators and native wildlife while learning about the Cajun way of life from guides who are also native to the area.
Adventure-seekers will get their adrenaline pumping on Cajun swamp kayak tours with Champagne's Cajun Swamp Tours in Breaux Bridge.  Their kayak tours through the Lake Martin swamp will bring you up close and personal with gators and other wildlife.  If you prefer soft-adventure, Champagne's offers traditional boat and accessible tours too.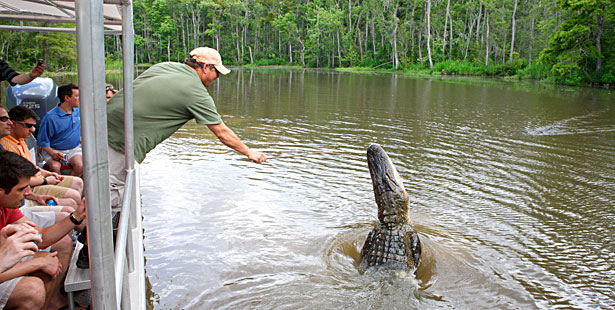 Take a Dr. Wagner's swamp tour to see these magnificent kings of the swamp.
See sunbathing gators on a Jean Lafitte Swamp Tour.