Louisiana's Must-Visit Spots for Lovers of the Arts
Dive in to local art and culture at these fascinating spots around the state.
Exploring a city's culture through the arts is like getting to know its heart and soul. From stunning local art to centuries-old pieces - these artsy spots cover it all.
R.W. Norton Art Gallery
The R.W. Norton Art Gallery - or as locals call it, "The Norton" - is an art lover's paradise, housing a fantastic collection of paintings, sculptures, decorative arts and more. The museum's collection includes more than 400 paintings by more than 100 artists as well as sculptures, prints, decorative arts and tapestries. Works by famous artists such as Auguste Rodin, Mary Cassatt and Charles Marion Russell are a part of this eclectic collection. Many well-known Louisiana artists such as John James Audubon and Clementine Hunter are also represented. Interestingly, The Norton also hosts six tapestries dating from the 16th century which once graced the palace of a King of France.
If you're planning a visit to the R.W. Norton Art Gallery, save time for the gardens. Visiting the museum without walking the trails is like seeing only half of the museum. The Norton sits on 40 acres of beautifully landscaped grounds which can be explored via a system of hilly, scenic walking trails. The botanical gardens, named "One of the South's favorite spots" by Southern Living Magazine, feature tens of thousands of plants. 
River Oaks Square Arts Center
The River Oaks Square Arts Center is located Downtown Alexandria's Cultural Arts District. The Bolton Home, circa 1899, is listed on the National Registry of Historic Places. It houses 7 studios and a gallery gift shop - featuring works of art from over 200 artists. The 15,000 square foot Studio Annex building later opened its doors to meet the changing, additional needs of the Center. It houses 25 studios, 3 galleries, an on-site Arts Academy, a full-scale ceramics studio and rental space. River Oaks Square Arts Center aims to stimulate education and appreciation of local artists and their work – and is a hub for visual art and fine crafts, with exhibits featured annually. In addition, you can find an on-site arts academy that provides classes for visitors of all ages.
Azaleas in R.W. Norton's gardens
Ragin Cajun Roll at Tsunami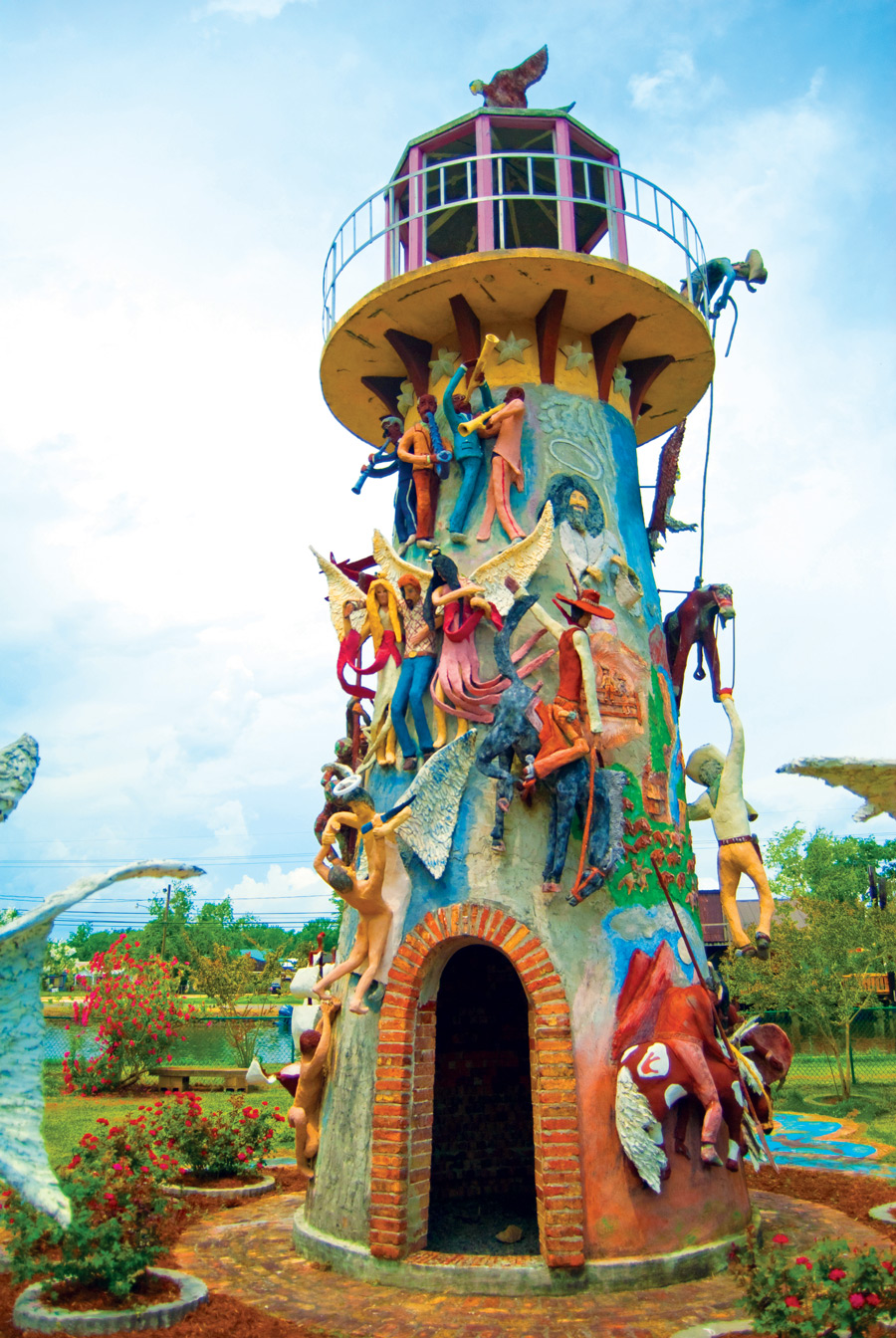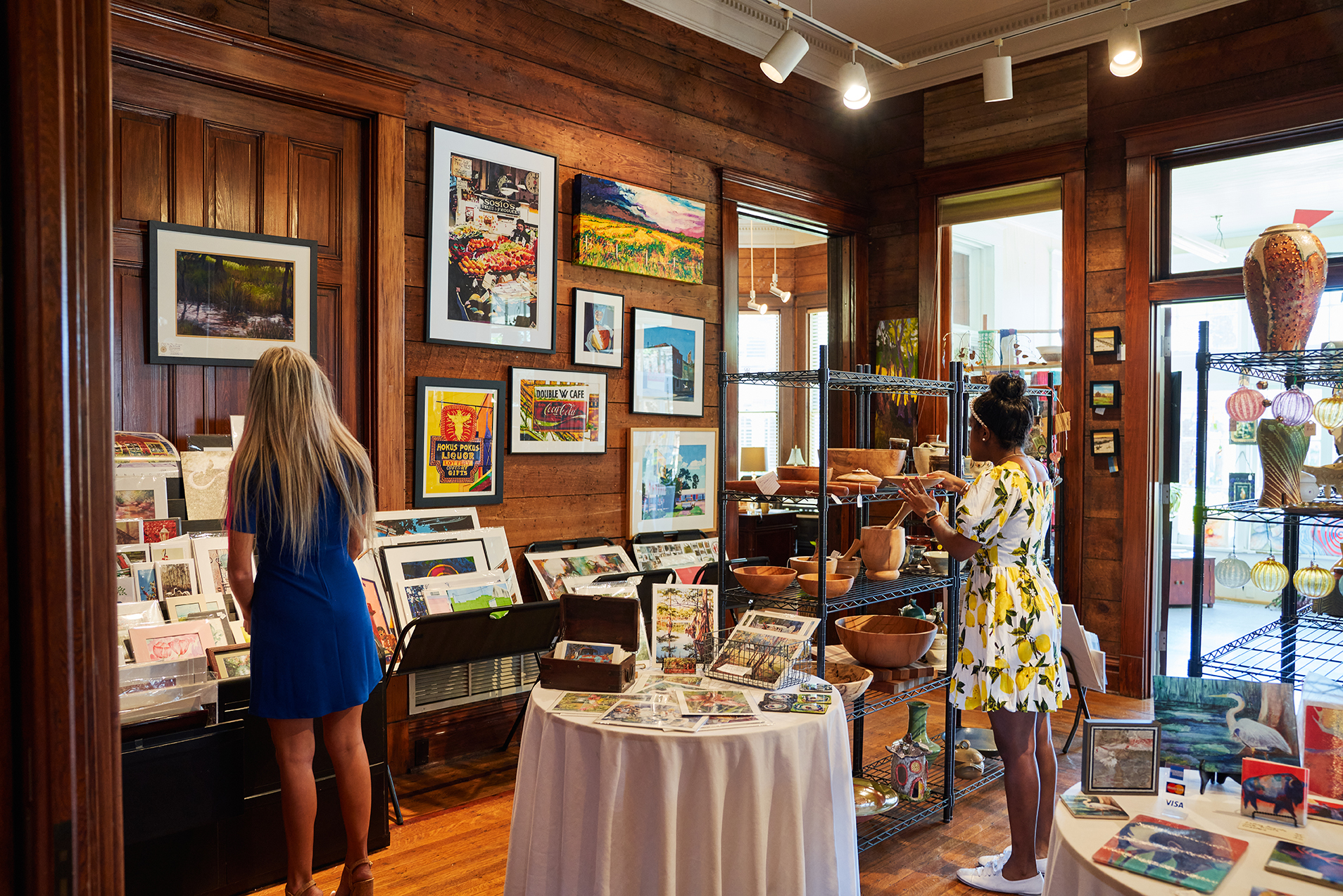 River Oaks Square Arts Center
Shaw Center for the Arts
The Shaw Center for the Arts is Baton Rouge's center for performing arts, galleries and sweeping views of the Mississippi River. Opened in the spring of 2005, the Shaw Center's mission is to give the arts in Baton Rouge a prominent downtown address and to be a catalyst for the capital city's emerging arts and entertainment district. 
Part of the Shaw Center's vitality comes from having so many different arts organizations working in close proximity within its walls. The pair of gallery spaces on the first floor is an example of just how much diversity this arrangement offers. LSU's Manship Theatre is located on the first floor, along with two art galleries, a museum store and eateries. A short walk to the other side of the lobby reveals the LSU School of Art Gallery. Both galleries change exhibits frequently. The fourth floor features a terrace that offers outdoor seating as well as a sculpture garden. 
Finally, a quick elevator ride delivers you to the LSU Museum of Art - a major tenant here, taking up the Shaw Center's entire fifth floor. The museum's permanent collection displays Newcomb pottery, Chinese jade, Louisiana-made furniture, 19th-century landscapes, mid-century lithographs and paintings by self-taught Louisiana artist Clementine Hunter.  In another room, view "LSU Art Past and Present," an ever-changing exhibit of work by LSU students and professors.
Take in the view from the building's rooftop lounge after exploring six floors of museum and gallery space, performance stages for homegrown and touring talent, restaurants, shops and studios – all centered on the arts. If you find yourself famished at the end of the day, enjoy Tsunami on the rooftop - a perfect way to end the day with a sunset view and a dinner of sushi and soba noodles.
Chauvin Sculpture Garden
Along the banks of Bayou Petit Caillou in Terrebonne Parish, a lighthouse guides visitors to the Chauvin Sculpture Garden - a treasure of modern American folk art. The lighthouse, made of 7,000 bricks and decorated with sculptures, is just the beginning of a journey through the world of Kenny Hill, a bricklayer who left behind more than 100 concrete sculptures on his bayou-side property. Hill first settled in Chauvin in 1988, living in a tent until he built a small cabin. Two years later, he began a self-proclaimed "story of salvation" for his neighbors. The site was later donated to Nicholls State University in Thibodaux.
Visitors enter the garden by way of a wooden bridge with concrete planks. Along the way, angels invite visitors or sometimes block their passage. The sculptor himself appears along the journey several times, giving rare insights into the mind of the reclusive artist. Long-haired and bearded, he stands with a bleeding heart, illustrating his mystifying inner world. Ranging in subjects from angels, cowboys, God, soldiers, children and Hill himself, the sculptures depict the artist's spirituality and his struggle with his personal life.
Historic City Hall Arts & Cultural Center
After extensive restoration, the Historic City Hall Arts & Cultural Center opened its doors as the City of Lake Charles' public art gallery and cultural facility in 2004. Since that time the center has showcased numerous traveling exhibitions from around the world, as well as regional and local artists. The beautiful historic building features three floors of gallery space, a clock tower, and a landscaped brick courtyard.
The center has displayed solo exhibitions by artists such as Pablo Picasso, Ansel Adams, Norman Rockwell, and Tasha Tudor, as well as many traveling group exhibitions. In 2007, the HCH A&C Center housed Titanic: The Artifact Exhibition, featuring over 100 carefully preserved artifacts from the historic vessel. This spot has been delighting visitors for years.