Louisiana's Top Live Music Venues
To truly understand the appeal of Louisiana music, you've got to hear it live. Here's where to go to let the beat catch hold.
Louisiana is made of live music. The beauty of Louisiana's musical tradition is that it's a participatory one. People of all ages and backgrounds dance, often in the same club to the same bands. The lines between the bands, the music and the audience are often blurred in the juke joints, honky-tonks and dancehalls of Louisiana, creating an energy you are hard-pressed to find anywhere else. This is by no means an exhaustive list, but a visit to these venues and you'll sure to pass a good time.
Start your morning off right at Buck & Johnny's.
Gather with friends at the Blue Moon Saloon.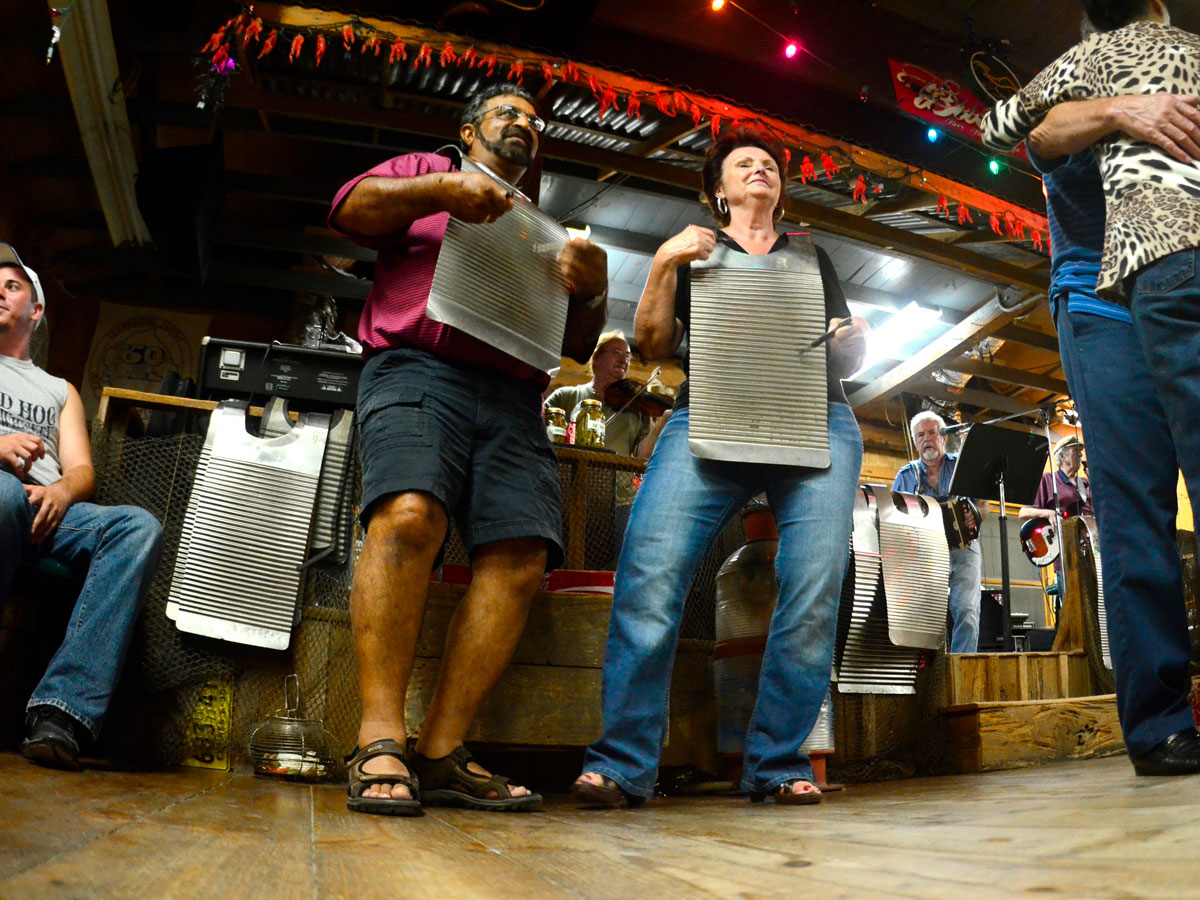 Hear unique sounds at the Jolly Inn.
Feel the rhythm at the Dew Drop Jazz & Social Hall.
Guide to Louisiana's Live Music Venues
Blue Moon Saloon
Blue Moon Saloon is a combination bar/live music venue/tourist hostel hosts Lafayette's finest music seven days a week. Everyone from the young blood Cajun groups like Lost Bayou Ramblers to world-renowned groups like Steve Riley & the Mamou Playboys tear into it on the Blue Moon's back porch. It's pretty much a guaranteed good time no matter who's on the bill.
Bootlegger's Bar 
Bootlegger's features popular acts and a nice dancefloor with plenty of room to show off your moves. They host everything from DJs, country groups, zydeco performers and more. Bootlegger's created a rustic prohibition-era atmosphere with recycled wood and whiskey barrels, and even offers dozens of flavors of moonshine presented, of course, in mason jars.
Buck and Johnny's
Start your music adventure at Buck and Johnny's with zydeco breakfast and end the night with rocking live music. Live music and tasty brunch fare are just a few of the highlights at Buck and Johnny's. Located on Breaux Bridge's picturesque main drag, this formerly abandoned car shop has been brought back to life as a multi-use restaurant and event space. Head to the Filling Station (a.k.a the bar) and enjoy the open-air patio in between music sets. Definitely wear your dancing shoes!
Dew Drop Jazz & Social Hall
The appeal of Dew Drop Jazz & Social Hall isn't just in its music, but in the building itself. Constructed in 1895 by members of Mandeville's African-American community, the simple, unadorned wooden building once hosted New Orleans jazz musicians who took steamboats across Lake Pontchartrain to play. These days the community-oriented venue hosts traditional jazz concerts throughout the spring and fall months.
Enoch's Irish Pub
Enoch's is a homey pub in Monroe that has been playing congenial host to area blues and folk musicians since 1980. Artists like Jerry Jeff Walker and Clarence "Gatemouth" Brown have graced the stage that also hosts the occasional bluegrass and Irish music session. Like any proper pub, Enoch's is the kind of place you like to make your home base.
Fred's Lounge
Fred's Lounge is only open Saturday mornings and full time during Mardi Gras, when they host the Cajun music radio show that has been running there since the 60s. It's a good time out in the Acadiana prairie. Don't be too shocked when the matriarch and widow of the club's founder, Tante Sue, takes a pull from the Schnapps bottle holstered to her waist and pops a piece of boudin to your mouth from a cardboard box as she makes her way around the dance floor.
Jolly Inn
Established in 1998, Werlien Prosperie and his band Couche Couche kept the Cajun fais-do-do tradition alive at the Jolly Inn. Live Cajun bands still pack the dance floor with a Cajun two-step, waltzes, line dances and swamp pop on Friday nights and Sunday afternoons. You need not be an expert dancer; there is always someone ready to show you a step or two to get you in sync with this great Cajun tradition.
J.O.S.H. Lounge
J.O.S.H. stands for Jazz, Old School and Heritage, and that's exactly what you'll get at this venue. Jam to talented performers playing the sounds of jazz, funk, reggae and more, take a dance class or simply enjoy the front patio seating while sipping on a signature cocktail. The atmosphere here is among the best in north Louisiana.
Manship Theatre
As part of Baton Rouge's Shaw Center for the Arts, the Manship Theatre features top-notch dance, theatrical and musical performances. This is one of the crown jewels of Baton Rouge's cultural scene, notable for its diverse lineup - everything from Cuban bands, to Motown bands, to Grammy Award-winning musicians.
Panorama Music House
Panorama Music House is a hot spot in downtown Lake Charles for music. Stop in any day of the week for amazing music, food and drinks in a cool atmosphere. This isn't your typical Jazz Brunch spot - Panorama Music House hosts wacky events like Yacht Rock Brunch and Pajama Jams (yes, where you can jam out in your pajamas. It's a judgment-free zone!). Hop on stage for Karaoke night or observe the talent from the balcony with a pizza or burger with panorama fries.
Get jazzy at Preservation Hall.
Catch soulful tunes at Tipitina's.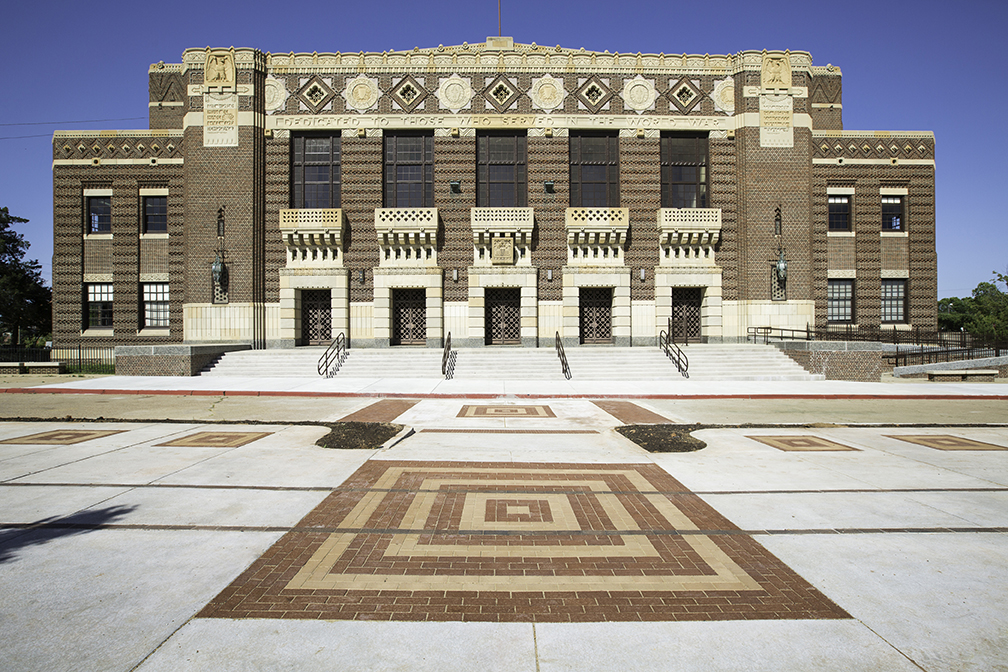 Hear music where Elvis Presley performed.
Preservation Hall
There is no more traditional a jazz haunt than Preservation Hall, a sparse square room in the tourist riot of the French Quarter. Pull up a spot on the floor and prepare to find out what true New Orleans jazz is as the world's finest practitioners of it play their hearts out every night of the week. Be prepared to tip at the end when those saints come marching in.
Ruby's Roadhouse
Located in Mandeville, on the north side of big ol' Lake Pontchartrain and a quick drive from New Orleans, Ruby's Roadhouse features big and local musicians. The sounds of New Orleans-style jazz and brass funk, as well as the Cajun tunes born from the bayou pour out of this simple little venue. The building is more than 100 years old, and has been known as a popular venue for African-American performers since the 1930's. 
Shreveport Municipal Auditorium
In the mid-1900s, Shreveport emerged as a recording and entertainment mecca – largely in part to its popular Louisiana Hayride live radio show, held in the Shreveport Municipal Auditorium, which debuted on April 3, 1948. By 1953, the program was syndicated on the CBS radio network, expanding its broadcast to 198 affiliates across the country. In 1954, Elvis Presley played his first show there…and the rest is history. In fact, it was Presley's last performance here on the Louisiana Hayride that prompted the show's emcee to coin the phrase, "Elvis has left the building" in an attempt to appease frenzied fans who were shocked he would play there no more. Today, visitors can still attend shows and even take a tour backstage.
Teddy's Juke Joint
Zachary
Teddy Johnson was born in the house that is now one of the last juke joints on Highway 61. At Teddy's Juke Joint, he holds court, sometimes wearing a cape, from the shrine-like DJ booth in the back, carrying on and shouting out to the crowd over blues and R&B records or summoning the band to the stage. A dizzying, Christmas-light-draped piece of living history, Teddy's is not to be missed.
Tipitina's
A trip to New Orleans would not be complete without experiencing live music at Tipitina's. This jamming venue, located in an old warehouse off Napoleon Ave. and Tchoupitoulas St., was founded in 1977. The name Tipitina's was inspired by the song "Tipitina" by Professor Longhair who played at the venue until his passing in 1980. The venue has played host to so many New Orleans music legends including Dr. John, the Neville Brothers and Trombone Shorty who have all graced the stage at this standing-room-only venue.
Varsity Theatre
The Varsity Theatre is located near the heart of Louisiana State University's campus. The college vibe is a big part of the Varsity's charm — this is a popular spot for watching LSU football games — and with its packed performance schedule of rock, funk, blues and pop performers, there's always something going on here. 
Learn more about music on Frenchmen Street in New Orleans, or get inspired by Louisiana's diverse music and festivals.