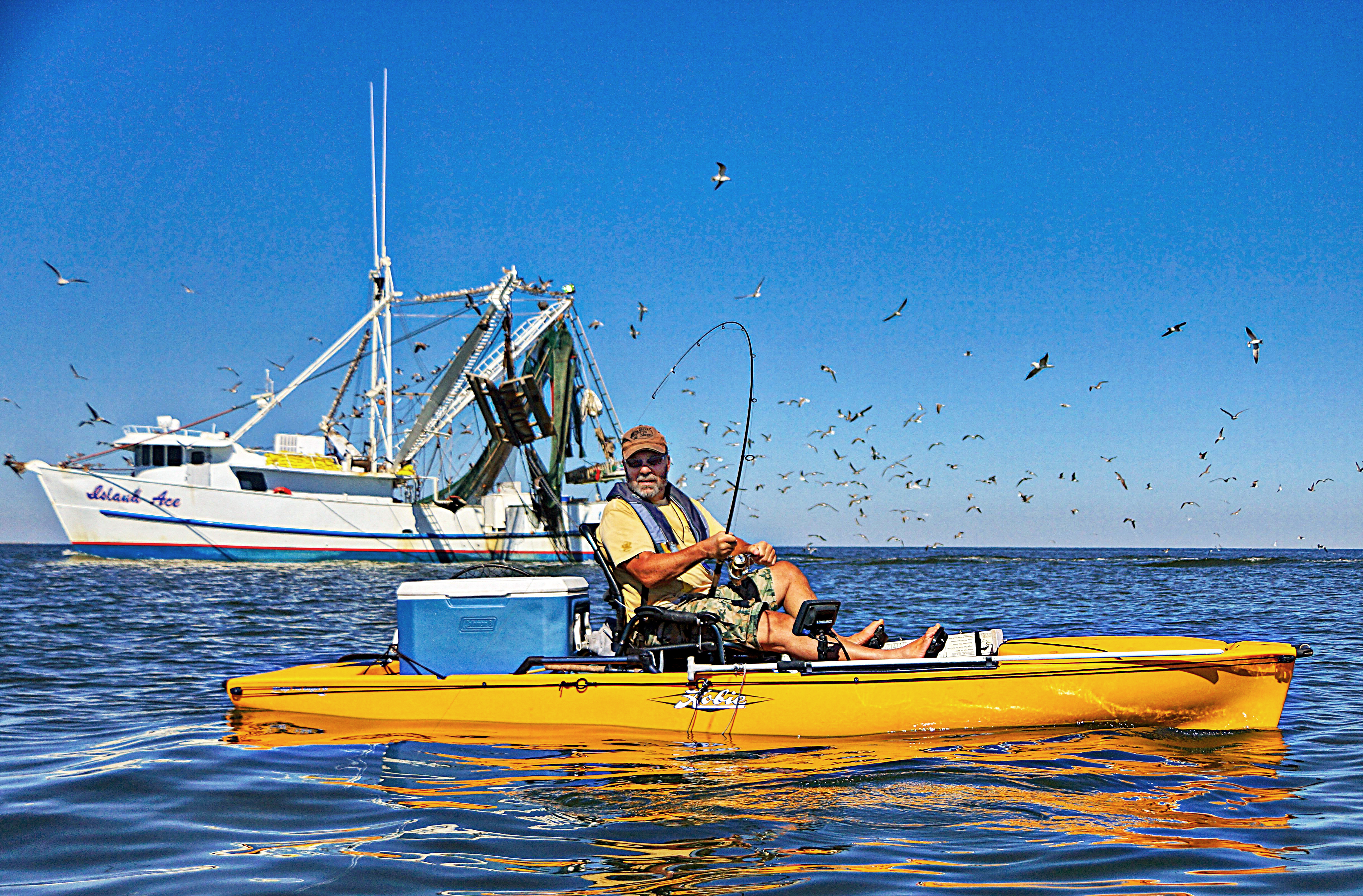 Chris Holmes
The Isle is Grand
There is no shortage of prime kayak fishing areas across the Louisiana coast, but if you could choose only one, Grand Isle is your best bet.
Louisiana's only inhabited barrier island is a fishing paradise and kayak-friendly community. The island is small, about eight square miles. However, it fishes big.
The southern shore is a hard sand beach directly on the Gulf of Mexico. When surf conditions allow, access to the beach is made over a sand-berm levee at several public access points across the island. Getting the kayaks and gear to the water can be a bit strenuous, but the fishing can be epic. Small rock jetties dot the shoreline and are prime spots to target speckled trout (spotted seatrout) and redfish in the early morning.
In general, however, the majority of kayak fishing occurs on the northern, bayside of the island. Great fishing abounds at the numerous marsh islands, rock jetty structures and an artificial reef. The reef sits a short paddle away from the public kayak launch at the end of Ludwig Lane and is marked by signs and PVC poles. Hopping from island to island provides virtually unlimited fishing, protected from all but the harshest weather conditions.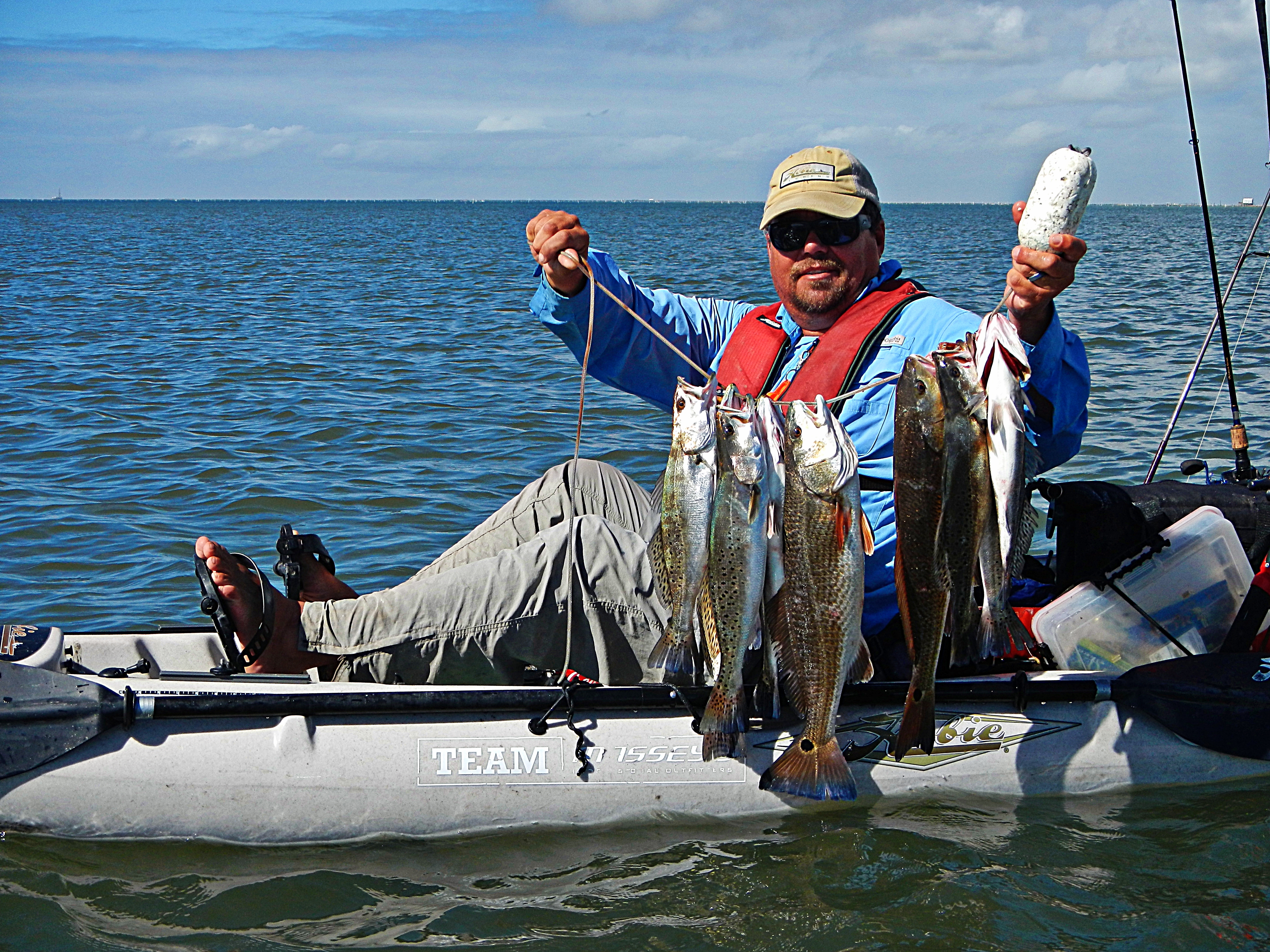 Grand Isle kayak fishing success!
Let the "bull" redfish take you for a ride.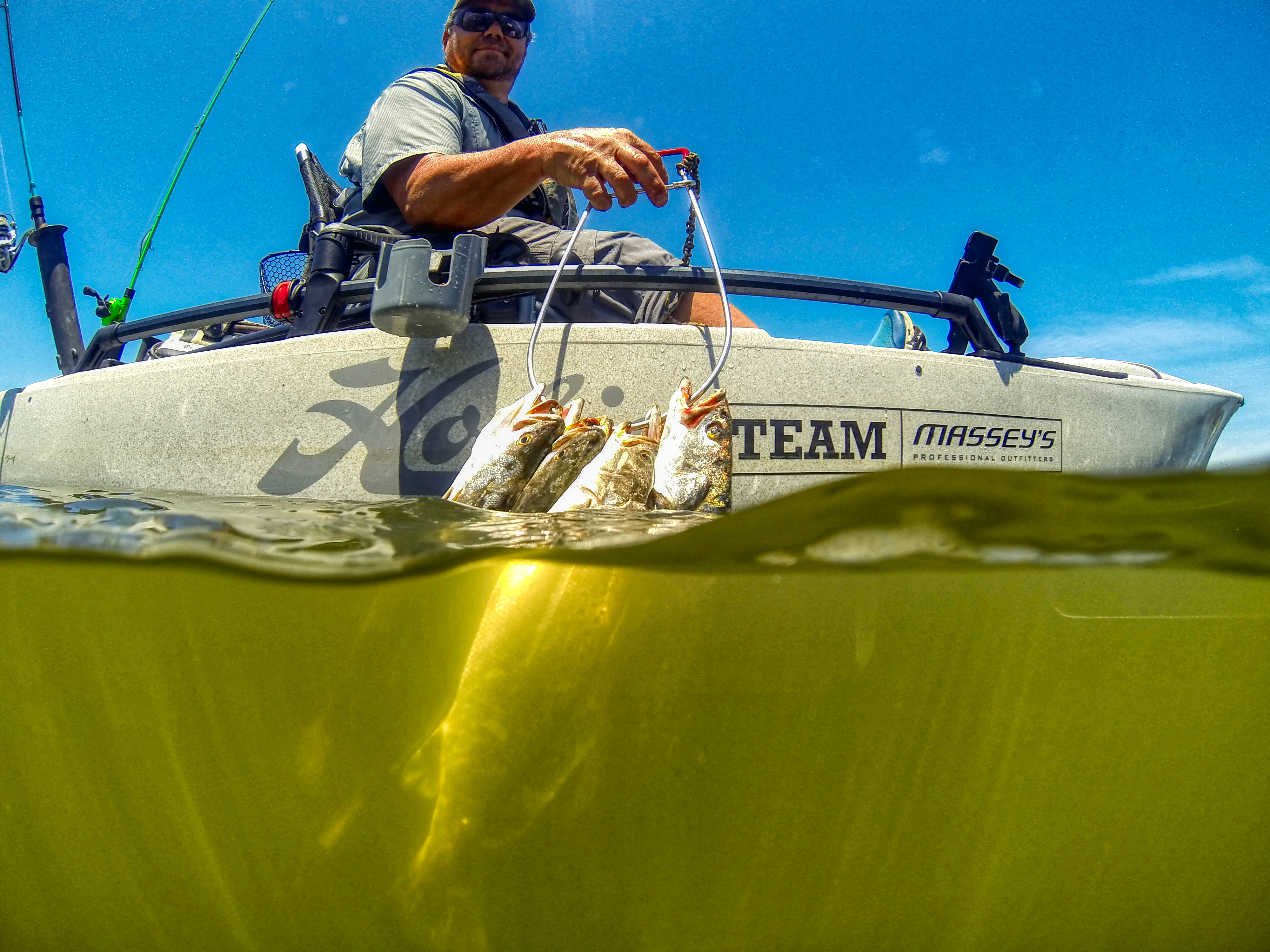 Kayak fishing in Grand Isle.
Ride the Bull fishing tournament in Grand Isle.
Both ends of the island have passes that flow directly to the Gulf—Caminada to the west and Barataria to the east. Barataria pass sees a lot of large marine and commercial fishing vessels working to support the offshore oil and gas industry and trawling for shrimp. The volume of boat traffic, along with strong currents often make dangerous for kayak use and caution should be utilized.
However, Caminada pass offers excellent kayak angling along the bridge to the island, rock jetty shorelines and access across the pass to Elmer's Island which is known for big trout and reds along its beach.
If it's bull redfish you're after, the pass is your ticket with fish in the thirty to forty inch range regularly caught. Locally termed a "cajun sleigh ride" -being towed around by a giant bull redfish is a bucket-list experience for any kayak angler. These bronze-brutes are hard-fighting and provide great sport.
The popularity of the cajun sleigh ride is what spawned Grand Isle's own "Ride the Bull," the World's Largest Kayak Fishing Tournament. Each August, kayak anglers invade the island from across the country and beyond. Participation has reached over 700 paddle craft anglers for the one-day tournament. The event features a unique catch, live-weigh, tag and release format. When the kayak angler catches a bull red, an assist boat picks up the fish and whisks it to the nearby Bridge Side Marina where Louisiana Department of Wildlife and Fisheries personnel weigh, measure and tag the fish. The bulls are sent swimming away to be caught again and provide valuable research. The anglers catching the heaviest fish win lucrative prizes.
Lodging, food, and tackle are available throughout the island. From single rooms to elaborate camps, a kayak adventure to Grand Isle is logistically easy. The Grand Isle State park offers primitive beach tent camping on the shores of the Gulf and nearby improved sites for tents, campers and RV's with water and electric hook-ups. Nature trails, a large fishing pier, a crabbing pier, and an observation tower overlooking the Gulf of Mexico. Salty air, sandy beaches and unsurpassed coastal scenery. make Grand Isle State Park a unique camping experience.
There really is no reason to leave Grand Isle to get your 'yak fishing fill, but if you want a change of scenery, it is nearby. A short drive back north provides access to vast marsh areas. Launching roadside at the small bridges off of Highway 1 gets you into the heart of trout and redfish country. Shallow marsh ponds abound with bait and hungry fish.
Louisiana fishing is legendary, and kayaking angling around Grand Isle provides opportunities to catch redfish, spotted sea trout, flounder, black drum, sheepshead, Jack crevalle, Spanish mackerel, and sharks.
Friendly folks, hungry fish and a community that understands and welcomes kayak fishermen. If you want to experience the best that Louisiana has to offer, give Grand Isle a try.
Grand Isle travel and kayak fishing resources:
Bayou Coast Kayak Fishing Club
Chris Holmes is an outdoor writer and avid kayak fisherman based in Chalmette, Louisiana. He is a field reporter for Louisiana Sportsman magazine.
Learn more about Louisiana fishing and fishing licenses through our Fishing Resources page.