Day Trip Itinerary: St. Landry Parish
Take a day trip to explore the Cajun spirit and Creole soul of the area.
St. Landry Parish is deeply rooted in the Cajun culture, so much so, the State recognizes four capitals in the Parish - the towns of Eunice - Prairie Cajun Capital; Opelousas - Zydeco Music Capital; Sunset - Rubboard Capital; Grand Coteau - Sweet Dough Pie Capital. The parish is heavily influenced by the diverse cultures who settled here – African, French, German, Italian and Spanish. Located just north of Lafayette, the area is lush with culture and outdoor experiences on the Atchafalaya River Basin.
Breakfast Options:
Chicory's at the Palace Café
In 1927, Greek immigrants Mama and Papa Doucas opened the Palace Café in downtown Opelousas, specializing in Creole and Cajun dishes. The beloved little café closed in 2019, then reopened as Chicory's at the Palace Café, serving a wide selection of specialty coffees and smoothies, as well as breakfast and lunch items.
Café Mosaic
Located in an old drugstore circa 1900's, Café Mosaic in Eunice offers all flavors of coffees, lattes, espressos, and freddas all made with Rêve - a locally roasted coffee. Pair your local brew with a breakfast burrito or a breakfast sandwich on a croissant, bagel or biscuit. For a small bite, try a homemade muffin or scone.
Myran's Maison de Manger
Overlooking Bayou Teche, Myran's Maison de Manger in Arnaudville serves up their signature "Egg-O-Myran" sandwich all day long. A perfect way to fuel up for a day of adventure!
Morning Activities and Attractions:
Bayou Teche Paddle Trail
You can kayak, canoe, or drive along the Bayou Teche Paddle Trail. Volunteers with the TECHE Project organize and conduct cleanup days, year-round, to keep the Teche in good shape for leisurely outdoor activities and events such as Tour du Teche. Also through the efforts of the TECHE project, in 2015 Bayou Teche was added to the National Water Trails System, a first for Louisiana! The National Water Trails System is a network of exemplary water trails that are cooperatively supported and sustained. The system was established to protect and restore waterways, something local volunteers have been doing on the Teche for a long time.
Creole Heritage Folklife Center
The Creole Heritage Folklife Center in Opelousas offers the public an opportunity to relive traditions of the African-American community with folklorist Rebecca Henry. Henry is a native to St. Landry Parish and offers educational programs and events that focus on Creole heritage. Learn about the use of herbs and folk medicine, everyday tools, home-life, and folk art. In the gift shop, find hand-sewn quilts, homemade soaps and potpourri, preserves, handcrafted dolls, and artwork. Guided tours are offered weekly and by appointment. The Creole Heritage Folklife Center is included on the Louisiana African-American Heritage Trail.
Sunset Cultural District
Looking for some retail therapy? Take a gander through over 10,000 square feet of antiques, art, jewelry and collectibles at Sunset Antique Market or Sunset Rail Stop Flea Market. At Jerilyn's Fused Glass Art Gallery, you'll find one-of-a-kind fused glass art, framed art, jewelry and more.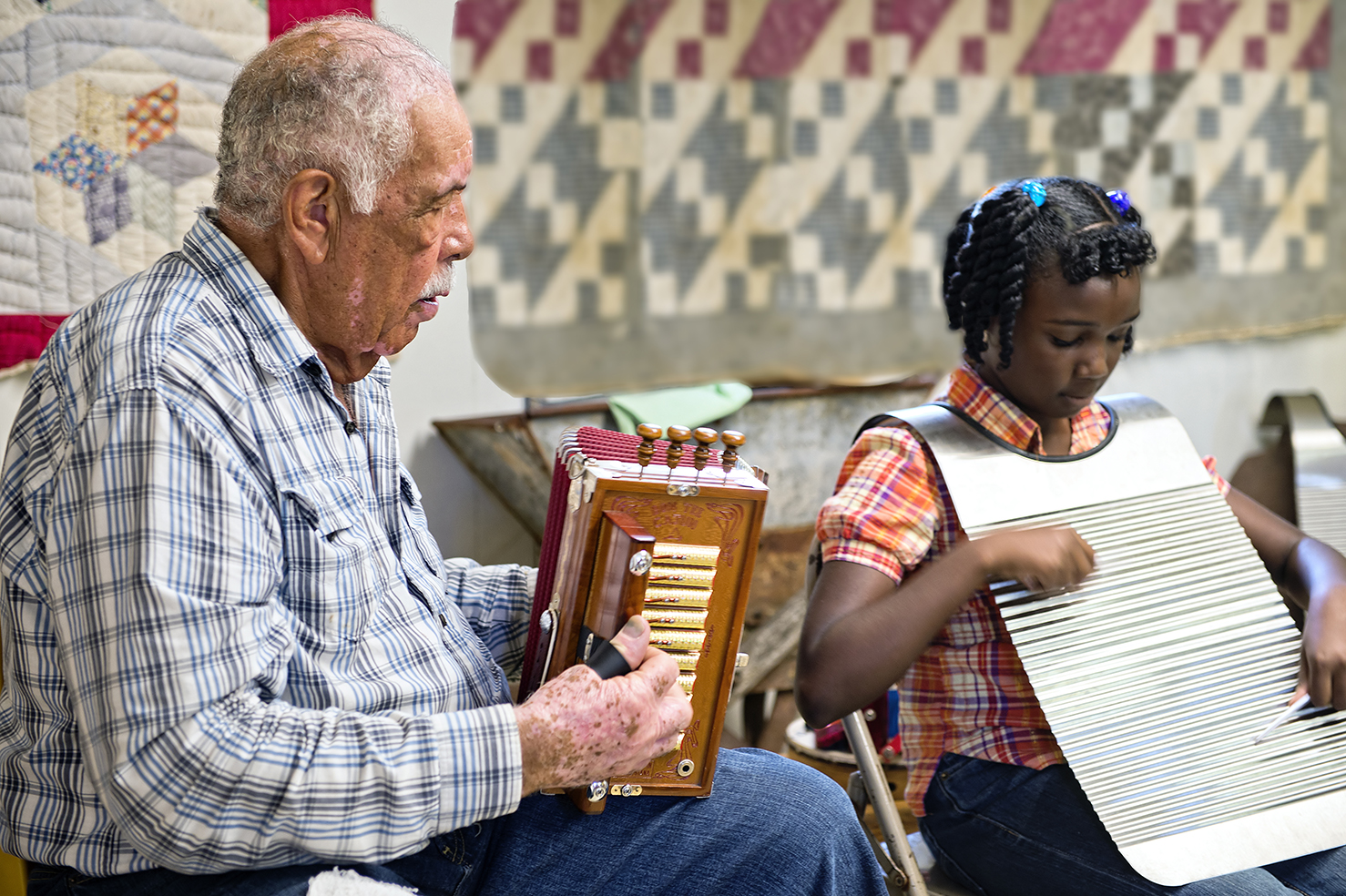 Creole Heritage Foldlife Center. Credit: St. Landry Parish Tourist Commission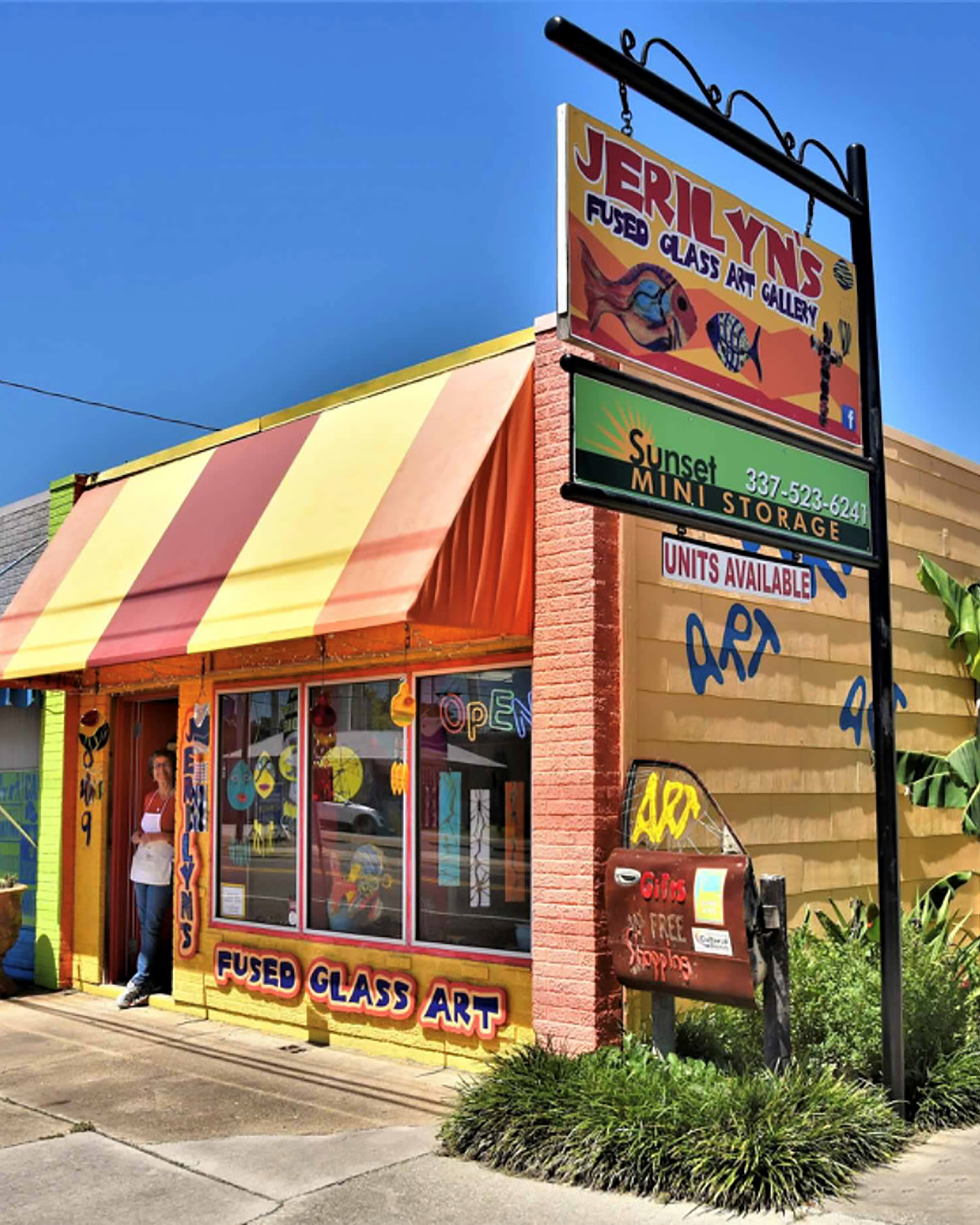 Jerilyn's Fused Glass. Credit: St. Landry Parish Tourist Commission
Billy's Boudin. Credit: St. Landry Parish Tourist Commission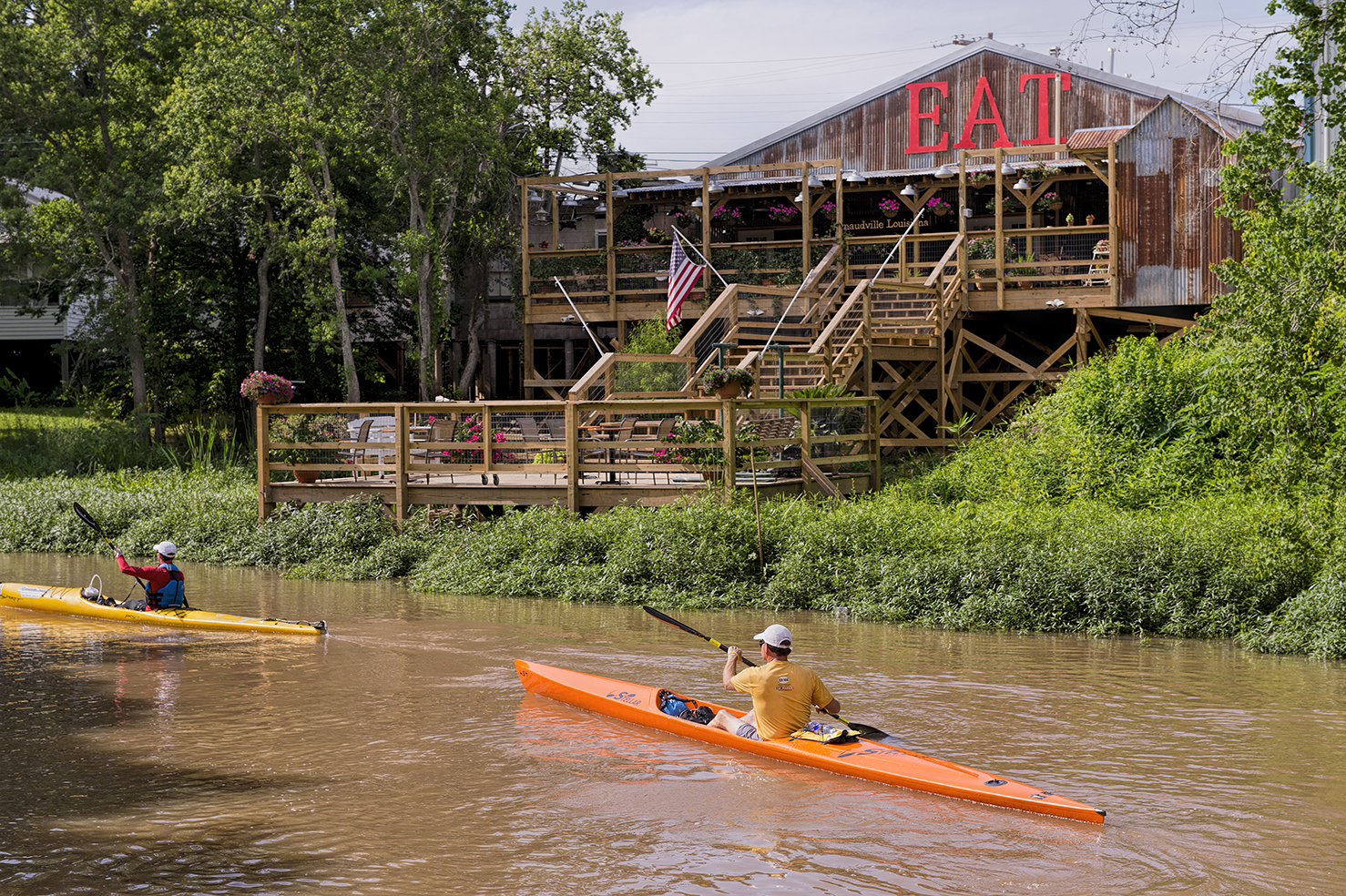 Bayou Teche paddlers pass The Little Big Cup. Credit: St. Landry Parish Tourist Commission
Lunch Options:
Little BIG Cup
The Little BIG Cup is a restaurant and bar in Arnaudville that offers classic Cajun and French cuisine in a cozy, comfortable and elegant setting. Specialties include recipes with fresh Gulf seafood including Kevin's Cajun Po' Boy, Bayou Fuselier Shrimp and chargrilled oysters.
Billy's Homemade Boudin & Cracklins
Billy's Homemade Boudin & Cracklins is an iconic Cajun brand, and in St. Landry Parish, you can find Billy's famous boudin and cracklins in Opelousas and Krotz Springs. In Krotz Springs, Billy's Diner serves a variety of boudin recipes including stuffed boudin balls, smoked boudin and crawfish boudin. The diner also has a short-order menu with burgers, salads and po'boys.
Café Josephine
Cafe Josephine in Sunset is just as eclectic as the multitude of antique shops and local art studios surrounding it. The menu is teeming with comfort foods like shrimp and grits, and tacos spiked with a drizzle of Sriracha and pecan pepper jelly. 
Mama's Fried Chicken
If you're looking for something casual yet delicious, stop by Mama's Fried Chicken in Opelousas. This spot offers down-home Southern fried chicken - hot, crispy and seasoned to perfection.
Afternoon Activities and Attractions:
Cajun Customized Excursions
Enjoy a personalized outdoor adventure with Cajun Customized Excursions in Arnaudville. Explore the Atchafalaya Basin with Captain Mark Allemand, who has over two decades of experience. Get first-hand stories in either English or French, and revel in the Louisiana's natural beauty and wildlife.
Bayou Teche Brewery
What happens in the swamp ought to be in your cooler! Bayou Teche Brewing was founded on this simple dream: to craft beers that complement the cuisine and lifestyle of Cajuns and Creoles. In the family & pet-friendly taproom, you'll find many of Bayou Teche's award-winning beers plus awesome pizzas made with love and devotion.
Evangeline Downs Racetrack & Casino
Evangeline Downs is Louisiana's first racino built from the ground up and stands in the Zydeco Capital of the World, Opelousas. The racetrack isn't the only attraction at this one-stop-shop for entertainment. The 24-hour complex features slot machines, live horse racing, zydeco music, nightlife and great food. If you play too hard; that's okay because Evangeline Downs Hotel is just steps away with luxury guestrooms and suites.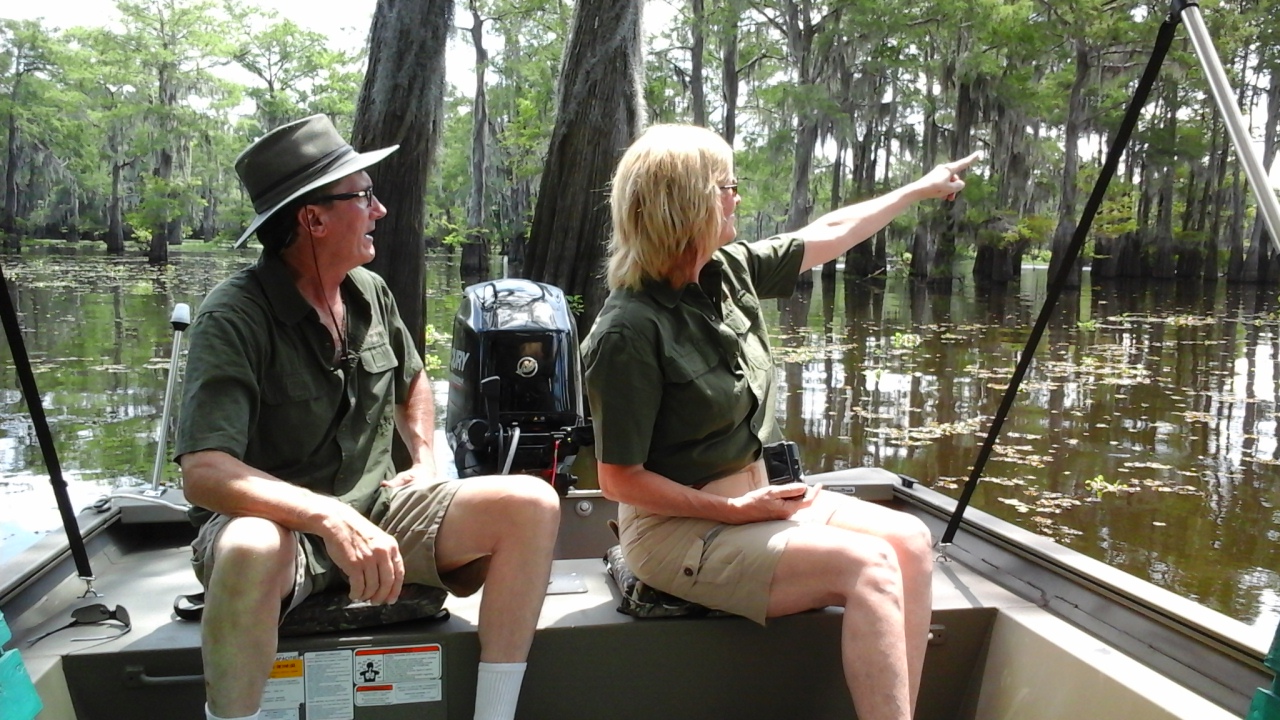 Cajun Customized Excursions. Credit: St. Landry Parish Tourist Commission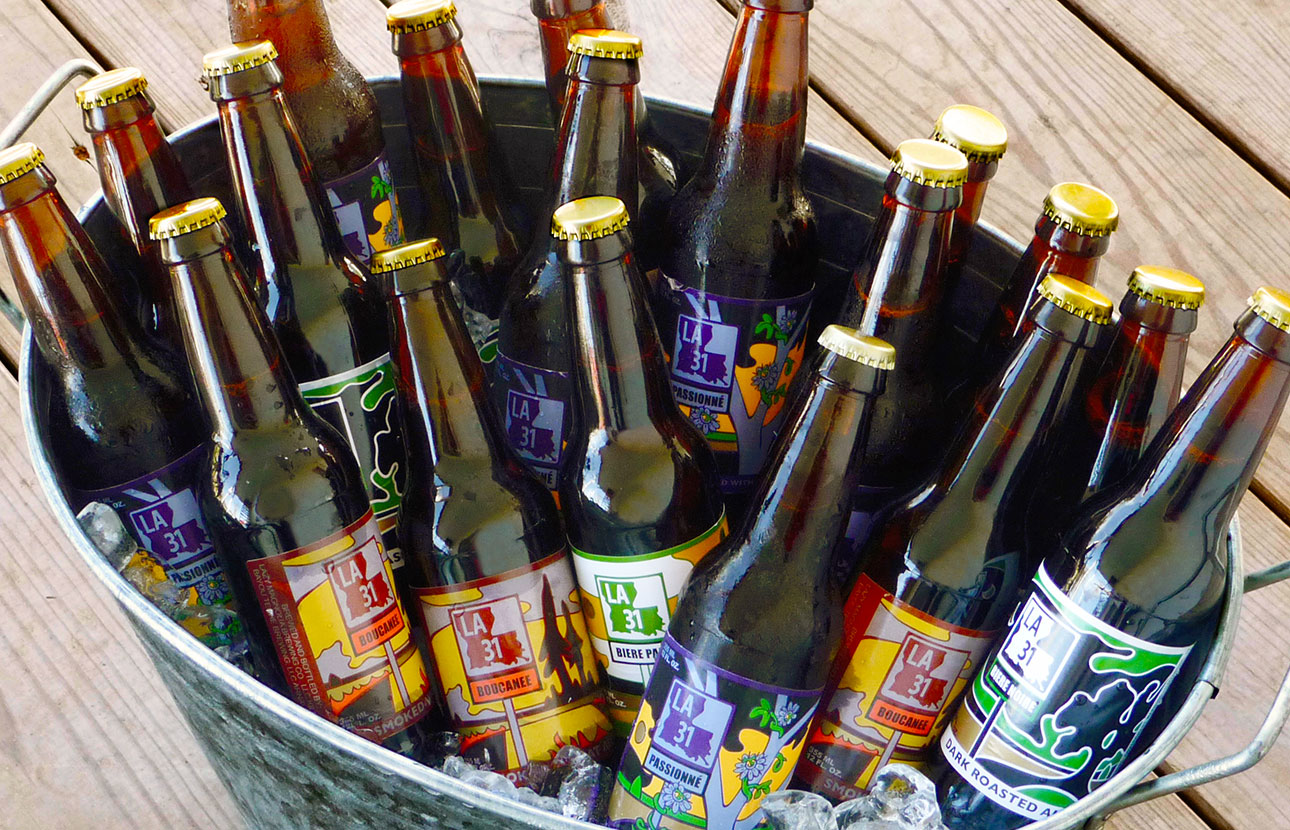 Try Bayou Teche Brewery's award-winning beer.
Steamboat Warehouse. Credit: St. Landry Parish Tourist Commission
Evangeline Downs Racetrack & Casino.
Dinner Options:
Steamboat Warehouse Restaurant
At Steamboat Warehouse Restaurant in Washington, you'll discover fine seafood dishes such as Shrimp Betsy, crab and crawfish cakes, and seafood au gratin, combined with a casual ambiance in a converted warehouse built circa 1819. Located on the banks of Bayou Courtableau, Steamboat Warehouse Restaurant is a feast for the eyes and appetite. 
Crawfish House & Grill
Crawfish House & Grill, located in Opelousas, is a down-home Cajun restaurant, serving up Southern comfort foods like fried porkchops and red beans and rice.
Soileau's Dinner Club
Established in 1937, Soileau's Dinner Club in Opelousas is a family owned and operated establishment that and offers fresh seafood, char-broiled Angus beef and Cajun specialties. Considering this spot was inducted into the Louisiana Restaurant Hall of Fame, it's a can't-miss!
Discover more about the surrounding areas.