Day Trip Itinerary: Ruston/Lincoln Parish
The Ruston area is known for its thriving college-town atmosphere, a historic downtown district and the incredibly sweet peaches grown in this scenic part of north-central Louisiana. The area boasts a variety of specialty shops and delicious restaurants. Come explore Ruston's many arts, outdoors and historic attractions.
Breakfast Options:
Common Goods Co.
Common Goods is charming a bakery and coffee shop, serving artisan breads and specialty coffees. A great spot to fuel up for your day of adventures!
Railway Coffee
Railway Coffee has two locations in Ruston - both offering locally-roasted coffees, teas and signature drinks to give you that morning pick-me-up. Pair your cup 'o Joe with a tasty breakfast sandwich, acai bowl or bakery item.
Morning Activities and Attractions:
Ruston Farmers Market
At the Ruston Farmers Market, vendors provide high-quality, fresh, locally grown produce, plants and flowers and more local goods. All items come from Louisiana farms, farmers, and producers.
Ruston Artisans
Art lovers will enjoy a stroll through downtown Ruston and a visit to Ruston Artisans, a studio with stunning exhibitions from local artists. Ruston Artisans celebrates art in all forms, including (Visual) Art, Culinary, Design, Entertainment, Fashion, Media, Music, and Performance. Check to see if they're offering any fun and educational workshops while you're there!
James Lake Birding Trail
An outdoor paradise, James Lake Birding Trail is one of Louisiana's best places to see a wide variety of birds. Bird lovers can view these magnificent creatures from three locations - the viewing platform, the bridge or the lakes' wooded walking trail.
Main Street—Downtown Ruston
Downtown Ruston is the heart of the city. Ruston is a Louisiana Historic District and a certified Louisiana Main Street community. It is the thriving core of the community with unique shopping, great restaurants, and beautifully restored buildings. Downtown Ruston, and specifically Railroad Park, is host to a number of activities and events.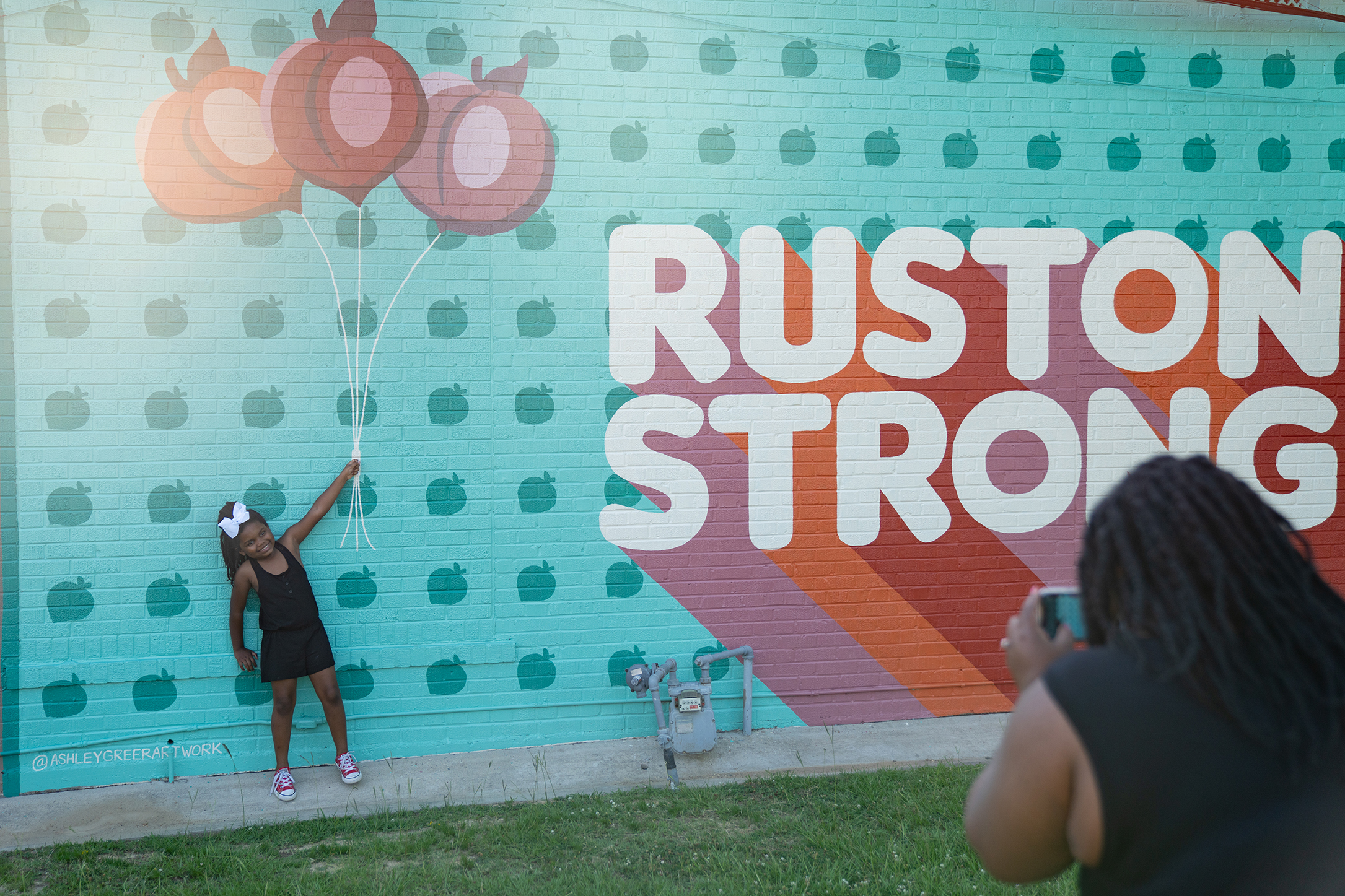 Take some fun pictures around town.
Ruston is known for it's delicious peaches.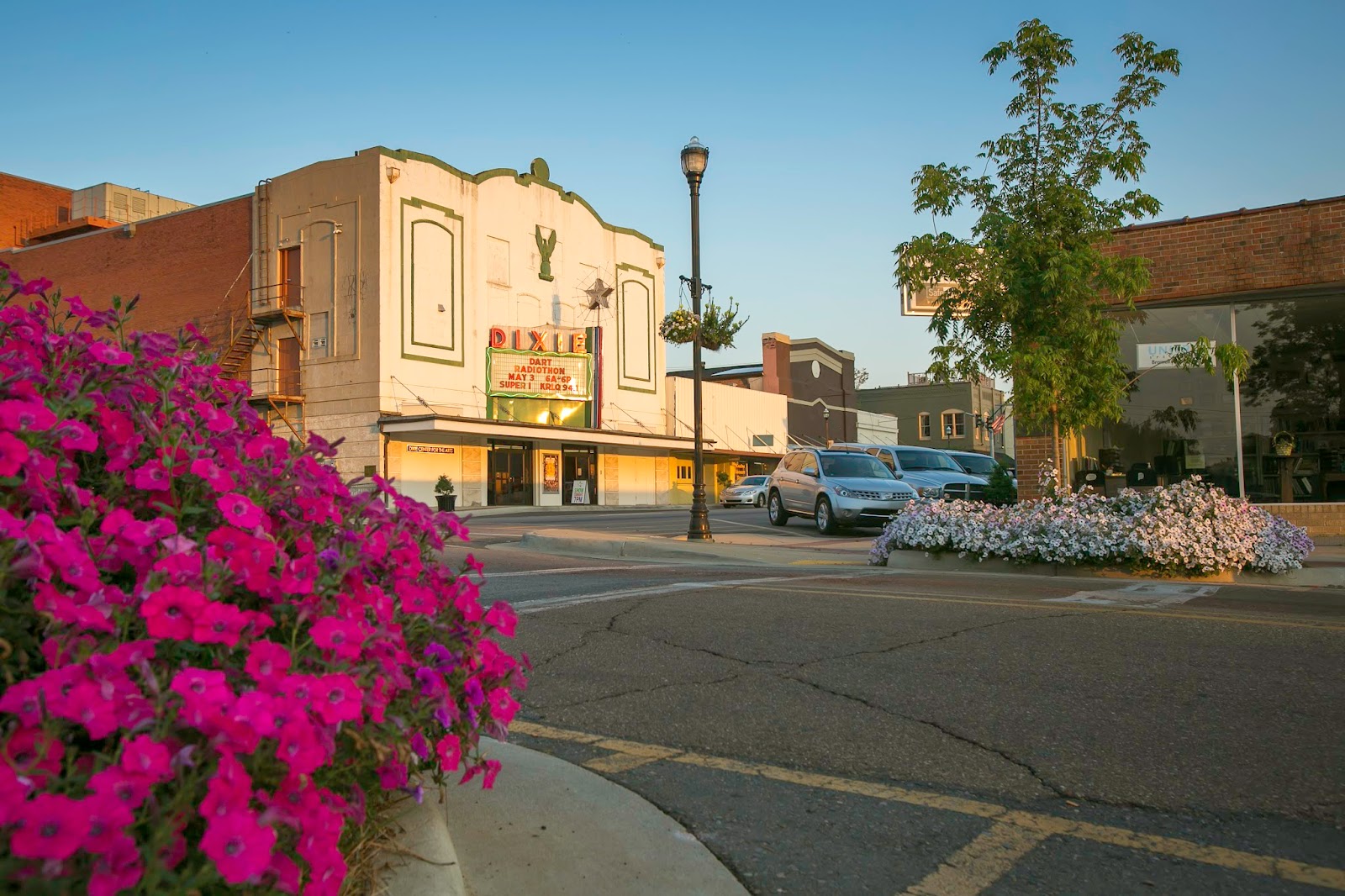 Downtown Ruston. Credit: Ruston Lincoln Parish CVB
Lunch Options:
Sundown Tavern
Located in the historic downtown district, Sundown Tavern provides an inviting pub-style experience, offering a wide variety of casual cuisine, an extended selection of local and regional craft brews and spirits, and the best in local, regional, and national live music.
Portico Bar & Grill
While the heart of Portico Bar & Grill is a contemporary Americana menu, the soul of Portico is in the etceteras: outdoor dining, live music and a top-notch wine, beer and specialty drink menu. With a wide range of menu offerings, there is something for everyone from steak to seafood to burgers. Enjoy dinner on the open-air patio and weekends full of live music featuring local musicians for a unique dining experience. 
Brister's Smokehouse
Brister's Smokehouse is a barbecue lover's delight serving up all your favorites like ribs, chicken, pulled pork, and brisket, along with three different types of sourdough bread. Try the famous scatterload sandwich made with minced ham, turkey, hot link sausage, brisket and cheese!
Afternoon Activities and Attractions:
Lincoln Parish Park
With one of the best mountain bike trails in America, Lincoln Parish Park is a treasure for mountain bike lovers and non-cyclists too. The 10-mile trail offers a challenging and exciting course for not only the advanced rider but beginners as well. Park amenities include covered pavilions, picnic tables and benches throughout the park. A 1.25-mile walking path winds around the beautiful lake. Guests can fish from piers or from non-motorized boats. Kayaks and canoes are welcome. Campsites featuring RV spots and primitive camping spots are available. The park also offers a playground for children. Legacy Park, located inside the park grounds, offers children of all abilities a chance for fun and play. The park's sandy beach and swimming area are open Memorial Day to Labor Day, each with a lifeguard on duty.
Lake D'Arbonne State Park
Piney forests, rolling hills, five fishing piers and a beautiful lake draw visitors to Lake D'Arbonne State Park. Designed to keep the focus on nature, park facilities blend with the natural landscape to enhance the outdoor experience of this 655-acre park. Recreation on Lake D'Arbonne is tremendously popular among locals and visitors, and record freshwater catches of bass, crappie, catfish and bream make Lake D'Arbonne a fishing haven. Wide open areas of the lake, about seven miles from the park, appeal to water skiers and pleasure boaters. The boat launch at the park opens up all of these opportunities to outdoorsmen.
Ultrazone Paintball
Come check out the coolest paintball arena in Ruston, Ultrazone Paintball! Bring friends and family alike for an action-packed adventure. 
Mitcham Farms Orchard and Peach Store
Mitcham Farms is the largest peach orchard in Louisiana. Stop by the Peach Store for delicious treats made with hand-picked Louisiana peaches, a wide range of gourmet foods, gift products and local arts and crafts.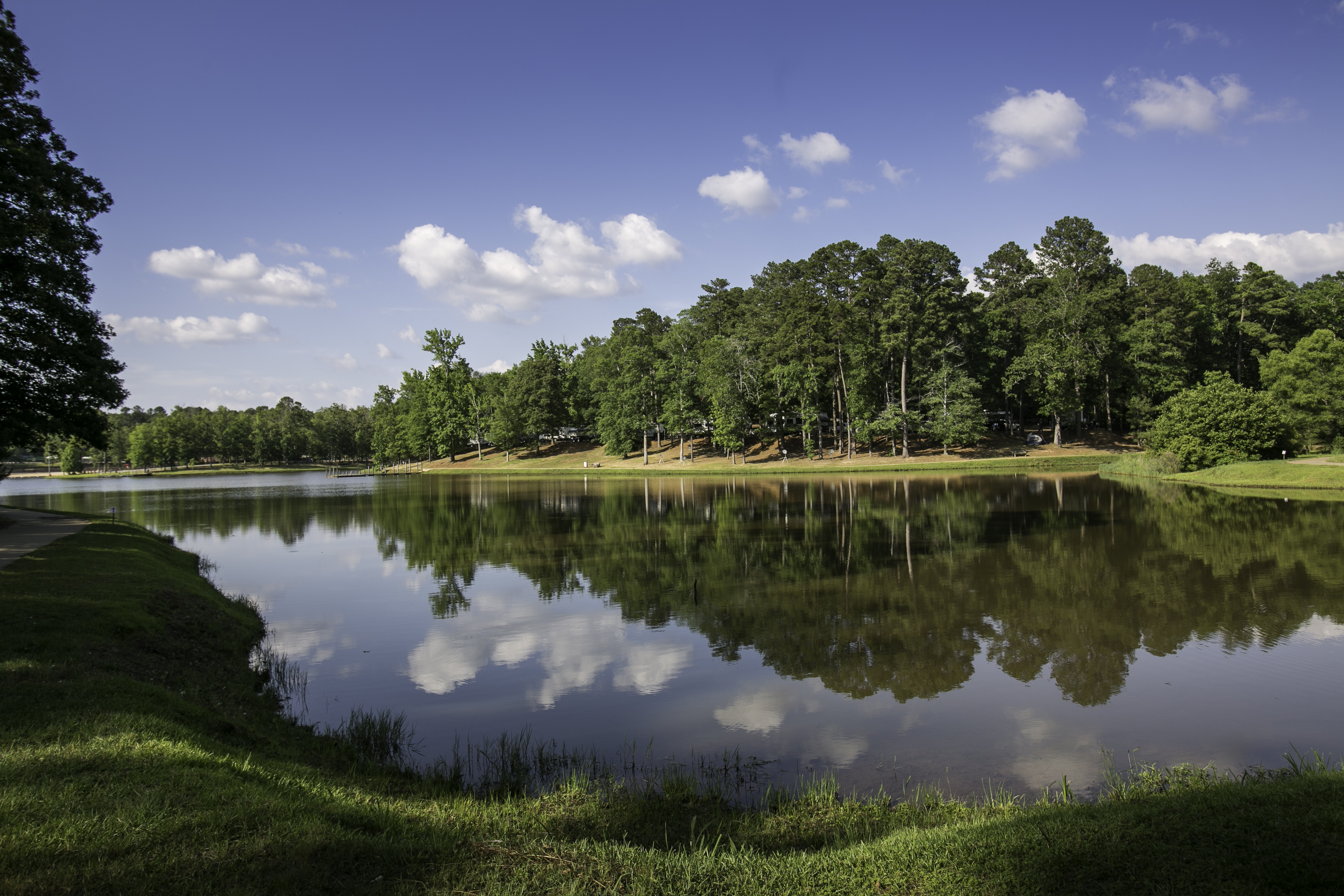 Get a breath of fresh air at Lincoln Parish Park. Credit: Ruston Lincoln Parish CVB
Grab a bite with your brew at Utility Brewing Co. Credit: Ruston Lincoln Parish CVB
Get out on the water at Lake D'Arbonne State Park.
Dinner Options:
Heard Freighthouse Food Truck Park
Hungry for something a little different? Check out Ruston's own Heard Freighthouse Food Truck Park to enjoy flavor-filled, locally produced dishes on food truck takeover nights. Options include barbecue with the Bad Wolf BBQ crew or specialty crafted burgers and sandwiches from Grown and Grazed.
Utility Brewing Company
Grab a beer at Ruston's first local brewery, Utility Brewing Company. Located in downtown Ruston, this gem not only serves up craft beer, but also delicious brick oven pizzas and salads made from fresh, locally produced ingredients. They also offer dining options for kids and a beautifully lit outdoor patio with spacious seating. 
Log Cabin Grill and Market
Known for their steaks and Tex-Mex cuisine, Log Cabin Grill and Market also offers tasty barbecue, seafood, salads, sandwiches and so much more. Located inside the restaurant is The Market with take-and-bakes, fresh meat, cracklins, seafood and seasonings. 
And keep reading if you want even more trip ideas for the Ruston area.