Holiday Trail of Lights in Louisiana
Celebrate the holiday spirit in the 10 cities that make up the Louisiana Holiday Trail of Lights.
Across the state, the holidays are celebrated with a zest of unique activities, sounds and sights only Louisiana could serve up. On the Holiday Trail of Lights, there are eight towns to celebrate all the festivities of the season. They create the Christmas spirit with beautiful displays of holiday lights, parades, live music, theatre performances, visits from Santa and more. Enjoy the celebrations from November to January.
Holiday Trail of Lights in Alexandria.
Minden's life-sized nutcrackers.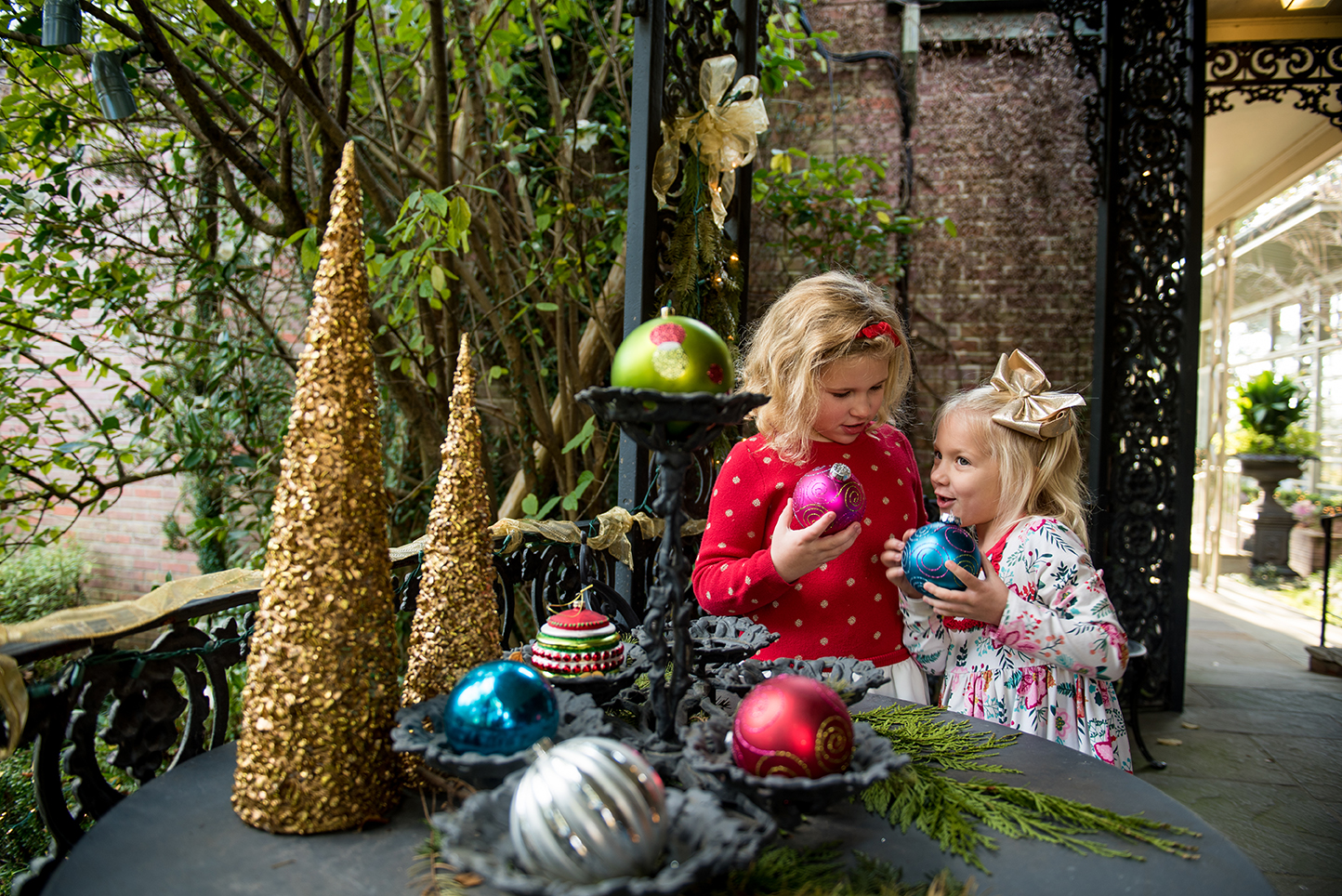 Christmas at the Biedenharn Museum & Gardens.
Alexandria & Pineville 
Visit Alexandria and Pineville located in the "Heart of Louisiana" to catch the holiday fever. Pop in to the Alex Winter Fête and warm up at the Gumbo Cookoff, then get a taste of even more local eats from food vendors. Snatch up that perfect holiday gift or souvenir from retail vendors. And finish the weekend at the Alexandria Christmas Parade. Ever heard of a Holiday Light Safari? The holiday spirit is alive and well in Central Louisiana! Visit the website for more event info, dates and times.
Minden
The sweet charm of Minden is a perfect setting to get in the holiday mindset. In November, Minden kicks things off with its Main to Main Trade Days, featuring art, antiques, home furnishings, jewelry and more. Downtown shops embrace a festival-like atmosphere with outdoor shopping paired with food and craft vendors. Get even more holiday shopping done at the "Christmas Market on Main," experience the Annual Candlelight Tour of Homers, and enjoy the Old World Christmas Lights Spectacular every night through New Year's Day. Don't miss Minden's life-sized nutcrackers that line the streets of its historic downtown, a nod to Minden's German heritage. Visit the website for more event info, dates and times.
Monroe & West Monroe
It's a busy holiday schedule in Monroe-West Monroe area! See special holiday decorations and check out the exhibits at the Biedenharn Museum & Gardens. If you're looking to get active, look into the Christmas on the River 5K (or just watch from the sidelines in your best holiday getup), then gaze at the Christmas on the River Fireworks. Of course, there's always great shopping at antique stores, boutiques and more along West Monroe's Antique Alley. Visit the website for more event info, dates and times.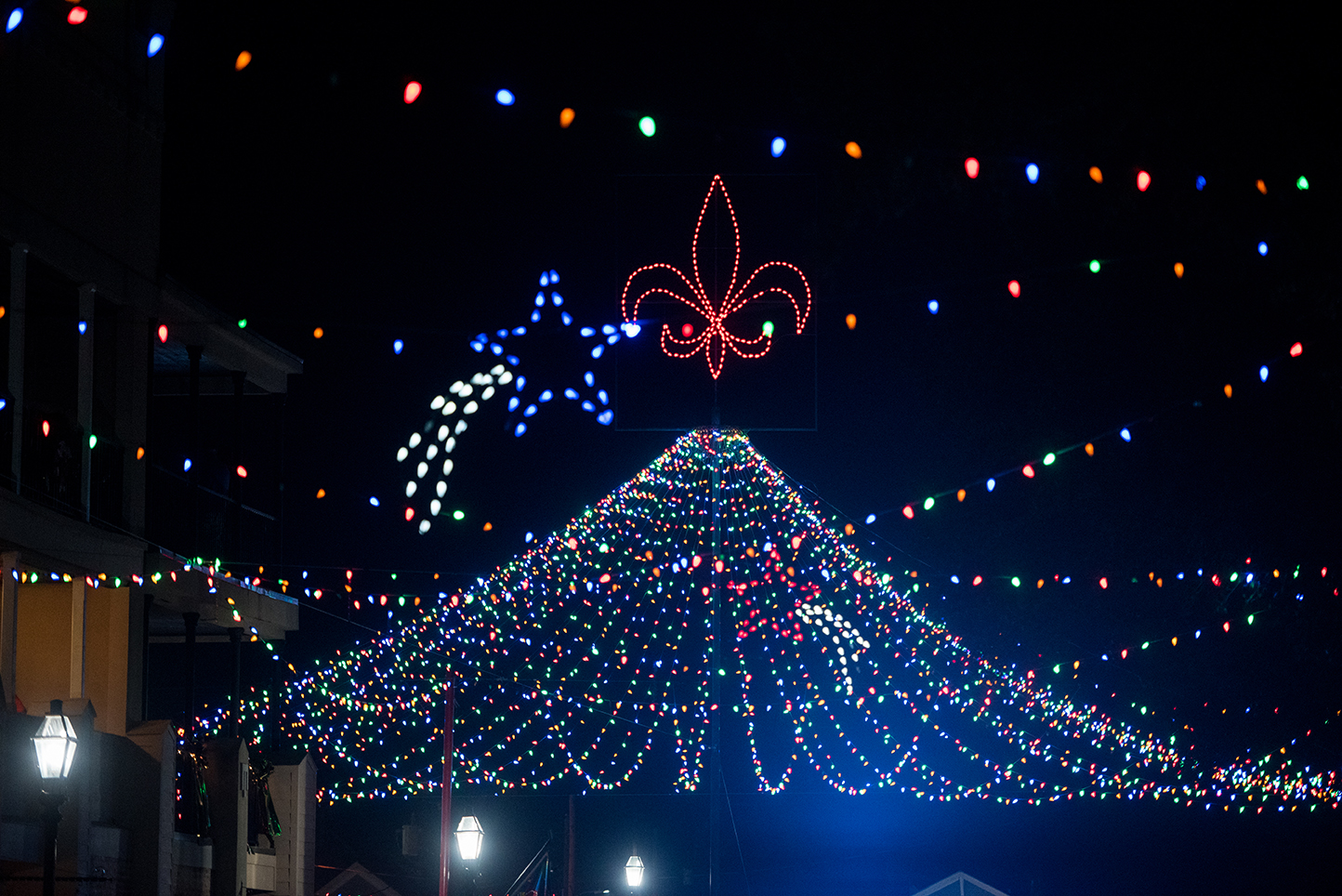 Natchitoches Christmas Festival.
BELIEVE Lights the Night! at the Shreveport Aquarium.
Natchitoches
Head to Natchitoches, Louisiana's oldest city, for the perfect dose of holiday spirit. The Annual Christmas Festival showcases 300,000 lights illuminating downtown Natchitoches and over 100 lighted set pieces along Cane River! It's a magical backdrop for the spectacular Saturday evening fireworks, entertainment, food vendors, shopping, and more. Explore the Landmark Historic District via an evening horse and carriage ride to experience the charm of Natchitoches, named one of "America's 25 Most Festive Christmas Towns." Visit the website for more event info, dates and times.
Shreveport-Bossier
Make sure you've rationed your holiday cheer for these festive events that happen in Shreveport-Bossier every Christmas. The Christmas in Roseland lights display transforms the gardens of the American Rose Center into a winter wonderland with thousands of twinkling lights. Take the kids to try something different at the Christmas on Caddo Fireworks Festival for rocking music, fireworks and pictures with Santa! Check out BELIEVE Lights the Night! at the Shreveport Aquarium for a unique, interactive holiday experience where your magic motion-activated wand turns on lights, makes music, lights a fireplace, creates reindeer footprints, jingles bells and more as you meander through the aquarium to find Snow Mermaids. Visit the website for more event info, dates and times.
Ruston 
Make your way to Ruston for the annual Kickoff to Christmas for holiday tunes, the tree lighting ceremony, and an appearance from Santa. Got the shopping bug? Take advantage of extended shopping hours and sales at the Holiday Open House in charming Downtown Ruston, then head to Holidays in Cedartown, a premier holiday market with an array of vendors for every need. Stop by NCLAC's Christmas Stroll and Holiday Arts Market to meet dozens of artists and makers selling unique, handmade gifts.  Devour holiday specials at local eateries before catching the holiday play at the Dixie Theatre. There's no shortage of festive things to do and see!
Logansport
Downtown Logansport hosts an annual Christmas Festival on the riverfront that should absolutely be on your holiday itinerary. Over 40 vendors ranging from retail to arts & crafts and, of course, food. Peruse classic cars at the car show, cheer for the parade, and be dazzled by dancing Christmas lights and fireworks. And this event wouldn't be complete without live performances by local musicians that fill the air. Visit the website for more event info, dates and times.
The Holiday Trail of Lights will ensure you've enjoyed your holiday season with enough lights, parades, Christmas carols, music and holiday cheer to get you through to next year!  Come join us for the holidays.