Day Trip Itinerary: Shreveport-Bossier
A variety of activities and amazing dining spots make Shreveport-Bossier a perfect "nearcation" getaway.
Sprinkled among the lakes and bayous in this northwestern part of the state are great nature and wildlife viewing areas with excellent fishing and hunting grounds. Many local eateries have long histories of satisfying the appetites of both locals and visitors alike. Shreveport-Bossier is the perfect "nearcation" getaway.
Breakfast Options:
Southern Maid Donuts
Southern Maid Donuts is a popular stop among locals and visitors seeking a sweet treat. It features great neon signage proclaiming "Hot! Hot! Hot!" donuts as well as a collection of photographs relating to the donut shop's historic connection to the Louisiana Hayride. In fact, Elvis did the only commercial of his life for any product on November 6, 1954, for Southern Maid Donuts.
Strawn's Eat Shop
Who said you can't start your day with a slice of pie? One of the most acclaimed diners in the South, Strawn's Eat Shop, is famous for ice box pies in flavors that include strawberry, chocolate, banana and butterscotch. The restaurant also serves huge breakfast platters, daily plate lunch specials, signature burgers and more. The original location of the restaurant has been open since 1944.
Morning Activities & Attractions:
American Rose Center
Explore the nation's largest park dedicated to roses at the American Rose Center. The 118-acre park features 20,000 rosebushes and a variety of companion plants, sculptures and fountains. The American Rose Center is a great place for walking, photography outings, yoga, or simply relaxing outside in a tranquil setting.
Sci-Port Discovery Center
Sci-Port Discovery Center provides a fun, educational environment for people of all ages to explore and actively engage in the world of mathematics, science and technology. At the Planetarium, visit planets in and outside our solar system, fly through the stars, review constellations and learn about secrets of the universe. Experience multiple exhibits, explore the Children's Museum and see great IMAX films.
Red River National Wildlife Refuge
Explore the great outdoors at the Red River National Wildlife Refuge. The center features over five miles of trails, fishing, wildlife viewing, and environmental education. Discover more about the wildlife that calls the refuge home by enjoying the exhibits at the Visitor Center. Hunting is permitted in designated areas on some units of the refuge, and fishing is permitted during certain times of the year at the refuge. Bring the kiddos to the Nature Discovery Play Area, a small nature-themed playground that includes a tree house, faux fishing boat, balance beams and hollow logs, among other things.
Louisiana State Exhibit Museum
Completed in 1939 as one of the New Deal's Public Works projects, the Louisiana State Exhibit Museum is an architectural jewel built in the ultra-modern style of the time. This circular building is home to 23 beautifully rendered scale dioramas that portray a snapshot of Louisiana life in the 1940s. LSEM's collection includes Louisiana Native American artifacts, regional and national history artifacts, original works by local artists, and natural history exhibits.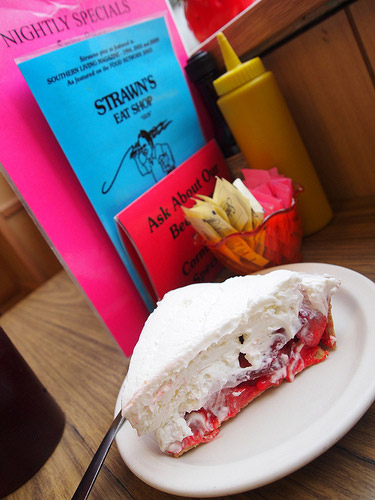 Strawn's Eat Shop's Strawberry Pie.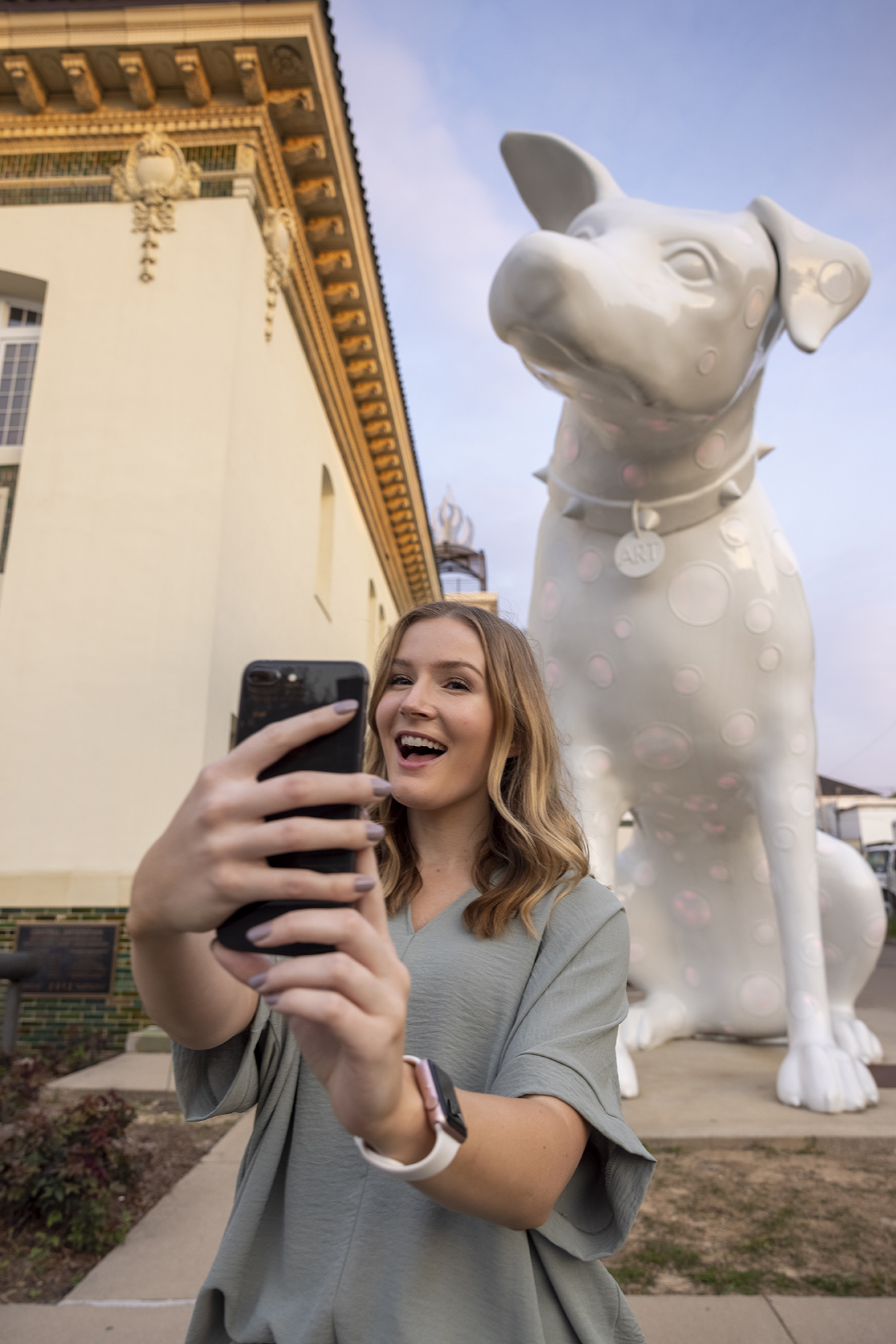 Art the Dalmation at Central Artstation.
Sci-Port Discovery Center.
Lunch Options:
Fertitta's Delicatessen
Opened in 1927 as Shreveport's first imported foods store, Fertitta's Delicatessen is a small Italian deli and sandwich shop, well-known for their trademarked "Muffy" sandwich - a handheld version of the classic Italian muffaletta. Their signature Papa Fertitta's Olive Mix is so good, you can buy it separately to take home with you!
Orlandeaux's Café
Orlandeaux's Café is a Creole and Southern restaurant serving up Shreveport's famous stuffed shrimp, gumbo, chicken fried steak, pork chops, po'boys, and more. Orlandeaux's Café occupies the space that formerly housed the owner's father's restaurant, Brother's Seafood to Go, which opened in 1921.
Giuseppe's Pastacaffe
Proudly featuring the authentic flavors & spices of Italy, the menu at Giuseppe's features a variety of dishes such as artisan handmade pastas, panini sandwiches, salads, and handmade desserts. Giuseppe's prepares all pastas & ingredients daily to ensure the highest level of quality & freshness.
Afternoon Activities & Attractions:
R.W. Norton Art Gallery
At the R.W. Norton Art Gallery, you'll see over 400 paintings by more than 100 artists, sculptures and even tapestries dating from the 16th century which once graced the palace of a King of France. Surrounding the gallery are 40 acres of beautifully landscaped grounds and botanical gardens, where tens of thousands of plants burst forth in spring. The gardens are set among gentle swells of land, shaded by tall columns of venerable pines and oaks. Beneath them, a stream tumbles down slopes, and splashes into a reflective pond spanned by an arched bridge.
Shreveport Aquarium
Discover an underwater world of wonder at the Shreveport Aquarium. Travel through brightly colored coral reefs, creaking shipwrecks, dark ocean caves and tropical lagoons. Marvel at the variety and diversity in the unique freshwater domed gallery and travel to the deep to visit the strange creatures that lurk in the dark. Get up close and personal with sharks, rays, jellyfish and a host of other cool creatures in one of the many touch tanks.
Gators and Friends Adventure Park
Bring the family to Gators and Friends to pet a baby alligator, race high-speed go-karts, play your favorite arcade games, and zip-line throughout the park. See alligators wrestle during daily feeding shows and enjoy the exotic petting zoo and pony rides.
Central Artstation
Central Artstation resides in a renovated historic building, previously the Central Fire Station, and is now used as an exhibition space for local artists. The repurposed fire station is guarded by Art the Dalmatian - the brainchild of the Academy Award Winning duo William Joyce and Brandon Oldenburg, who presented the design as a "commemorative housewarming" gift to the Shreveport Regional Arts Council. Art the Dalmation stands 19-and-a-half feet tall and is designed as a tribute to the Dalmatian that has become iconic to firefighters, and performs a programmable "light show" each evening.
Azaleas at R.W. Norton Botanical Gardens.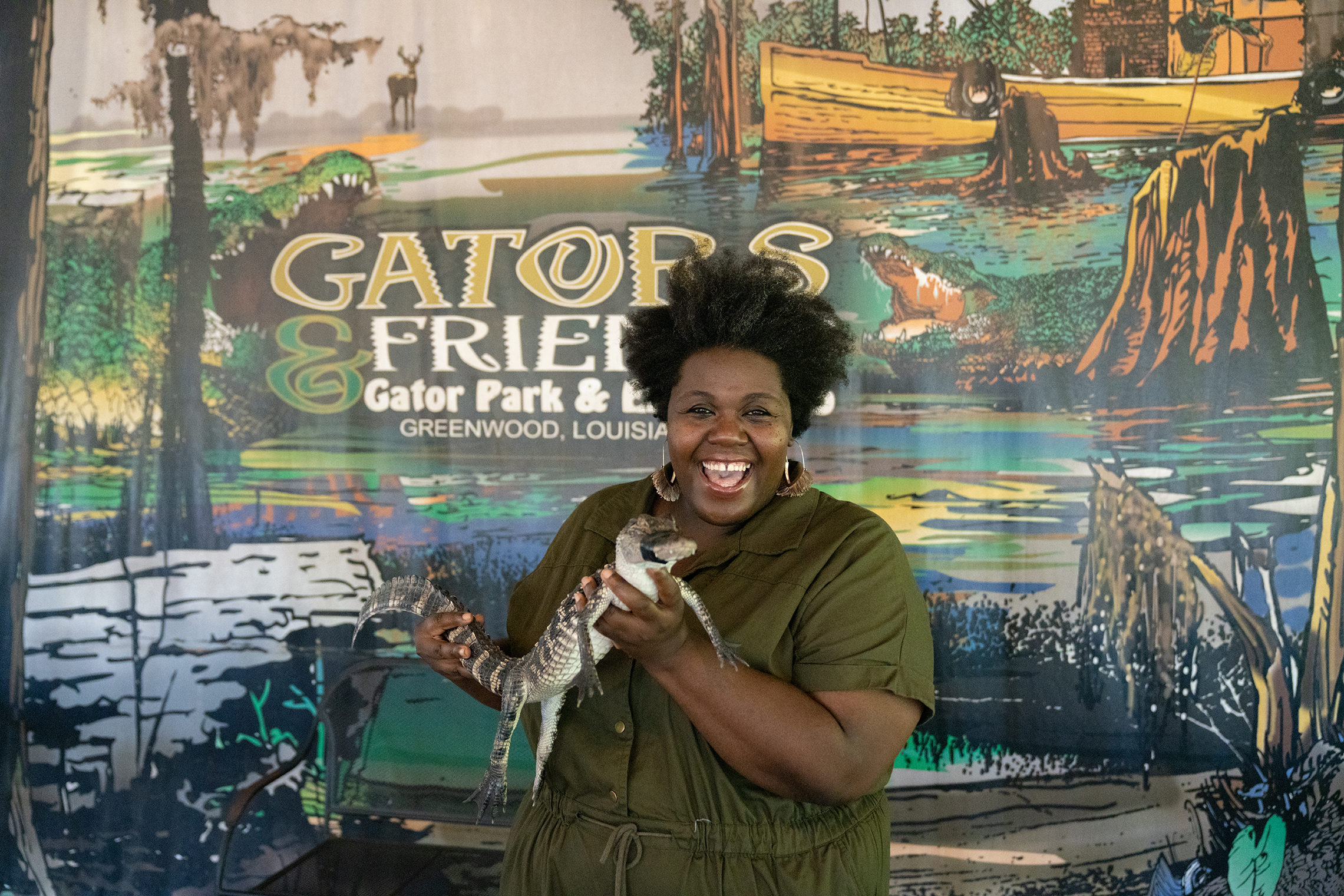 Flying Heart Brewing & Pub.
Dinner Options:
Flying Heart Brewing and Pub
Bossier City's first craft brewery, Flying Heart Brewing & Pub is a craft brewery and pub featuring brick-oven pizza, several flagship beers, limited edition seasonal offerings, Louisiana beers, and a cocktail menu. Outdoor seating available. Tours are available by appointment only.
Marilynn's Place
Marilynn's Place is a casual Cajun and Creole restaurant serving po'boys, red beans and rice, fried catfish, shrimp, seasonal boiled crawfish and more. Cajun-inspired nightly specials and desserts such as beignets are the house specialties.
Ernest's Orleans Restaurant & Cocktail Lounge
Ernest's Orleans Restaurant has been a part of Shreveport's history for over sixty years. Enjoy fine dining at Ernest's with their famous marinated crab claws, fresh seafood, steaks and veal.