Day Trip Itinerary: Baton Rouge
Explore the history and charm of Louisiana's capital city!
Louisiana's Capital city, Baton Rouge, is bustling with creative eateries, historic attractions, shopping and more. However, if you're looking for a quiet outdoor getaway, you won't have to go far. Baton Rouge offers plenty of opportunities to get some fresh air, paddle on the water and visit Louisiana's wildlife up close. It's the best of both worlds! Check out these suggestions for an exciting day in Baton Rouge.
Breakfast Options
Louie's Café
Louie's Café is a 24-hour diner near LSU, serving a large menu of signature omelets, breakfast combos, pancakes, customizable hash browns and more. The '50s-style atmosphere transports you to another time while you enjoy classic dishes that are sure to furl you up for a day of adventure.
Coffee Call
Get a taste of New Orleans in the Capital City at Coffee Call - featuring coffees, teas, hot chocolate and their take on New Orleans' iconic pastry, the beignet. Coffee Call has been slinging the hot, sugary pastries since 1976 – so you know it's a hit!
Olive or Twist
Olive or Twist is a self-proclaimed "Modern Louisiana Kitchen," serving some of the best brunch items every weekend. From the Boudin Burrito and Napoleon Avenue Shrimp & Grits, to the Eggs Boudreaux and Chicken and Waffles Acadian – Olive or Twist puts Louisiana spins on entrees from all over the world. Sweet tooth? Try the Bananas Foster French Toast.
Morning Activities & Attractions
Louisiana Art & Science Museum
The Louisiana Art & Science Museum has both rotating and permanent exhibitions for every interest, including ancient Egypt and the solar system. A highlight is the OmniGlobe. Using the touchscreen on the kiosk, visitors can explore over 200 images and animations related to atmospheric science, ocean science, geophysical science, cosmology, heliophysics and more. Stop by the Irene W. Pennington Planetarium, which houses a 60-foot domed theater that presents digital movies and sky shows.
USS KIDD Veterans Museum
The USS KIDD Veterans Museum, also known as the "Pirate of the Pacific," is a fun and educational experience for the whole family. The KIDD is the only Fletcher-class destroyer restored to her 1945 WWII configuration and open to the public for tours. Visit the museum to see the aircraft that soared through the skies of Southeast Asia during two eras of conflict, examine the dented helmet of an infantryman who stormed the beaches of Normandy, and so much more.
Red Stick Farmers Market
Red Stick Farmers Market is an open-air, producer-only market, which ensures that all produce sold at the market is grown locally by each farmer. Browse through a wide variety of locally grown products including fresh fruits and vegetables.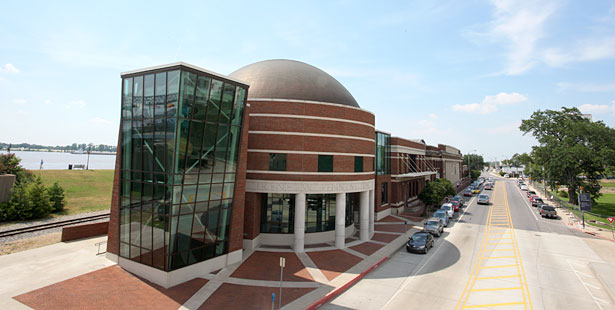 Louisiana Art & Science Museum
Lunch Options
MJ's Café
MJ's Café offers the freshest farm-to-table, plant-based salads, sandwiches, wraps, paninis and specials even the staunch carnivore will enjoy. Must-tries are the black bean torta, the cauliflower wrap and the Italian panini. Pair with one of their soups –all of which are totally delicious and made in-house daily.
Curbside Burgers
Curbside Burgers is a casual spot with simply delicious burgers stuffed between buttery brioche buns. Upgrade your meal with a side of GC2 Tots (smothered in Pepperjack Fondue, Green Chili Relish + Bacon) or Truffle Parm Fries – it's a game-changer. They've got all the classic burger toppings – including their popular pork belly preserves, which they also sell in jars - and are constantly featuring new inventive specials. Dine outside on the patio and catch some live music for peak enjoyment.
Gov't Taco
Gov't Taco offers modern tacos with quirky names in a unique space. "Founding Father" Jay Ducote finished runner-up on Food Network Star's 11th season, Beat Bobby Flay at a crawfish boil in 2019, and has cooked at the historic James Beard House in New York City. Menu favorites include the Clucks & Balances and the Steak of the Union. They even have vegan and vegetarian options, such as the Magna Carrot.
Afternoon Activities & Attractions
Capitol Park Museum
The Capitol Park Museum features exhibits on diverse aspects of Louisiana history, industry and culture. The museum is chock-full of unique artifacts and displays - including a 48-foot shrimp trawler, a rare Civil War submarine and a display on the Baton Rouge bus boycott of 1953 during the civil rights movement. See fascinating exhibits on the state's music and musicians - including Pete Fountain's clarinet, Buddy Guy's polka dot Stratocaster guitar and Clifton Chenier's Grammy award - hear the distinctive sounds of Cajun, zydeco and swamp pop, blues and world-famous New Orleans jazz.
BREC's Bluebonnet Swamp Nature Center
BREC's Bluebonnet Swamp Nature Center is a 103-acre facility that houses an award-winning, 9,500-square-foot building filled with live animal exhibits; photographic presentations of the site's flora and fauna; natural artifact and mineral displays; and a sizeable, vintage waterfowl decoy carving collection. Ecology and art exhibits are featured periodically. Get some fresh air and take a stroll with over a mile of gravel paths and boardwalks that link varied habitats such as the cypress-tupelo swamp, beech-magnolia and hardwood forests.
Tin Roof Brewing Company
Sample flagship, seasonal, and occasional single batch beers at Tin Roof Brewing Company. If you need something to soak up the brews, Tin Roof hosts rotating food trucks serving up some mouth-watering specials. Curious about the process? Take a brewery tour!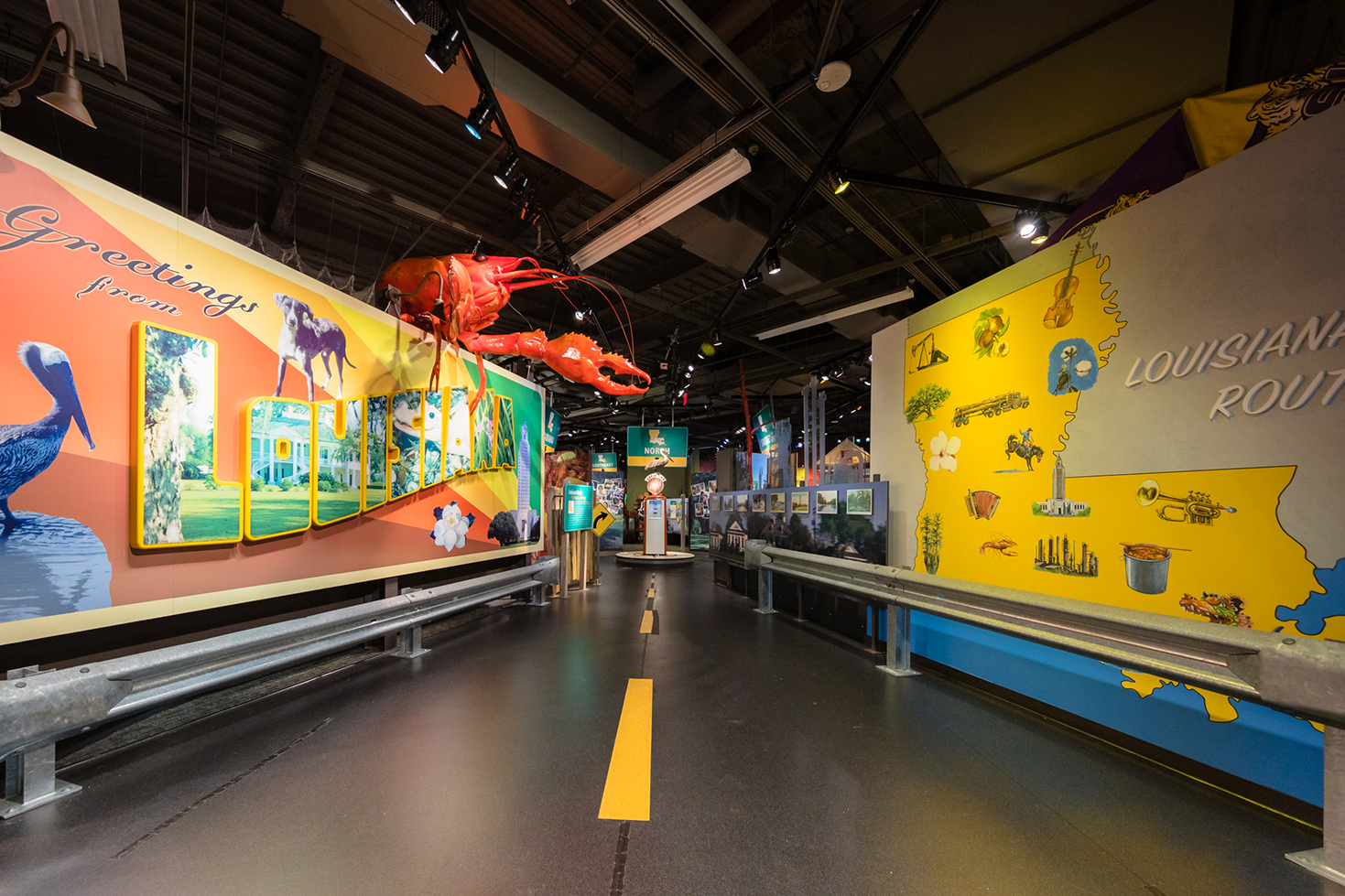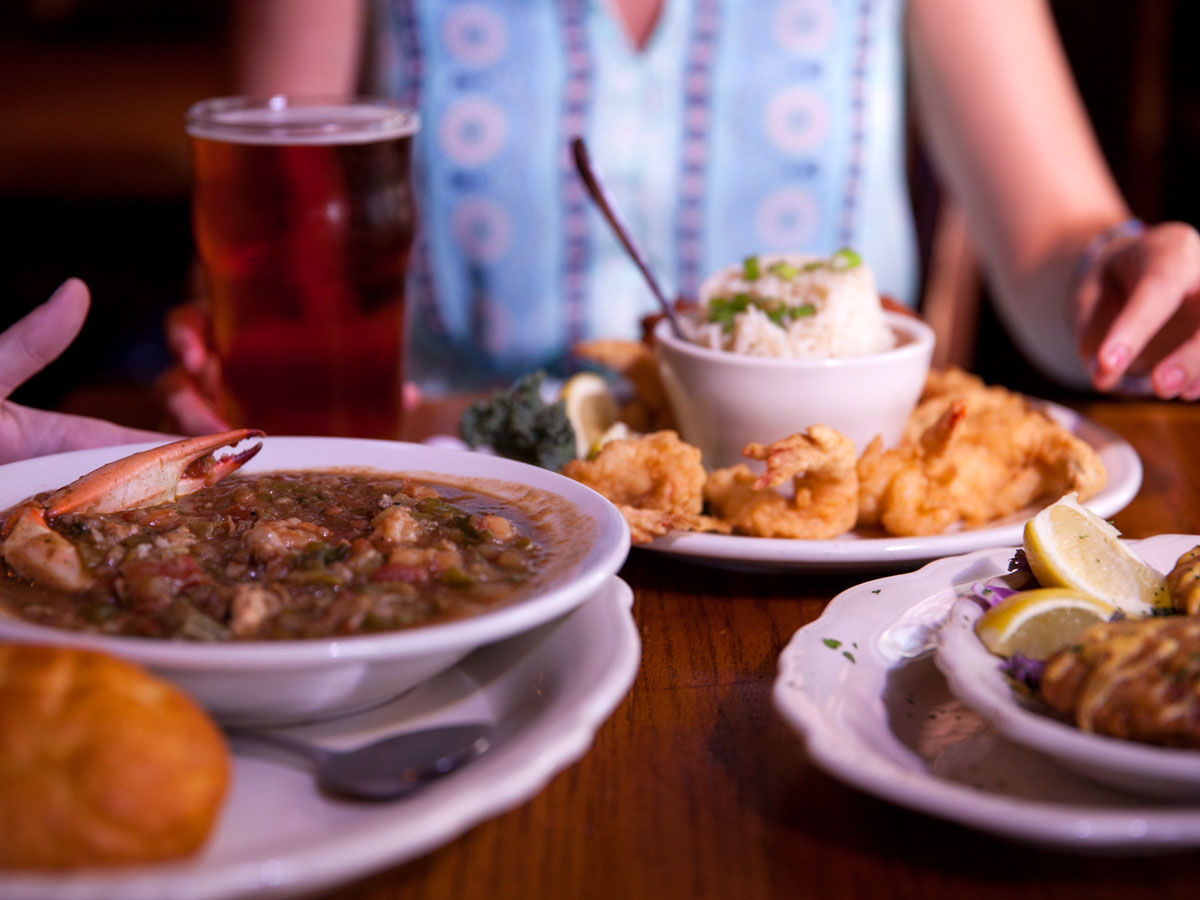 The Chimes Restaurant & Tap Room
Dinner Options
BLDG 5
Nestled beneath the Perkins Road Overpass, BLDG 5 is a rustic spot with a beautiful outdoor dining area and rooftop bar. They offer tasty salads and sandwiches, but the stars of the show are the dinner boards, such as the Little Italy and Mediterranean Coast boards that take you across the world with traditional delicacies; and the Harvest Board features a hefty spread of garden veggies for those vegetarians out there.
The Chimes Restaurant & Tap Room
The Chimes has been a staple in Baton Rouge for years. This family-friendly spot is right off LSU's campus and serves up southern delicacies such as alligator, BBQ shrimp, crawfish étouffée, red beans and rice with sausage and plenty of seafood dishes. Grab a beer from their extensive selection, enjoy a comforting meal and watch the game on one of their flat screen TVs.
Doe's Eat Place
If you've got a hankering for steak, Doe's Eat Place is the place to be. Their filets, porterhouses, t-bones and ribeyes are aged a minimum of 21 days and hand-cut daily. Don't leave without trying their world-famous hot tamales - featured on Alton Brown's Feasting on Asphalt and in Southern Living magazine.
Boru & Sweet Society
Boru is an authentic ramen spot in the newly revitalized Electric Depot, serving hand-crafted noodles, stocks and sauces made exclusively in-house. Executive chef Patrick Wong has trained not only in Tokyo kitchens, but also in Manhattan at Ramen Shack under world-renowned ramen chef Keizo Shimamoto. A large viewing window allows guests to watch the chefs display their classical training from around the world and impressive mastery of Japanese cuisine. After dinner, stop by Sweet Society next door for sweet Japanese taiyaki—ice cream served with a fish-shaped waffle cone. They also feature several refreshing drinks like their Thai Tea and Cosmic Lemonade.
What's Trending Around Louisiana